The following issue summary was written by Robert Diehl as a part of
Chronology.Net
. This information is not to be reproduced without permission of the author.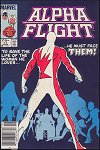 Issue:
Alpha Flight 11
Date:
Jun-84
Story 1:
Set-Up (12 pages)
Feature Characters:
Mac
Regular Characters:
Heather McNeil Hudson
Guest Stars:
Villains:
Delphine Courtney, Jerry Jaxxon; Omega Flight: Roger Bochs (Box), Lillian Crawley (Diamond Lil), Flashback, Alec Thorne (Smart Alec), Kyle Gibney (Wild Child)
Other Characters:
La Pierre
Synopsis:
Courtney approaches Bochs with an offer, and he is unable to warn Mac.
Heather moves from Ottawa to New York.
Courtney has assembled former Dept. H members in the World Trade Center using a mind-influencer and introduces Jaxxon, who wants them to destroy Mac.
Mac fails to meet Heather at the airport and realizes that she has been taken by Jaxxon, his old enemy (
see iss. 2
), who contacts him and sics Omega Flight on him.
Story 2:
Unleash the Beast (9 pages)
Feature Characters:
Walter, Snowbird, Michael, Mac
Regular Characters:
Guest Stars:
Bruce Banner (the Hulk)
Villains:
Other Characters:
Synopsis:
Walter conducts experiments on himself, based on Banner's research, and is transformed into Sasquatch. Snowbird checks on his lab and follows a path of destruction to Walter, unconscious in the snow. Michael doctors him, and he joins Alpha Flight.