Talk about an unlikely pairing... or is it?
After reading the 250th issue of Deadpool and seeing his interaction with Alpha Flight it got me thinking just how big a role Alpha Flight played in his development.
This may surprise some people but the connection between Alpha Flight and Deadpool runs deep.
Wade wasn't always the man we know as "Deadpool."
He was a once normal soldier with no abilities who was dying from cancer. In a flashback scene from the Deadpool & Death '98 Annual it shows Wade was actually inspired by Vindicator (James MacDonald Hudson) to join the Weapon K program which ultimately turned him into Deadpool after he was severely tortured and experimented on, curing his cancer in the process.
After gaining healing powers he continued to be a mercenary for hire. During one mission in Deadpool #34 (Vol.4), Wade was sent to kill his parents. Alpha Flight thwarted him, but he eventually succeeded when the team weren't around.
For years after this Deadpool acted as a villain, which is where he entered the Marvel Universe in the classic New Mutants #98, and was always selfish until one day... the day he met Sasquatch in Deadpool #1 (Vol.1). Deadpool even knew Sasquatch's real name indicating that they may have met, off panel and so far untold, after their encounter in (Vol.4) Deadpool #34.
Later on in the series, Deadpool #25 (vol.1) to be exact, it specifically mentions the encounter with Walter turned him into a hero.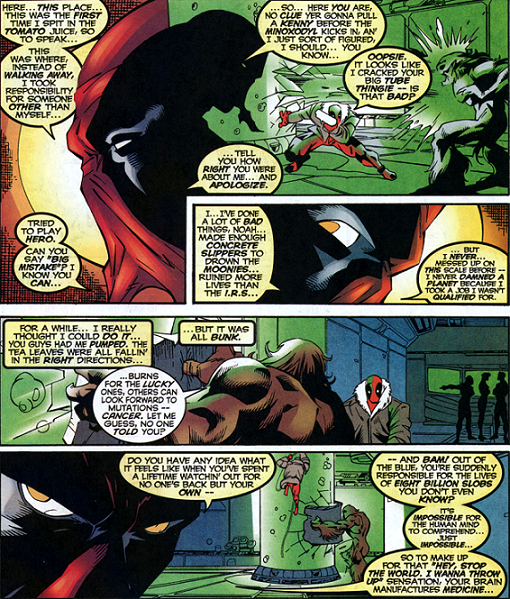 In Deadpool #61 (Vol.1) Wade was believed to have been killed. He wasn't as well known in the Marvel Universe as he is today nor did he really have many friends. However, Walter attended his funeral and even Wade's "ghost" sat beside him during the ceremony.
Over the years Deadpool and Alpha Flight must have become closer as they were invited to his wedding and Puck even attended his bachelor party in Deadpool #27 (Vol.4)
However, it is in a roast setting and he's Canadian so I'll let it slide... It was also kind of funny too, and the team didn't get named as C-listers like other teams following the insult.
In true Marvel fashion, the roast was erased from time using the Infinity Gauntlet though, so Alpha Flight aren't actually aware of the jibe.
However, he seems to still like them as he did recently try to join acting as the new "Wolverine" in Wolverines #13... but of course he was turned down.

Do you think he has a resentment towards Alpha Flight or a level of respect?
Would you like to see the Merc With The Mouth as a member of Alpha Flight?
.