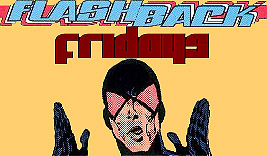 Welcome to another edition of Flashback Fridays, the column where we take a trip back in time through the chart-topping highs and murky depths of Alpha-lore. Without further ado here's this week's panel(s)...
Plot/Dialogue - Fabian Nicieza, Pencils - June Brigman, Inks - Danny Bulandi, Colours - Bob Sharen, Letters - Chris Eliopoulos
From September 1991's Alpha Flight #100 it's
Weapon Alpha
Vindicator
Guardian
Vindicator taking down Galactus!
I know, I know; it's slightly cheating as Galactus was weakened and without certain powers and Mac was enhanced by the Quwirilin at the time, but it still shows Mac to be a formidable force to be reckoned with and shows one of what I consider to be one of the major underlying themes throughout the title: The love between James & Heather Hudson and the lengths the couple would go to to save/protect the other.
If you've got a panel/page of an Alpha Appearance you'd like featured in a future edition of Flashback Fridays PM or e-mail me with either a .jpg or title/issue/page/panel number of your choice. You don't have to give a reason and you can remain anonymous if you wish.
.