The following issue summary was written by Robert Diehl as a part of
Chronology.Net
. This information is not to be reproduced without permission of the author.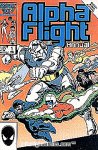 Issue
: Alpha Flight Annual 1
Date
: 1986
Story
: Homebody! (38 pages)
Feature Characters
: Heather, Judd, Roger, Madison Jeffries, Jean-Paul, Jeanne-Marie, Michael, Snowbird, Walter (in flashback)
Regular Characters
:
Guest Stars
:
Villains
: Lillian van Loont (Gilded Lily), Esteban Diablo
Other Characters
: Sgt. Carter
Synopsis
: The spirit of Gilded Lily (
iss. 21
) has become one with the mansion. She sends an electrical elemental to break Diablo out of prison to aid her, but he has had done with fighting super-heroes.
Lily attacks Alpha Flight using the house as a weapon and captures Aurora, taking her through a mirror into darkness, which reverts her to her Jeanne-Marie personality.
Diablo, under pressure, decides to help Lily possess Aurora's body and make it immortal, but Alpha Flight arrives, and he surrenders.
Aurora reasserts herself and forces Lily to drink Diablo's formula, which disintegrates her.
Diablo is returned to prison.