The following issue summary was written by Robert Diehl as a part of Chronology.Net. This information is not to be reproduced without permission of the author.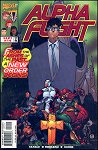 Issue:
Alpha Flight II: 14
Date:
Sep-98
Story:
Reflection (22 pages)
Feature Characters:
Guardian, Vindicator II, Puck, Flex, Radius, Murmur; Sasquatch (in flashback)
Regular Characters:
Sunfire (in flashback); Gentry, his assistant Hames, trainees Ouija, Flinch, Lilli
Guest Stars:
Walter Langoski, Marrina, Shaman, Snowbird, Box, Northstar, Aurora, Nemesis (all in flashback-it looks like the new series is challenging the old series' record)
Villains:
Dept. H personnel including epsilon soldiers, Dr. Huxley, Lt. Oculus, Coordinator Proctor, Chief Engineer Su, Director X; Tundra, the Super Skrull (both in flashback); the Brass Bishop
Other Characters:
Capt. Fortier
Credits:
Writer:
Steve Seagle
Pencils:
Duncan Rouleau
Inks:
Troy Hubbs, Christy Stack
Letters:
Richard Starkings & Comicraft
Colors:
LeAnn Denham
Editor:
Jaye Gardner
Editor-in-Chief:
Bob Harras
Synopsis:
At Sasquatch's funeral, Heather tells Mac they're through, since he is too young to remember their life together. Then she, he, and Puck give eulogies, reminiscing about Walter in front of the real sasquatch's giant coffin. Puck makes Radius take the podium, and he raves for a while, then stalks off, guilty over Sasquatch's death.
At Dept. H, Gentry is Gen. Clarke's replacement, and he cleans house. He reprimands the staff, reassigns the guards, moves the captive trainees into the Alpha wing, cancels the Helios project since Sunfire has fled, and orders openness and accountability all around. Director X questions his methods, lets him know that Walter is alive, and admits to mind-wiping the team. How much to tell the team, he leaves up to Gentry, who stops by the funeral and calls a meeting for the morning. A new day for the Flight.
Off the coast of Greenland, a reporter looking for a "Titanic" story is aboard an icebreaker, which is accosted by a ship bearing the Brass Bishop (last seen
vol. I:121
).