The following issue summary was written by Robert Diehl as a part of
Chronology.Net
. This information is not to be reproduced without permission of the author.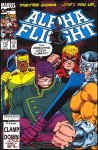 Issue:
Alpha Flight 119
Date:
Apr-93
Story:
The Clamp Down Part 2 (24 pages)
Feature Characters:
Windshear, Heather, Jean-Paul, Walter, Judd, Nemesis, Kara, Knapp, Jeanne-Marie, Goblyn, Laura, Kyle
Regular Characters:
Wyre, Albert Louis
Guest Stars:
Villains:
The Wrecking Crew: Thunderball, Bulldozer, Piledriver, Wrecker; Loki (flashback); Joshua Lord (see
iss. 126
for the "Joshua", see
iss. 129
to see he is the Master of the World) and his Hardliners, Robert Hagon
Other Characters:
Synopsis:
The Wrecking Crew attacks Walter, and Judd realizes he doesn't have enough team members to stop them.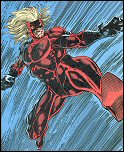 Inside his cocoon, Knapp's mind explores his Mindwell, which contains all his possible pasts and futures, and which will collapse unless he can be fixed himself.
Thunderball awakens and recalls how he took control of the team (and their Asgardian power) from Wrecker.
Hagon admonishes Lord, whose Hardliners have muffed both Louis and Thunderball (
last iss.
). Lord wants to be the contractor who enforces Lord's Super-Powers bill.
Alpha Flight downs the Wrecker, and Thunderball realizes they've been set up, so he ports them away.
Headliners invade Mansion Alpha while most of the team is on a mission. But unknown to them, Wyre is there, and he attacks.
Louis, on the run, decides to run to Alpha Flight.