The following issue summary was written by Robert Diehl as a part of
Chronology.Net
. This information is not to be reproduced without permission of the author.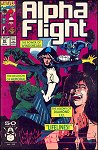 Issue:
Alpha Flight 95
Date:
Apr-91
Story:
Life Lines (22 pages)
Feature Characters:
Jeanne-Marie, Lil, Kara, Heather, Judd, Jean-Paul, Elizabeth, Madison Jeffries, Mac, Walter, Michael, Windshear, Witchfire; Snowbird, Marrina (flashbacks)
Regular Characters:
Guest Stars:
Villains:
Loki, Llan the Sorcerer (flashbacks)
Other Characters:
Windshear's mother Jacqueline, her father Martin Freeman, and husband Franklin (flashbacks)
Synopsis:
Aurora goes to confession and tells her history. She does not want to
use her new power (to give peace of mind) in violent ways. She gives hope to a group of homeless people, and begins to believe that may be enough.
Windshear visits his grandfather's grave and recalls when his mother got remarried to a rich white Brit whom her father hated. He never saw him again. He now wants to be a better man, and stops a mugging.
Heather and Judd train Kara. Heather comes across Lil crying in the shower. She tells her she has a lump in her breast. Heather convinces her to get a mammogram.
Heather announces the new roster: Alpha is Heather, Mac, Walter, Jean-Paul, Judd, Lil, Jeffries, and Windshear. Beta has Michael as instructor, with Witchfire and Kara in training. Gamma is support and research, including Aurora in the psychiatric unit (no, as a counselor).