The following issue summary was written by Robert Diehl as a part of
Chronology.Net
. This information is not to be reproduced without permission of the author.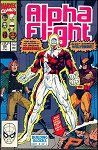 Issue:
Alpha Flight 89
Date:
Oct-90
Story:
Building Blocks Part III: Faith (22 pages)
Feature Characters:
Judd, Michael, Walter, Jeanne-Marie, Elizabeth, Heather, Kara, Laura, Jean-Paul, Madison Jeffries, Lil, Mac, Windshear; Marrina, Snowbird (flashbacks)
Regular Characters:
Nemesis, Auric, Silver, Wild Child, Witchfire
Guest Stars:
Logan (Wolverine); Forge
Villains:
The Master of the World and his Remnant Men
Other Characters:
Melanie Killgrave, Dr. Giloski, Darby and Susan Dean, Samuel Higgins; Quwrlln (flashback)
Synopsis:
Judd is a monstrosity. The Master has used his doctor to inject him with Scramble's enzymes (see
iss. 30
) and his own blood from when he was a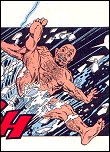 dwarf, which has made him a monstrous dwarf. He wanted to mate him with Marrina's offspring and produce an ultimate warrior. Walter can fix it.
Heather and Wolverine track Wild Child. They realize Gamma Flight is with him, and are later attacked by them.
Laura is in the hospital, critically wounded (
iss. 87
). Her parents arrive.
Walter makes Judd normal again, and a dwarf. The Master arrives and sends his Remnant Men to attack.
At Roxxon's former lab, Jeffries's systems are overridden. Higgins explains that Mac really was on Ganymede for 10,000 years (see
iss. 25
). Forge merges with Jeffries, they fight their way in. Jeffries talks to Mac, and when he mentions Heather, Mac wakes up, realizing he is alive.