The following issue summary was written by Robert Diehl as a part of
Chronology.Net
. This information is not to be reproduced without permission of the author.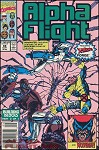 Issue:
Alpha Flight 88
Date:
Sep-90
Story:
Building Blocks Part II: Trust (22 pages)
Feature Characters:
Heather, Kara, Elizabeth, Walter, Michael, Jeanne-Marie, Madison Jeffries, Lil, Judd, Mac, Windshear
Regular Characters:
Nemesis, Auric, Silver, Wild Child, Witchfire
Guest Stars:
Logan (Wolverine); Val Cooper; Forge, Sean Cassidy (Banshee), Dr. Moira MacTaggert, Amanda Sefton (later Day Tripper), Tom Corsi, Sharon Friedlander (miscalled Mary)
Villains:
Remnant Men (see
next iss.
)
Other Characters:
Samuel Higgins
Synopsis:
Heather sees that Wolverine is alive (he died in Uncanny X-Men 227). Nemesis doesn't want to turn Wild Child over to the authorities.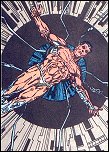 Judd has been taken to a secret lab in South Dakota. Elizabeth, Michael, Walter, and Aurora go there and battle disfigured humans. Aurora has trouble reconciling being a superhero and a nun.
Roxxon's basement has been brought to Cooper's attention. She decides to bring Forge in. Unfortunately, she doesn't tell him, so when Jeffries, Lil, and Windshear go to Muir, they are attacked.
Heather decides to break Wild Child out of prison to give the ill Wolverine a transfusion: they have similar healing factors. But he's already escaped.
Elizabeth mystically learns the Master has Judd, and she opens an interdimensional portal to his base. They find Judd suspended in solution.
Forge agrees to help. When he arrives, the Roxxon installation blows up, killing many. They find Mac hooked into the remaining machinery.