The following issue summary was written by Robert Diehl as a part of
Chronology.Net
. This information is not to be reproduced without permission of the author.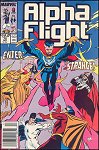 Issue:
Alpha Flight 78
Date:
Dec-89
Story:
Omens (22 pages)
Feature Characters:
Heather, Elizabeth, Walter, Madison Jeffries, Michael, Judd, Lil
Regular Characters:
Veronica Langkowski
Guest Stars:
Dr. Stephen Strange, Wong
Villains:
The Master of the World, Llan the Sorcerer
Other Characters:
Capt. Forsa
Synopsis:
Strange has a vision of evil in Canada, and death in South America. Forsa, a Brazilian superhero, is assassinated by a zeitgeist who wants to wipe out all heroes.
Elizabeth foretells that the Sorcerer will try to start the Sweeping Dark in Canada, and she urges Heather to set up shop in Edmonton, in a building built over a well of mystic power.
Walter lets Veronica know he is a man again, and is going to get his money back.
Michael and Judd are in the hospital (since
iss. 76
). Lil announces her intention to hang around Alpha Flight (and Jeffries, who has not yet dumped Heather).
The Master retrieves and dons his helmet. He causes alien eggs to hatch. The Sorcerer visits, telling him to seek Marrina and Namor's children. He then breaks Strange's concentration before he can learn more.