The following issue summary was written by Robert Diehl as a part of
Chronology.Net
. This information is not to be reproduced without permission of the author.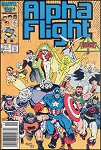 Issue:
Alpha Flight 39
Date:
Oct-86
Story:
The Invasion of Atlantis! (22 pages)
Feature Characters:
Snowbird, Heather, Jean-Paul, Jeanne-Marie, Judd, Michael, Madison Jeffries, Roger, Elizabeth, Marrina
Regular Characters:
Cpl. Douglas Thompson, Gary Cody
Guest Stars:
Namor the Sub-Mariner, the Avengers: Monica Rambeau (Capt. Marvel), Steve Rogers (Capt. America), Hercules, Dane Whitman (the Black Knight), Janet Van Dyne (the Wasp)
Villains:
Attuma
Other Characters:
Byrrah
Synopsis:
Alpha Flight ignores direct orders from the Canadian government and goes to attack Atlantis. Snowbird regrets having chosen to remain human, and Thompson storms off without her, going after their son.
Atlantis fires the first shot, blowing the Omnijet out of the sky. After an underwater skirmish, Alpha Flight meets up with the Avengers and plans to rescue Marrina.
They are together surrounded by Attuma's forces, and the story continues in Avengers 272).