The following issue summary was written by Robert Diehl as a part of
Chronology.Net
. This information is not to be reproduced without permission of the author.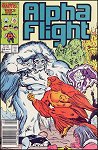 Issue:
Alpha Flight 38
Date:
Sep-86
Story:
Pestilence (22 pages)
Feature Characters:
Snowbird, Heather, Jean-Paul, Jeanne-Marie, Judd, Michael (Talisman henceforth), Madison Jeffries, Roger, Elizabeth, Marrina
Regular Characters:
Guest Stars:
Namor the Sub-Mariner
Villains:
Attuma, High Priest Shakkoth, Vashti, Capt. F.R. Crozier (Pestilence); Kariooq the Corruptor, Tundra, Ranaq the Devourer, Somon the Shaper
Other Characters:
Byrrah
Synopsis:
Namor fights Attuma's forces alone and is overcome. The Atlanteans don't want Marrina as their queen, since she is an alien monster. Namor goes to the Avengers for aid, sending Byrrah to Alpha Flight.
Pestilence takes Mac's face to deter Heather from attacking him, but she belts him one, anyway. Judd pulls him under the ice, and he and Heather free the team.
Snowbird becomes a sasquatch to fight Pestilence, but he controls all the great beasts, and they attack.
Michael dons Elizabeth's tiara to become Talisman, and he banishes the great beasts, except for the Snowbird Sasquatch, who attacks Pestilence, who flees underground, still possessing Thompson and Snowbird's baby.