The following issue summary was written by Robert Diehl as a part of
Chronology.Net
. This information is not to be reproduced without permission of the author.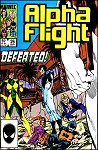 Issue:
Alpha Flight 26
Date:
Sep-85
Story:
If at First You Don't Succeed... (22 pages)
Feature Characters:
Jeanne-Marie, Walter, Elizabeth, Michael, Judd
Regular Characters:
Guest Stars:
Villains:
Omega Flight: Lillian Crawley (Diamond Lil), Flashback, Kyle Gibney (Wild Child), Delphine Courtney impersonating Mac.
Other Characters:
Capt. Mansfield
Synopsis:
The team battles the Macro System, military test robots, who merge into one giant robot and are defeated.
Mac gets a message from Heather that there is trouble at the West Edmonton Mall. Mac, Judd, Elizabeth, Northstar, and Heather are separately defeated by Omega Flight and Mac, who turns out to be a robot (previously Delphine Courtney).