The following issue summary was written by Robert Diehl as a part of
Chronology.Net
. This information is not to be reproduced without permission of the author.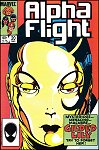 Issue:
Alpha Flight 20
Date:
Mar-85
Story:
Gold and Love Affairs! (22 pages)
Feature Characters:
Walter, Jeanne-Marie, Snowbird, Michael, Heather, Judd, Elizabeth
Regular Characters:
Guest Stars:
Villains:
Lillian van Loont (Gilded Lily)
Other Characters:
Cavelli, Chuck
Synopsis:
Walter clears some land for a new sanitarium, and Aurora arrives with new couture and coiffure and modified powers, and flirts with the construction workers.
Snowbird and Michael try to explain to Elizabeth her prophesied role. She is reluctant to be a messiah, but finds she is unable to remove her coronet.
Michael notes Judd's growing affection for Heather and encourages him.
Walter and Aurora go to an isolated family mansion of his, preparing it as a new base for the team. They find it inhabited. Walter is abducted, and Aurora put in darkness, forcing her to struggle with her Jeanne-Marie personality. She escapes into a room containing the gold statues of Walter's great-aunt's eight husbands, which she realizes are alive. She bumps into Gilded Lily, who takes her to Walter, likewise transformed into a golden statue.