The following issue summary was written by Robert Diehl as a part of
Chronology.Net
. This information is not to be reproduced without permission of the author.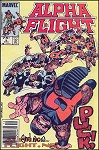 Issue:
Alpha Flight 5
Date:
Dec-83
Story 1:
What Fools These Mortals Be... (17 pages)
Feature Characters:
Judd, Michael
Regular Characters:
Guest Stars:
Villains:
Other Characters:
nurses including Margaret "Maggie" Cambridge, Daly; Dr. Craigborne; Sgt. McNamara
Synopsis:
Judd, in the hospital under Michael's care since
iss. 2
, is recovering but oddly still in great pain. He looks for a nurse, and finds one acting sneakily. He investigates and finds that the painkillers are being diluted. He convinces Craigborne to let him prove there is drug trafficking in the hospital, and that night sees such a transaction. He jumps on the back of the van with the drugs, and in the criminals' boathouse, he attacks them, ripping his stitches out in the process.
Back in the hospital, he is congratulated by McNamara, but Craigborne tries to kill him by injecting him with insulin. Judd hits him and exposes him as the drug traffic ringleader
Story 2:
Deathwatch (5 pages)
Feature Characters:
Michael
Regular Characters:
Heather McNeil, her parents Ramsey and Claire, Michael's grandfather
Guest Stars:
Villains:
Other Characters:
Michael's wife Katheryn and daughter Elizabeth; Dr. Max Bassaraba
Synopsis:
Fifteen years ago, Michael rejects his grandfather's teachings as a medicine man, opting instead to remain a man of science. Returning home, he learns that his wife is dying. For months he tries to find a cure, but to no avail. When she dies, Elizabeth feels betrayed by Michael and goes to live with the McNeils.