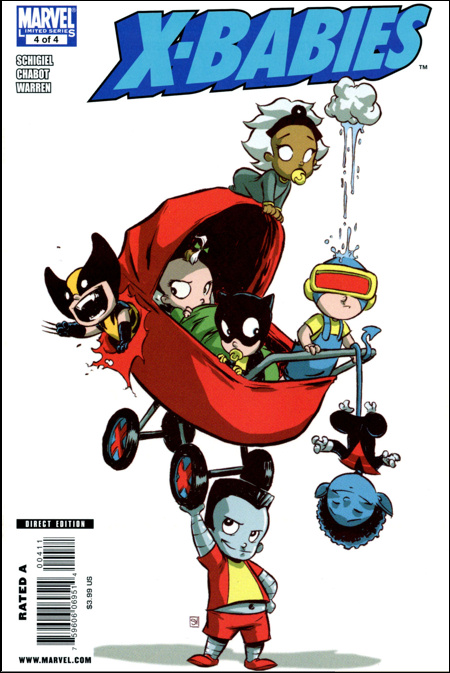 This whole mini-series has been pretty cute and fluffy fun, but the last issue was quite possibly one of the greatest things I've seen in a while. Over the course of an epic, 12-page battle, tiny X-Baby versions of pretty much every single X-related character ever put in appearances. From all the big names to D-listers and below, it's absolutely jaw-dropping how many characters are crammed into this issue, and I'm pretty sure the artist, Jacob Chabot, is my new hero. I'm sure some people will put together a complete list somewhere shortly, and I'm sure it's going to be staggering.
Alpha Flight-wise, Northstar, Aurora, and Wild Child all appear.
I'm going to go read this again now, and actually pay attention to the words this time instead of all the insane, adorable backgrounds.
ETA: Just spotted Madison in there too, in itty bitty Box armor, classic transformer look! He's in with this little robot brigade consisting of Danger, Warlock, Omega Sentinel, Albert, and Elsie Dee. Gah, so cute. XD