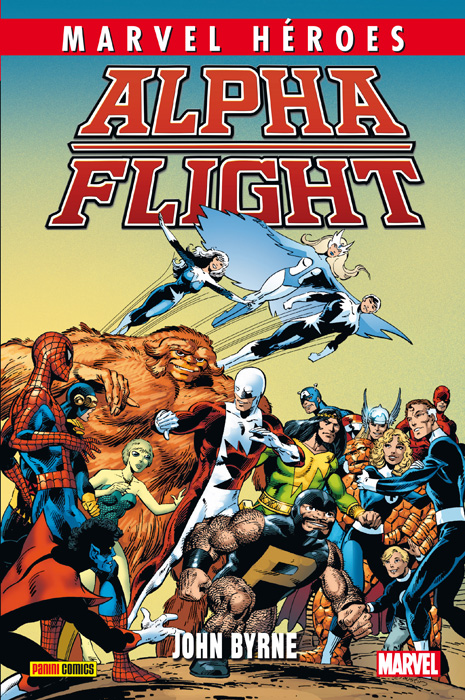 Bleeding Cool
have noticed an
Amazon listing
for a 1248 page Alpha Flight Omnibus to be released in February 2017!
The creators listed are John Byrne, Chris Claremont, Roger Stern, Tom Defalco, Sal Buscema, Steve Ditko, Ron Wilson and Mike Mignola which implies that the Omnibus includes the early Uncanny X-Men issues, Machine Man #18 , Marvel Two-In-One #83-84, Incredible Hulk Annual #8, and presumably Alpha Flight #29 to cap the Byrne run off. Bill Mantlo isn't listed, but this is an initial advanced Amazon listing rather than full details from Marvel.
Panini Comics released a similar Omnibus in 2014
that featured most of the above plus extracts from Secret War II #4 and Marvel Age #2 which only came to 800 pages so hopefully they'll be included too (with the Machine Man and Marvel Two-In-One issues adding to the page count) along with Incredible Hulk #313 and possibly even his relevant Official Handbook Of The Marvel Universe entries and covers to Marvel Team-Up Annual #7 and Alpha Flight#81-82?
Or the page count could simply be incorrect.
Either way this is great news and something we've been demanding for a long time now!
Especially with the Alpha Flight Classics Volume 1 being so hard to get hold of.
If the listing turns out to be correct it could be in Comic Specialty stores earlier, possibly as early as January, meaning we may hear official word and details about it in October.
Could this mean be a big push for the team in the future after Civil War II?
Especially combined with the news of a softcover reprint of the Marvel Premier X-Men/Alpha Flight collection coming in November 2016:

We here at AlphaFlight.net will endeavour to keep you posted with more news as soon as we can!
(Please note: The article header image is taken from the Panini Comics edition and is not representative of an actual cover)


.