Marvel have released their Solicitations for comics shipping in June 2016, including the following titles that may include appearances from Alpha Flight characters:-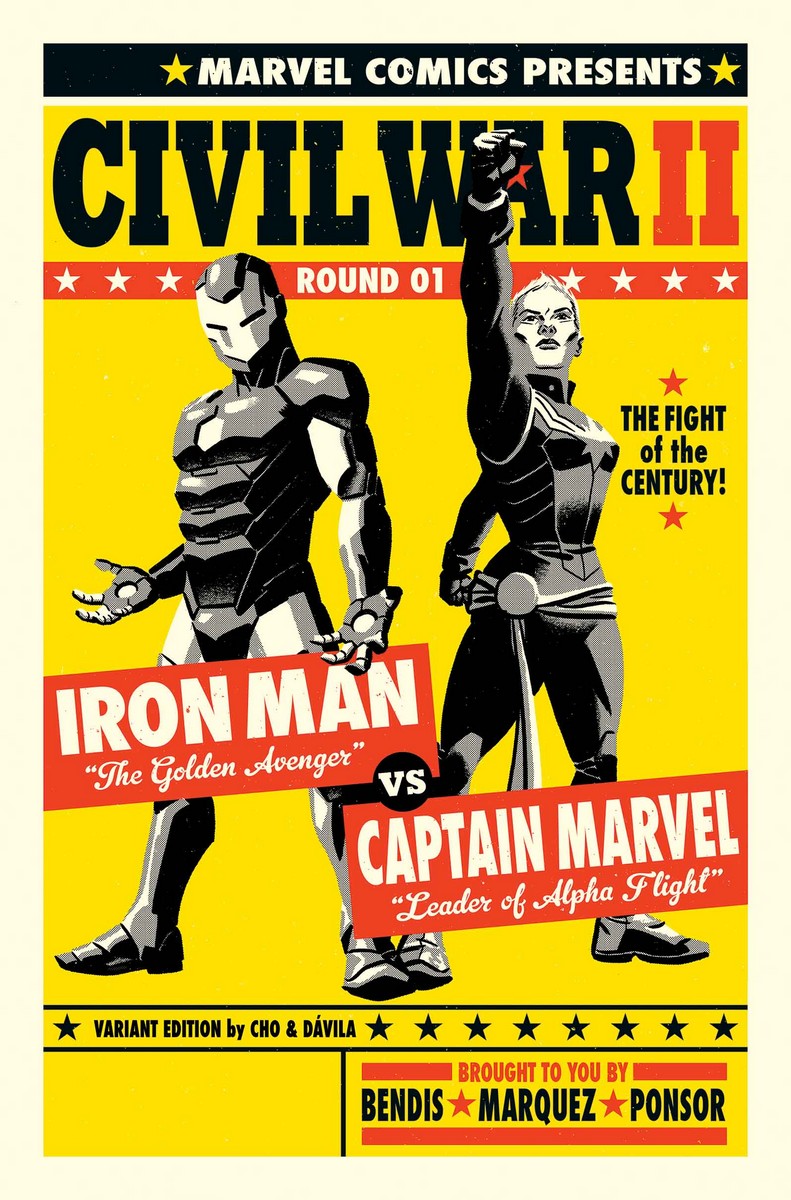 CIVIL WAR II #1 (OF 7)
BRIAN MICHAEL BENDIS (W) • DAVID MARQUEZ (A)
Cover by MARKO DJURDJEVIC
CIVIL WAR II 1 BLANK COVER VARIANT COVER ALSO AVAILABLE (MAR160714)
CONNECTING VARIANT COVER B BY Kim JUng Gi (MAR160712)
TEAM CAP HIP-HOP VARIANT COVER BY TERRY DODSON (MAR160713)
VARIANT COVER BY DAVID MARQUEZ (MAR160711)
VARIANT COVER BY STEVE MCNIVEN (MAR160709)
SKETCH VARIANT COVER BY STEVE MCNIVEN (MAR160710)
VARIANT COVER BY MICHAEL CHO (MAR160708 )
TEAM IRON MAN HIP-HOP VARIANT COVER BY RAFAEL ALBUQUERQUE (MAR160706)
CHARACTER VARIANT BY PHIL NOTO (MAR160707)
Hot Wheels VARIANT COVER BY MANUEL GARCIA (MAR160705)
BATTLE VARIANT COVER BY CHRIS SPROUSE (MAR160704)
GWEN-POOL PARTY VARIANT BY YASMINE PUTRI (MAR160719)
IT'S HERE!
The explosive first chapter in the comic event EVERYONE will be talking about. And we come out swinging with a blistering double-sized first issue from the creative team behind last year's best-selling debut of INVINCIBLE IRON MAN and Miles Morales. A new Inhuman, with the ability to profile the future, emerges and the ramifications ripple into every corner of the Marvel Universe. Lines are drawn, bodies fall, and the Marvel Universe will be rocked to it's very core. The action starts here!
56 PGS./Rated T+ …$5.99 (MAR160703)
(FOC 4/4/16 ON-SALE 6/1/16)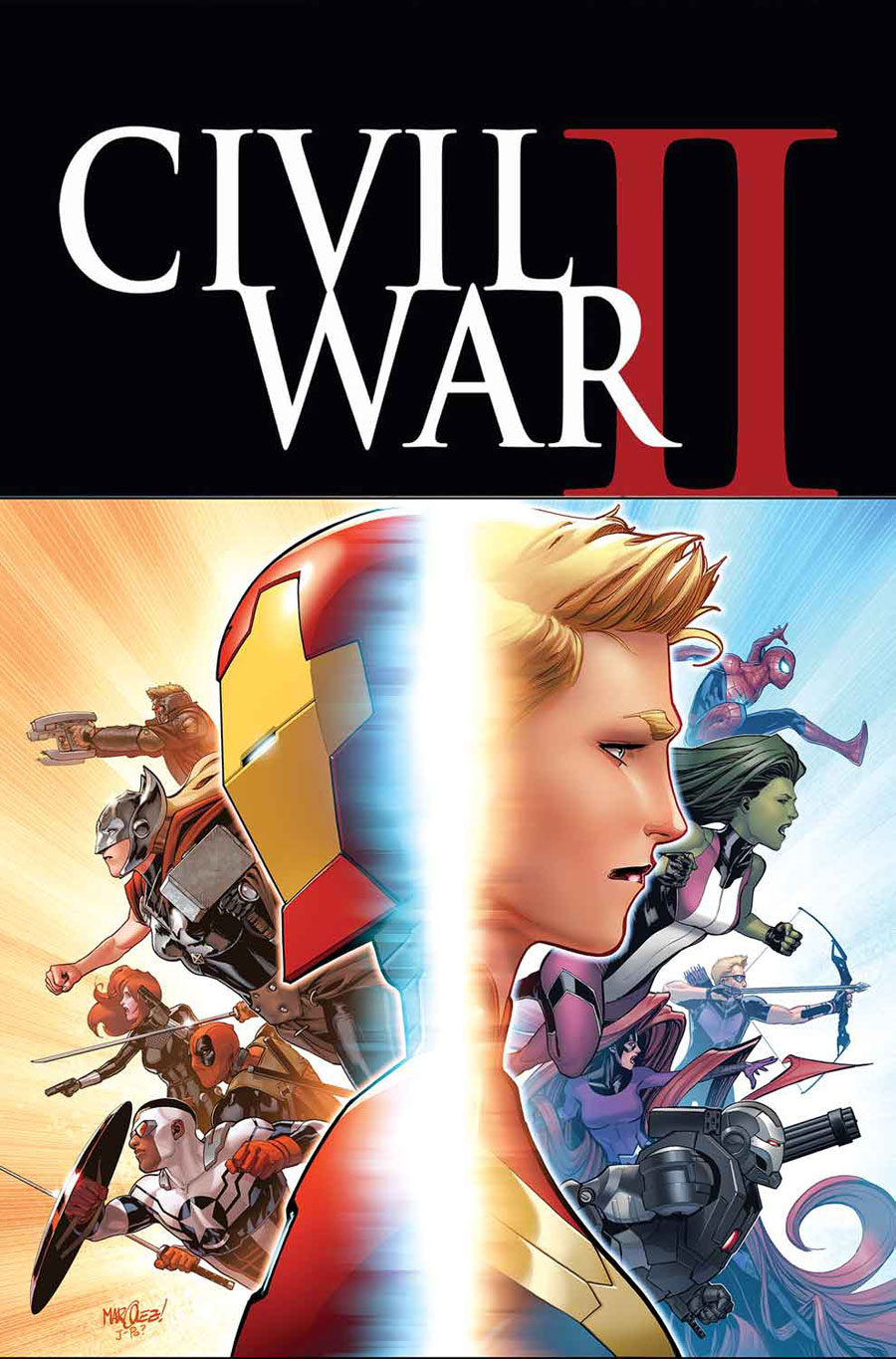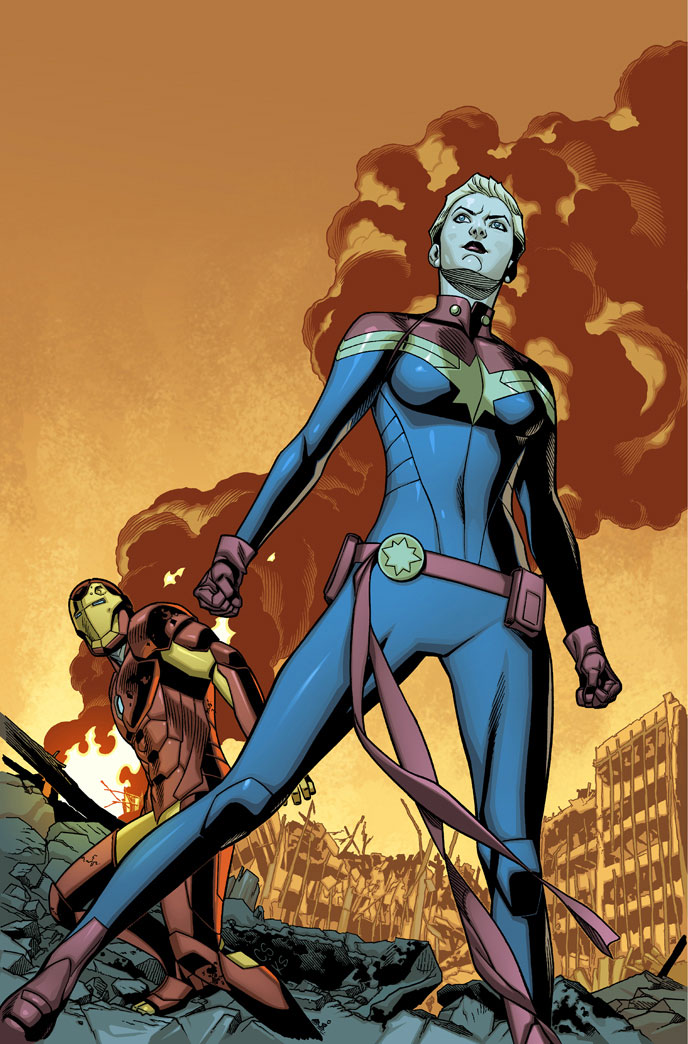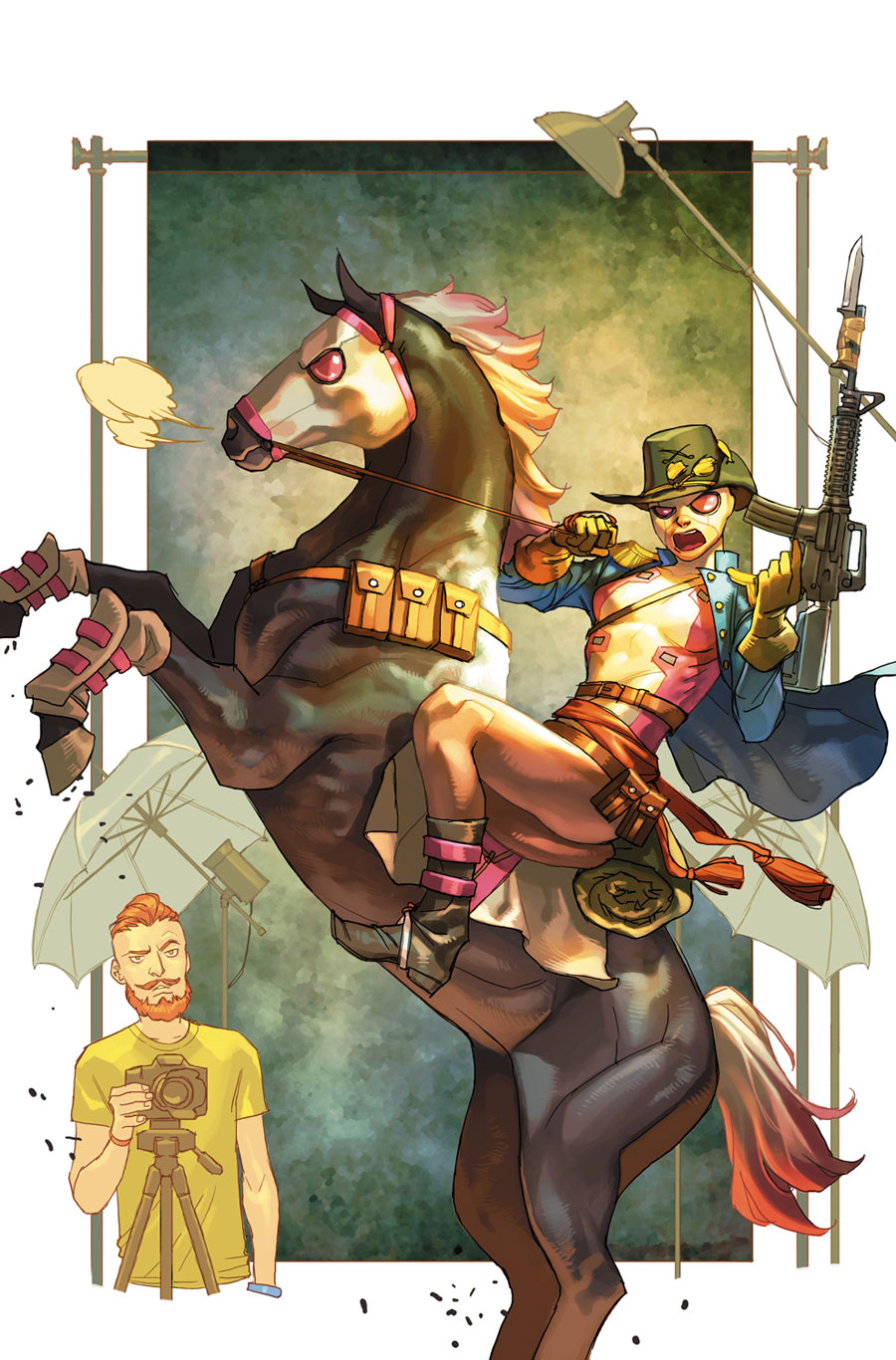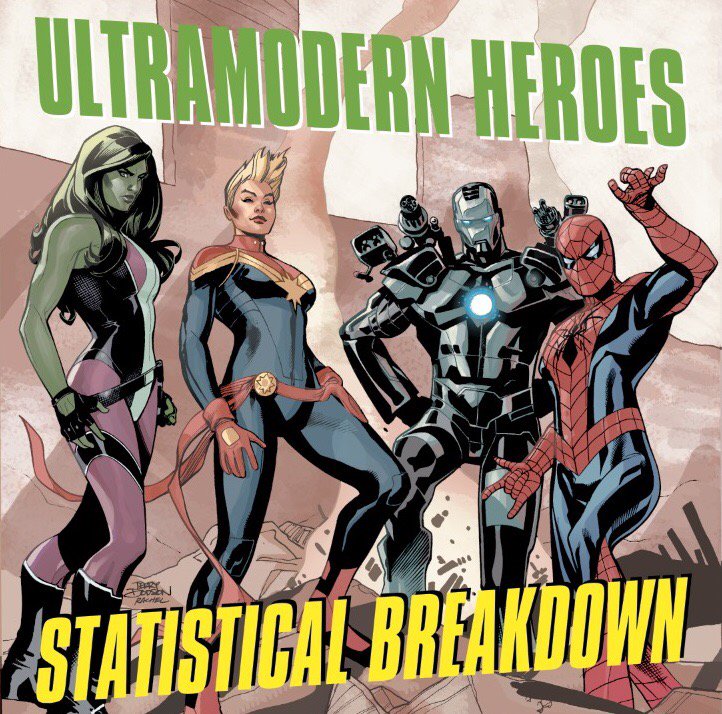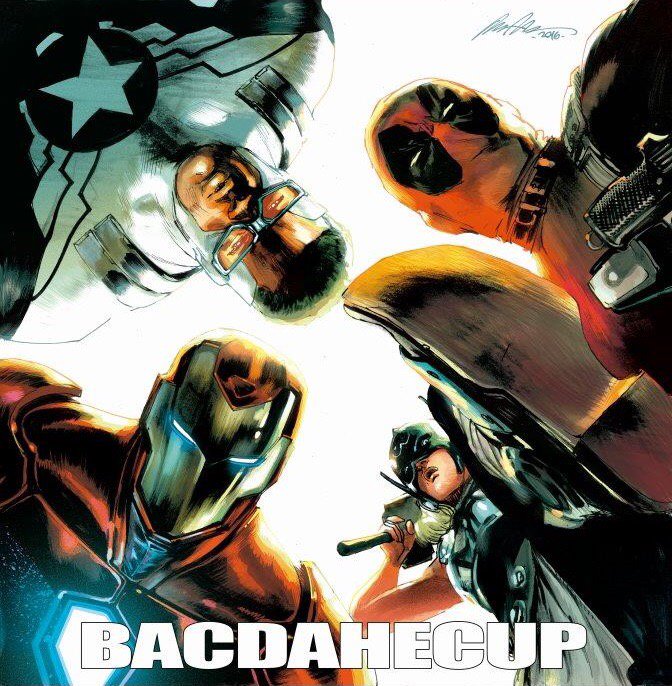 CAPTAIN MARVEL #6
CHRISTOS GAGE & RUTH GAGE (W) • KRIS ANKA (A/C)
CIVIL WAR REENACTMENT VARIANT COVER BY PASQUAL FERRY
CIVIL WAR II TIE-IN!
• Old friends face off as enemies in an event that will change Captain Marvel's life forever.
• As war erupts, Carol finds herself at the forefront of battle. But after tragedy hits too close to home, how far will Carol go to fight for what she believes in?
• This is Captain Marvel at her finest. In her toughest fight yet.
32 PGS./Rated T+ …$3.99
(FOC 5/23/16, ON-SALE 6/15/16)
TIMELY COMICS: DOCTOR STRANGE #1
Reprinting DOCTOR STRANGE (2015) #1
(A STORY) and #2-3.
72 PGS./Rated T+ …$3.00
(FOC 5/16/16, ON-SALE 6/8/16)
TIMELY COMICS: ULTIMATES #1
Reprinting ULTIMATES (2015) #1-3.
72 PGS./Rated T+ …$3.00
(FOC 6/6/16, ON-SALE 6/29/16)
THE UNCANNY X-MEN OMNIBUS VOL. 2 HC
(NEW PRINTING)
Written by CHRIS CLAREMONT with JOHN BYRNE, MARY JO DUFFY, SCOTT EDELMAN & BOB LAYTON
Penciled by JOHN BYRNE & DAVE COCKRUM with JOHN ROMITA JR., BRENT ANDERSON,
MICHAEL GOLDEN, PAUL SMITH, GEORGE PEREZ, JOHN BUSCEMA, BOB McLEOD, KEN LANDGRAF
& JIM SHERMAN
Cover by JOHN BYRNE
Chris Claremont, Dave Cockrum and John Byrne took a little reprint series called X-MEN and turned it into the all-new, all-different titan that conquered comicdom. Now, you can experience the thrills and excitement of their classic tales from "The Dark Phoenix Saga" to "Days of Future Past" and so much more in this enormous Omnibus! Including the debuts of X-universe mainstays Emma Frost and Kitty Pryde, the threat of Mystique's Brotherhood of Evil Mutants, Magneto's return, Wolverine's first solo story and a rare Savage Land adventure — plus the original ending of "Dark Phoenix" and a host of bonus stories! Collecting X-MEN (1963) #132-141, UNCANNY X-MEN (1981) #142-153, X-MEN ANNUAL (1970) #4-5, AVENGERS ANNUAL #10, MARVEL TREASURY EDITION #26-27, BIZARRE ADVENTURES #27, PHOENIX: THE UNTOLD STORY, and material from MARVEL FANFARE (1982) #1-4 and MARVEL TEAM-UP (1972) #100.
912 PGS./All Ages …$100.00
ISBN: 978-1-302-90166-0
Trim size: oversized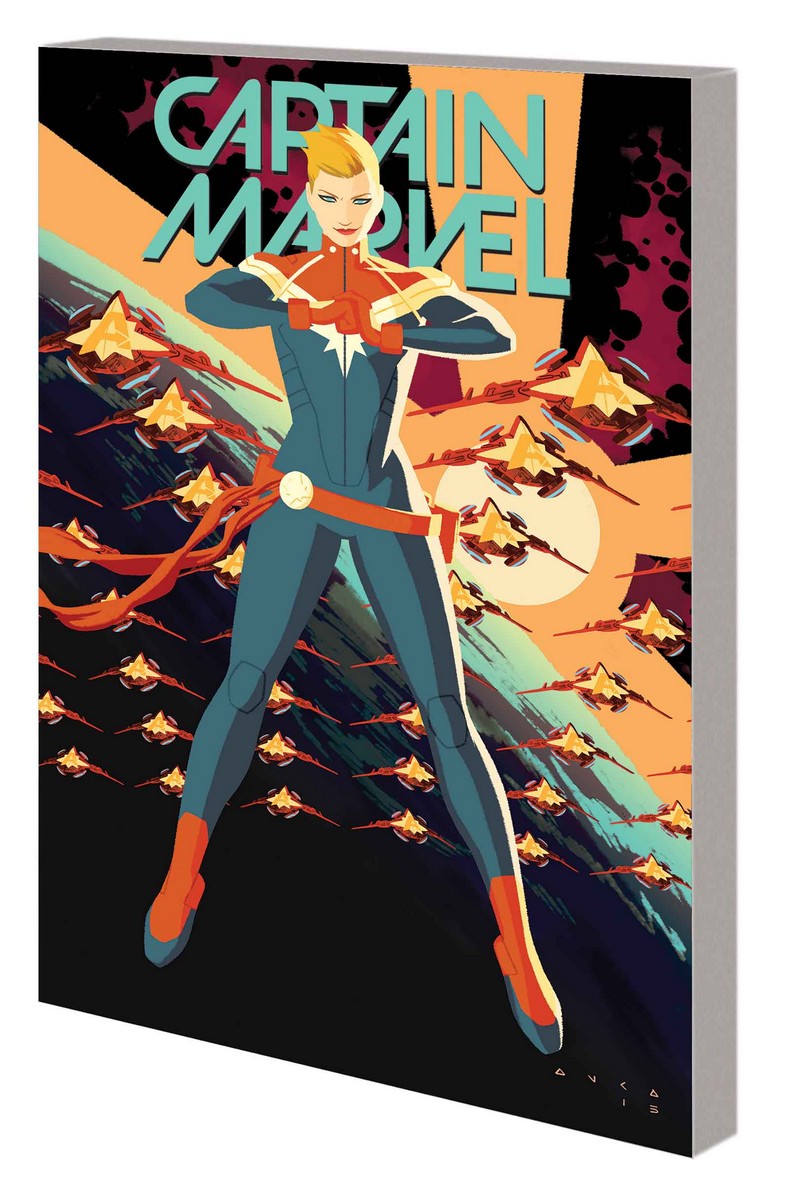 CAPTAIN MARVEL VOL. 1: RISE OF ALPHA FLIGHT TPB
Written by MICHELE FAZEKIS & TARA BUTTERS
Penciled by KRIS ANKA
Cover by KRIS ANKA
Oh Captain, my Captain! Carol Danvers soars higher than ever with her greatest mission yet — leading Earth's first line of defense, the all-new Alpha Flight space program! And some alums of the old-school Flight are along for the ride: Puck, Aurora and Sasquatch! It's a bold new frontier for Captain Marvel, but can she handle being a diplomat first and a soldier second? She'll face negotiations with alien delegates, passive-aggressive power struggles with Flight Commander Abigail Brand, an insatiable itch to be out on the front lines and the mystery of a ghost ship bearing the Star of Hala — the very symbol she wears on her chest! Plus: Carol's powers are on the fritz, and all evidence says Alpha Flight has a traitor in its midst. You think your job is tough? Try Captain Marvel's! Collecting CAPTAIN MARVEL (2016) #1-5.
112 PGS./Rated T+ …$15.99
ISBN: 978-0-7851-9642-6
THE ULTIMATES: OMNIVERSAL VOL. 1:START WITH THE IMPOSSIBLE TPB
Written by AL EWING
Penciled by KENNETH ROCAFORT & CHRISTIAN WARD
Cover by KENNETH ROCAFORT
Black Panther! Captain Marvel! Ms. America! Spectrum! Blue Marvel! Together, they form the ultimate super team, finding and fixing problems beyond the limits of the infinite! From cosmic forces lurking on Earth to whatever waits beyond the omniverse — they start with the impossible and take it from there! And what's more impossible than ending the threat of Galactus…forever? The devourer of worlds is beyond good and evil. He's a necessary part of the universe. The Ultimates have heard it all before — and respectfully, they disagree. The bigger they are, the harder they fall — but if they succeed in taking him down, what will take his place? Another problem: Spacetime is broken. And to solve that, the Ultimates can't just think within the box. They need to go…outside! Collecting ULTIMATES (2015) #1-6 and material from AVENGERS #0.
136 PGS./Rated T+ …$17.99
ISBN: 978-0-7851-9670-9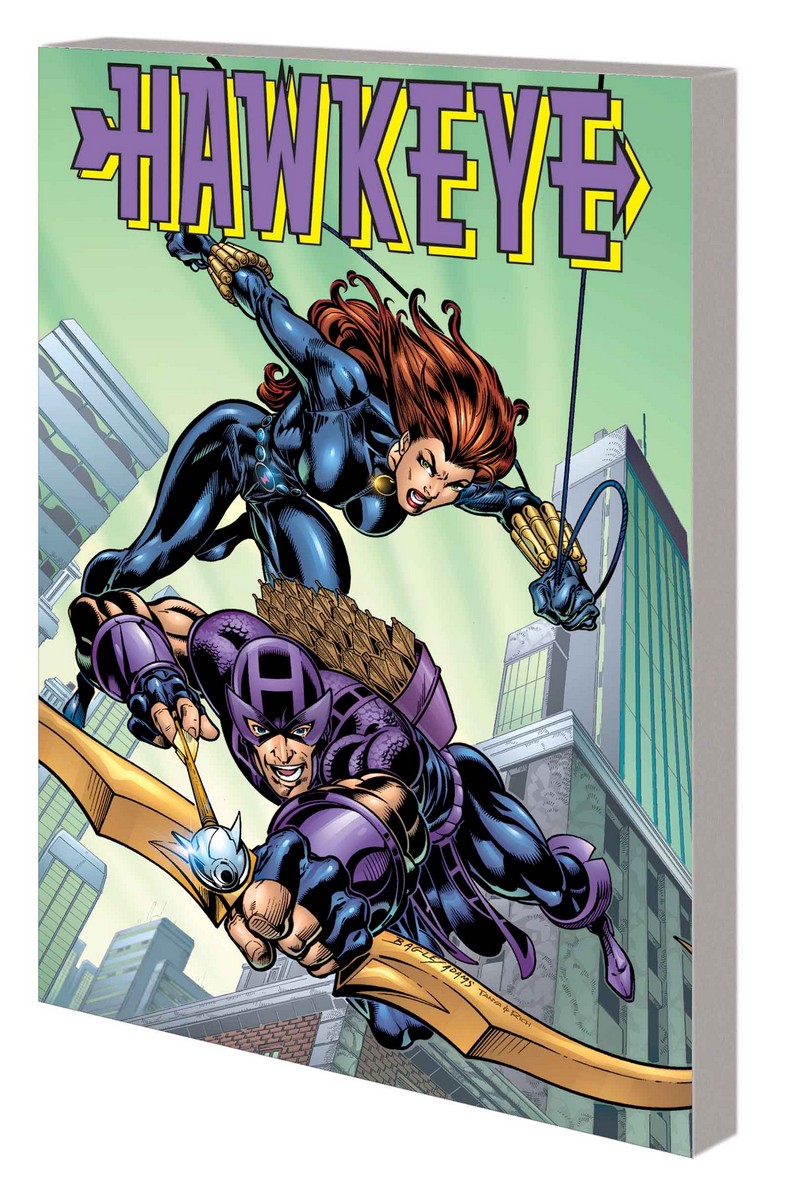 HAWKEYE & THE THUNDERBOLTS VOL. 2 TPB
Written by FABIAN NICIEZA & KURT BUSIEK
Penciled by MARK BAGLEY, PATRICK ZIRCHER, GEORGE PÉREZ & PAUL RYAN
Cover by MARK BAGLEY
Earth's mightiest marksman continues to steer the Thunderbolts to greatness in a volume filled with revelations! Citizen V is unmasked at last! A heartbreaking killer is exposed! And Moonstone learns far more than she bargained for about the source of her power! As the team enters a showdown with the V-Battalion, Sandman lends a great big hand — but can he be trusted? Wonder Man has it in for Atlas, and Black Widow swings by — could this be a warmup for a full-on Avengers/Thunderbolts crossover? You betcha! And Count Nefaria might be more than both groups can handle! Old friends return, and a new Scourge attacks — but as more secrets spill out, will this be the end of a beautiful friendship for Hawkeye and the Thunderbolts? Collecting THUNDERBOLTS (1997) #38-50 and AVENGERS (1998 ) #31-34.
440 PGS./Rated T …$39.99
ISBN: 978-0-7851-9547-4
.