Marvel have released their Solicitations for the month of April 2016 which include the following titles featuring Alpha Flight characters:-


CAPTAIN MARVEL #4
MICHELE FAZEKAS, TARA BUTTERS (W) • KRIS ANKA(A/C)
CIVIL WAR VARIANT COVER BY PASCAL CAMPION
• As the situation with the Eridani delegates escalates, Captain Marvel and her crew struggle to make sense of what happened on the mysterious alien craft.
• But between her powers failing and Wendy's character being called into question, Carol's command of
Alpha Flight
is slowly slipping from her grasp.
32 PGS./Rated T+ $3.99
Re-printed Appearances:
DOCTOR STRANGE VOL. 1: THE WAY OF THE WEIRD PREMIERE HC
Written by JASON AARON
Penciled by CHRIS BACHALO
Cover by CHRIS BACHALO
Only Doctor Strange can protect our world from the darkness beyond -- now, witness the full toll that constant struggle takes on Earth's Sorcerer Supreme! Every spell cast comes at a cost, but what happens when Strange falls behind on his tab? Find out as the good doctor wakes up somewhere very odd, nearly naked -- with no spell books, no weapons and no memory of how he got there...or why all the monsters are chasing him! And as a new visitor to Strange's Sanctum Sanctorum learns one wrong door can lead to oblivion, a magic circle of Strange's friends and allies are about to face their greatest threat. Dark forces are destroying everything mystical in the multiverse, and their sights are set on this dimension. Magic's days are numbered, and Doctor Strange is not ready! Collecting DOCTOR STRANGE (2015) #1-5.
136 PGS./Rated T+ ...$24.99
ISBN: 978-0-7851-9516-0
Trim size: standard
Alphan Appearance: Shaman, Talisman


SPIDER-MAN BY TODD MCFARLANE OMNIBUS HC
Written by TODD MCFARLANE, ROB LIEFELD & FABIAN NICIEZA
Penciled by TODD MCFARLANE & ROB LIEFELD
Cover by TODD MCFARLANE
Todd McFarlane became a superstar illustrating AMAZING SPIDER-MAN, but he changed the industry forever with his next project: the "adjectiveless" SPIDER-MAN! Taking on both writing and art duties, McFarlane ushered Peter Parker into a gritty new era -- and it began with "Torment"! When the Big Apple's streets run red with blood, the web-slinger heads into the sewers to stop the Lizard's homicidal rampage. But what is driving his old friend and foe? Plus: Ghost Rider lends a bony hand when the deranged Hobgoblin returns, the wall-crawler finds himself at the center of a clash of claws between Wolverine and Wendigo, and Pete goes back in black to face Morbius the Living Vampire! And in the ultimate nineties team-up, Spidey joins X-Force to battle the unstoppable Juggernaut! Collecting SPIDER-MAN (1990) #1-14 and #16, and X-FORCE (1991) #4.
440 PGS./Rated T ...$75
ISBN: 978-1-302-90073-1
Trim size: oversized
Alphan Appearance: Puck, Sasquatch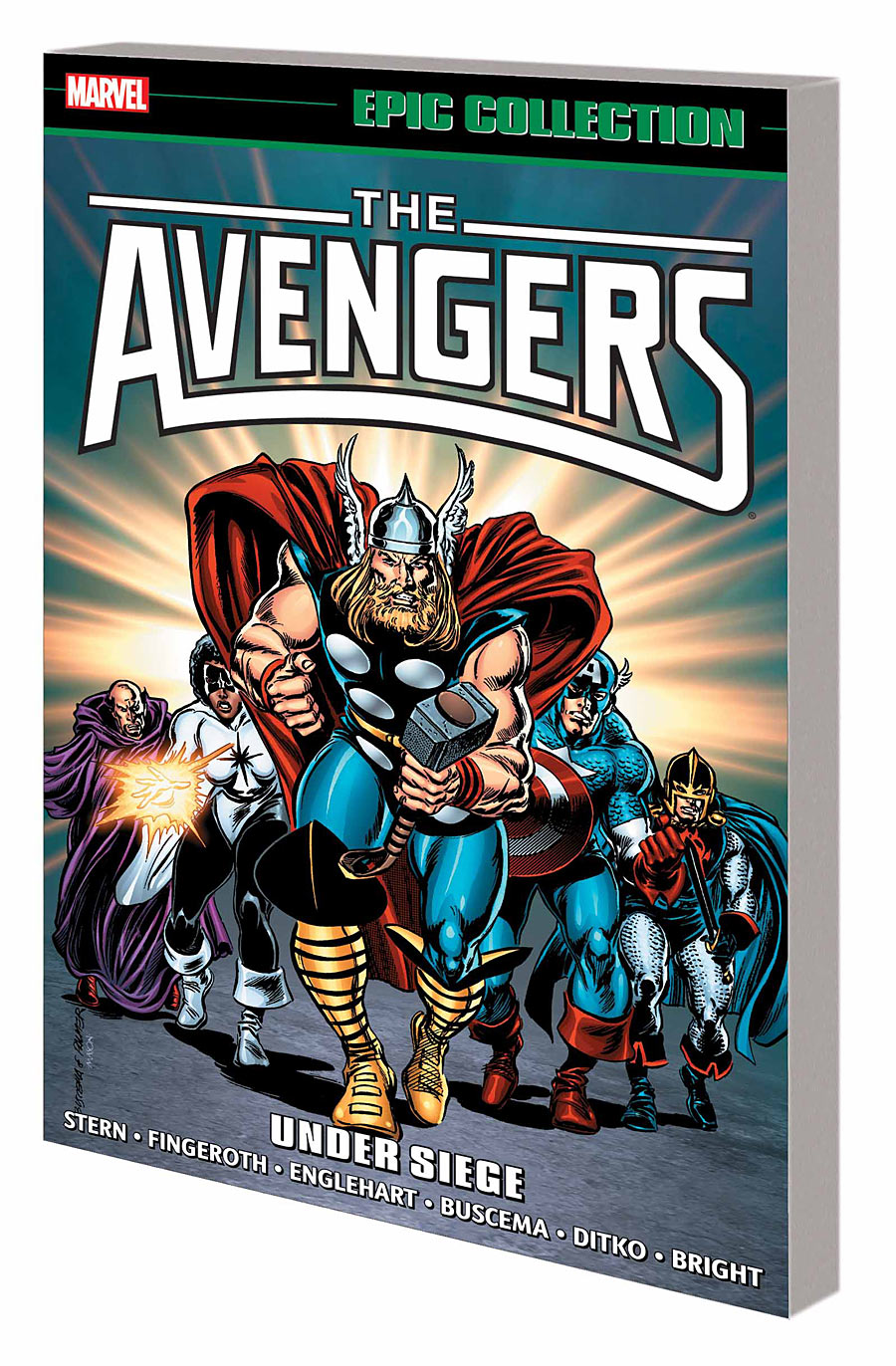 AVENGERS EPIC COLLECTION: UNDER SIEGE TPB
Volume #16 in the Avengers Epic Collections
Written by ROGER STERN, BILL MANTLO, DANNY FINGEROTH & STEVE ENGLEHART
Penciled by JOHN BUSCEMA, DAVE ROSS, STEVE DITKO & MARK BRIGHT
Cover by JOHN BUSCEMA
The Masters of Evil take Avengers Mansion! In one of the greatest comic-book epics of all time, Baron Zemo strikes at the very heart of the Avengers as he leads a revamped and larger-than-ever Masters of Evil in an attack on the team's home -- and wins! And as if that wasn't enough, Earth's Mightiest Heroes must survive the climax of SECRET WARS II, and a battle for the ages between Kang and Immortus! The Sub-Mariner's membership leads to public protests, but that won't stop the Avengers and Alpha Flight from lending a hand during Attuma's assault on Atlantis. Meanwhile an old friend turns enemy: What's gotten into Quicksilver? Two teams of Avengers will assemble to find out! Collecting AVENGERS (1963) #264-277,
ALPHA FLIGHT (1983) #39
, AVENGERS ANNUAL #15 and WEST COAST AVENGERS ANNUAL #1.
456 PGS./Rated T ...$39.99
ISBN: 978-0-7851-9539-9
X-MEN: AGE OF APOCALYPSE -- TWILIGHT TPB
Written by TERRY KAVANAGH, AKIRA YOSHIDA, TONY BEDARD, BENNY POWELL, WARREN ELLIS,
MARIANO NICIEZA, RICK REMENDER & MORE
Penciled by LUKE ROSS, CHRIS BACHALO,
JIM CALAFIORE, HECTOR GOMEZ, KEVIN HOPGOOD, DAVE WILKINS & MORE
Cover by HUMBERTO RAMOS
When reality was restored, what happened to the Age of Apocalypse? Find out right here! With Apocalypse destroyed, surely it's happy ever after for Magneto and his X-Men? Not if Sinister has his way! Blink and Sabretooth revisit their home dimension, dragging the Exiles along for the ride, while a little piece of home finds Nate Grey, exiled in the Marvel Universe! And don't forget the Dark Beast and the AoA Hulk! Plus: What if things happened very differently? Collecting X-MAN #53-54,
X-MEN: AGE OF APOCALYPSE #1-6, EXILES (2001) #60-61
, WHAT IF? (1989) #77 and #81, and WHAT IF? X-MEN: AGE OF APOCALYPSE -- plus material from
X-MEN: AGE OF APOCALYPSE ONE-SHOT
, HULK: BROKEN WORLDS #2, X-MEN PRIME, X-MEN: ENDANGERED SPECIES,
EXILES: DAYS OF THEN AND NOW
and OFFICIAL HANDBOOK OF THE MARVEL UNIVERSE: X-MEN -- AGE OF APOCALYPSE 2005.
520 PGS./Rated T+ ...$39.99
ISBN: 978-0-7851-9561-0

Alphan Appearance: Wildchild, Puck, Northstar, Aurora


.