Marvel have released their solicitations for the month of January 2016 including the following titles featuring appearances of Alpha Flight characters:-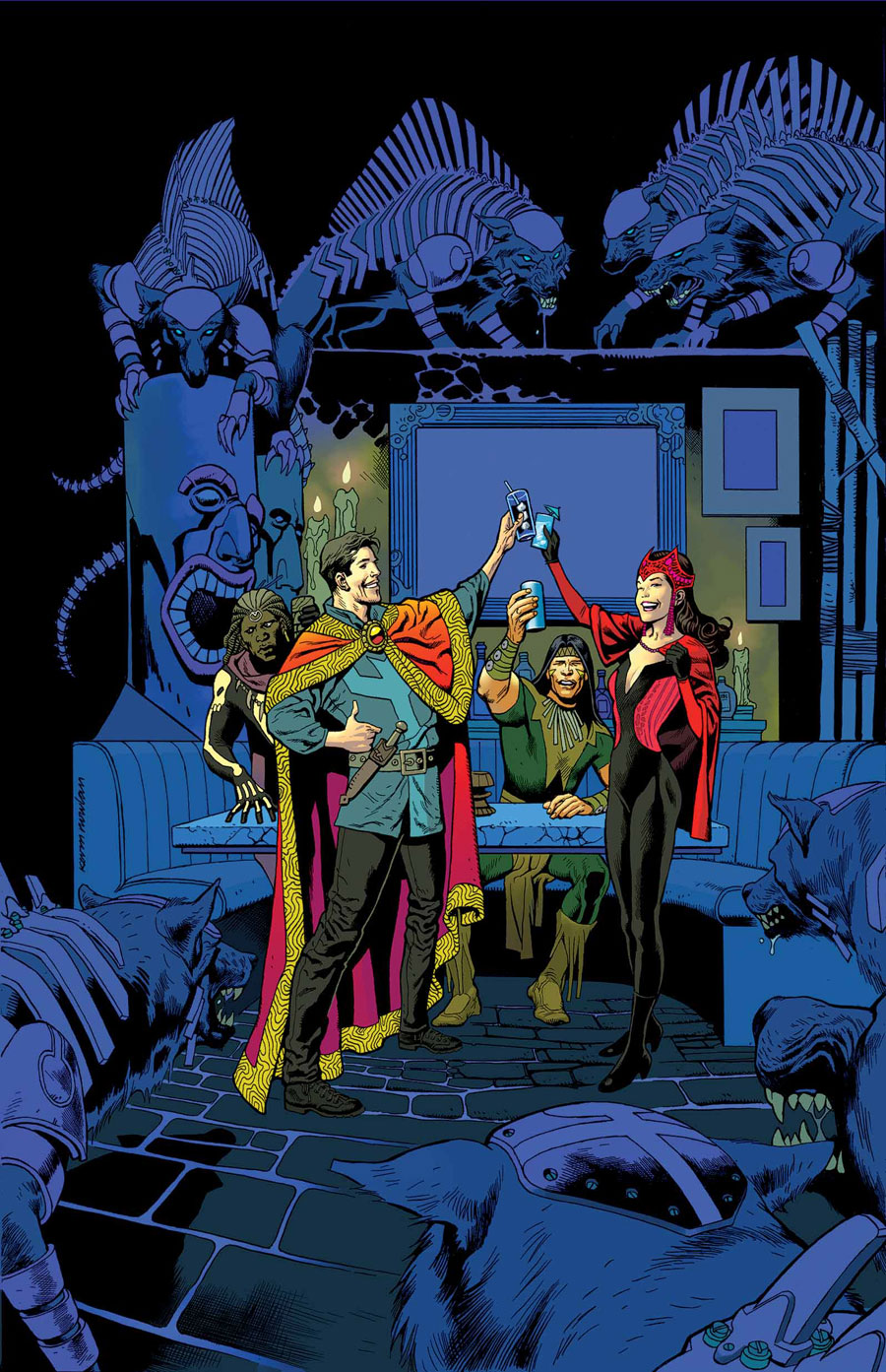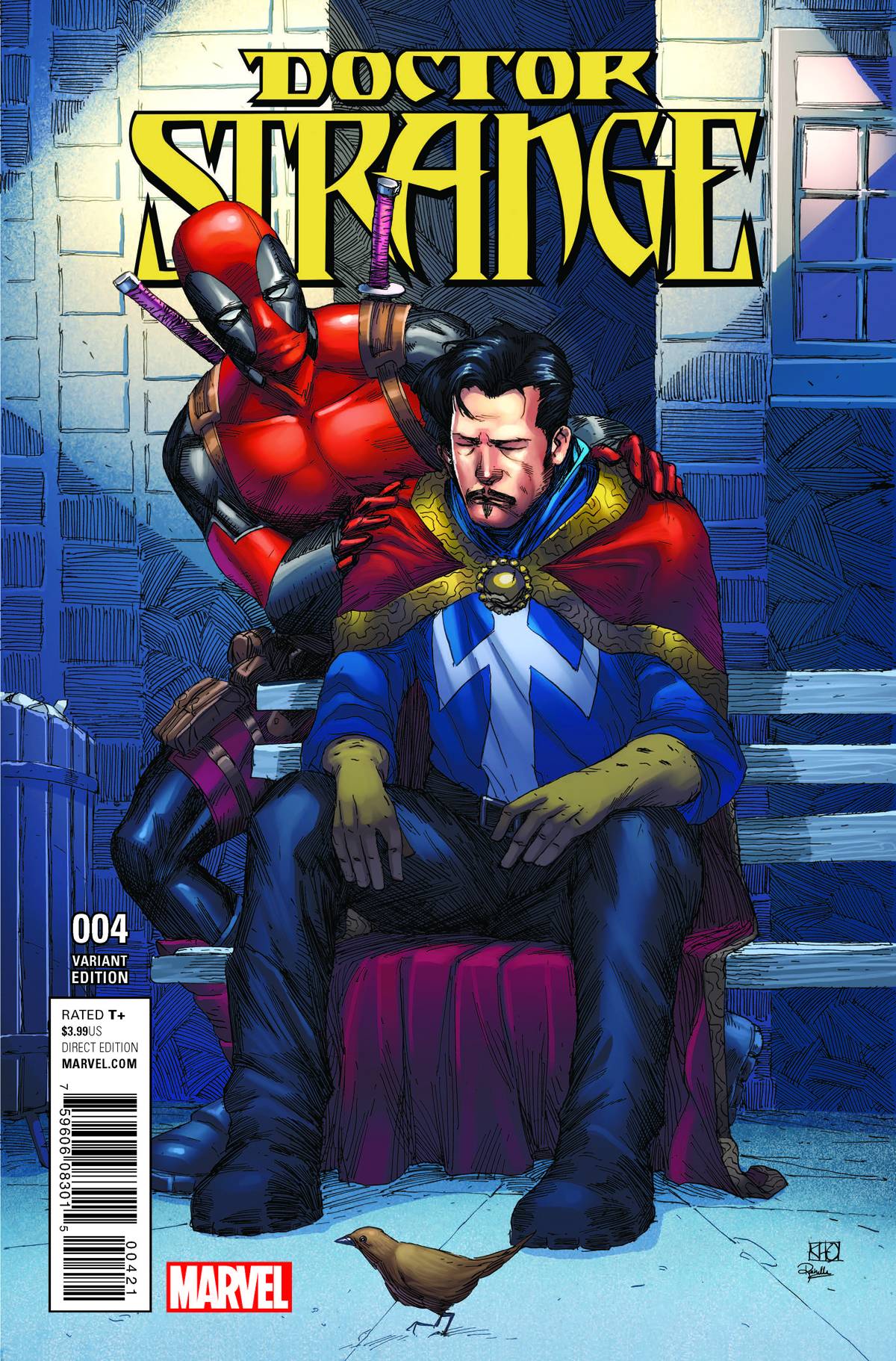 DOCTOR STRANGE #4
JASON AARON (W) • CHRIS BACHALO (A)
COVER BY KEVIN NOWLAN
DEADPOOL VARIANT COVER BY KHOI PHAM
• Doctor Strange has gathered a circle of magic-using friends to try and best monitor magic in the Marvel Universe.
• But this tactic is too late as forces are destroying all magical objects and beings in the multiverse and they are turning their sights on our dimension.
• At least Strange won't have to die alone...
32 PGS./Rated T+ ...$3.99
Diamond Code NOV150871 - FOC 12/7/15, ON-SALE 1/6/16
Alphan Appearance: Shaman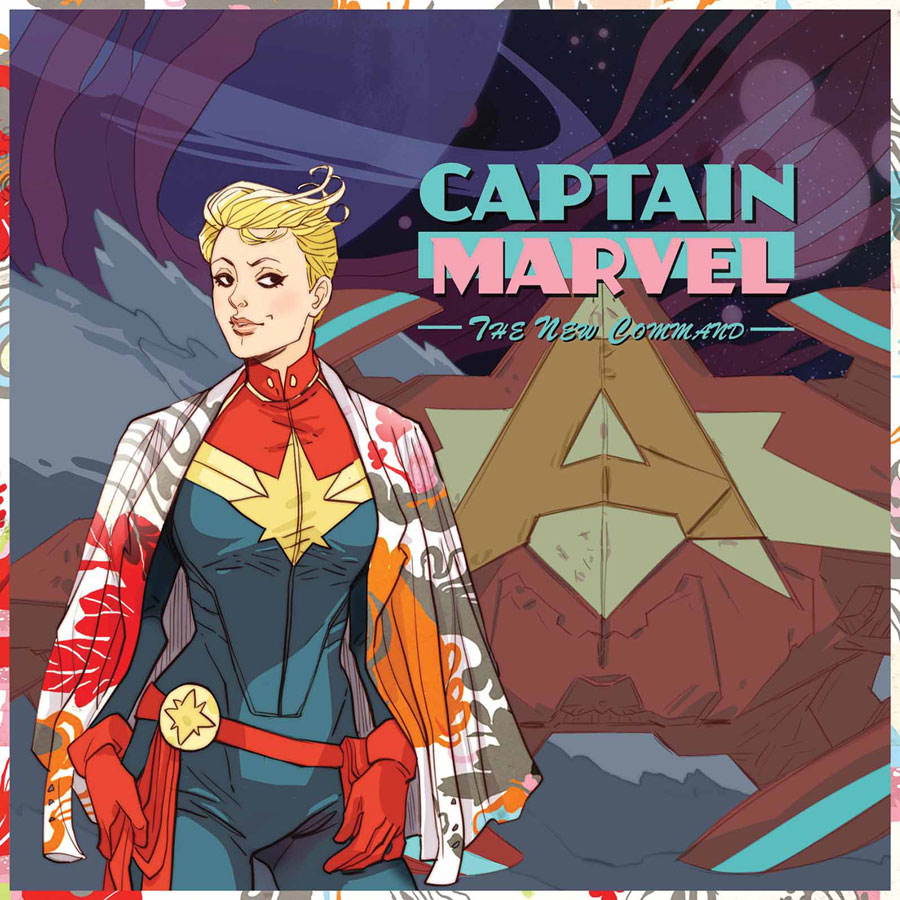 CAPTAIN MARVEL #1
MICHELE FAZEKAS & TARA BUTTERS (W) • KRIS ANKA (A/C)
HIP-HOP VARIANT COVER BY MARGUERITE SAUVAGE
ARTIST VARIANT BY TBA
DESIGN VARIANT BY KRIS ANKA
DEADPOOL VARIANT COVER BY TBA
COSPLAY VARIANT ALSO AVAILABLE
BLANK VARIANT ALSO AVAILABLE
Face front, true believers! The Captain has made her return and oh, how mighty it is. It's a bold new frontier for Carol Danvers as she soars to new heights in her greatest mission yet—leader of
the all-new Alpha Flight space program
. Yup,
Alpha Flight
. As earth's first line of defense, Carol and her team aim to protect the planet from extraterrestrial threats. But can Carol be a soldier and a diplomat? Especially when an unknown enemy emerges that Carol can't quite punch. The superstar team behind Marvel's Agent Carter television series, Tara Butters and Michele Fazekas, make their comics debut alongside the awesomely-talented Kris Anka.
32 PGS./Rated T+ ...$3.99
Diamond Code: NOV150738 - FOC 12/21/15, ON-SALE 1/20/16
Alphan Appearance: Alpha Flight


Re-printed/Collected Appearances:
TRUE BELIEVERS: THE WEDDING OF DEADPOOL #1
Reprinting material from DEADPOOL (2012) #27.
32 PGS./Parental Advisory ...$1.00
Possible Alphan Appearance on Cover if Double-Page







ALL-NEW X-MEN VOL. 4 HC
Written by BRIAN MICHAEL BENDIS
Penciled by MAHMUD ASRAR, MICHAEL DEL MUNDO & ANDREA SORRENTINO
Cover by SARA PICHELLI
Dimension-hopping and intergalactic adventure are mutant rites of passage, and it's high time the All-New X-Men took the plunge! First, they're off to a world like their own, but oddly different, to meet Miles Morales, the Ultimate Spider-Man — and their own counterparts! Welcome to the Ultimate Universe, gang, hope you survive the experience! And in the wake of that encounter, the time-tossed teens get caught up in a cosmic caper over an object of great power. When some of the team are kidnapped by the vicious Mister Knife, the rest must unite with the Guardians of the Galaxy to discover the secrets of the Black Vortex. Will its dark reflections transform the young heroes forever? Action! Adventure! Romance! And a mystery, too, back on Earth: Who — or what — are the Utopians? Collecting ALL-NEW X-MEN (2012) #31-41.
240 PGS./Rated T+ ...$34.99
ISBN: 978-0-7851-9989-2
Trim size: oversized
Alphan Appearance: Madison Jeffries
THE UNCANNY X-MEN OMNIBUS VOL. 1 HC (NEW PRINTING)
Written by CHRIS CLAREMONT & LEN WEIN
Penciled by JOHN BYRNE & DAVE COCKRUM
Cover by GIL KANE & DAVE COCKRUM
When a young writer named Chris Claremont took over X-MEN in 1976, few fans could predict the incredible impact he would have on the Marvel Comics series. With a flair for realistic dialogue, heartfelt storylines and hard-hitting action, Claremont's writing breathed life into the characters. In collaboration with artists Dave Cockrum and John Byrne, Claremont crafted a run still heralded as a definitive era on the book. X-MEN became more than just another super-hero title: This diverse cast of mutants fighting against prejudice and intolerance has resonated in the hearts of millions of devoted readers. Now, the first five years of their landmark run on Uncanny X-Men are collected in one oversized volume. This keepsake edition also includes all original letters pages and other uncanny extras! Collecting X-MEN #94-131 and ANNUAL #3, and GIANT-SIZE X-MEN #1.
848 PGS./Rated T ...$99.99
ISBN: 978-1-302-90083-0
Trim size: oversized
Alphan Appearance: Weapon Alpha/Vindicator, Aurora, Northstar, Sasquatch, Shaman, Snowbird
GIANT-SIZE LITTLE MARVEL: AVX HC
Written by SKOTTIE YOUNG
Penciled by SKOTTIE YOUNG
Cover by SKOTTIE YOUNG
Skottie Young brings out the big guns...and the little Marvels...in the series fans have been waiting for! In the Battleworld zone known as Marville, playtime is serious business — and Marville's pint-sized heroes are working overtime to prove to their new neighbors which crew is toughest! With super-powered dodgeball, high-tech hideouts and eye-puns aplenty, Marvel's most adorable heroes aren't pulling any punches in this larger-than-life, fun-sized adventure. Featuring all your favorites (just, you know, shorter) including Cyclops, Hawkeye, Black Widow, Wolverine and more as the toughest, funniest, craziest and most adorable Marvel heroes throw down in a battle of the fittest! The smaller they are, the harder they brawl — this is Battleworld, after all! Collecting GIANT-SIZE LITTLE MARVEL: AVX #1-4, A-BABIES VS. X-BABIES #1.
120 PGS./Rated T ...$24.99
ISBN: 978-0-7851-9870-3
Trim size: oversized
Alphan Appearance: SW AoA Wildchild, Baby Sasquatch, Baby Northstar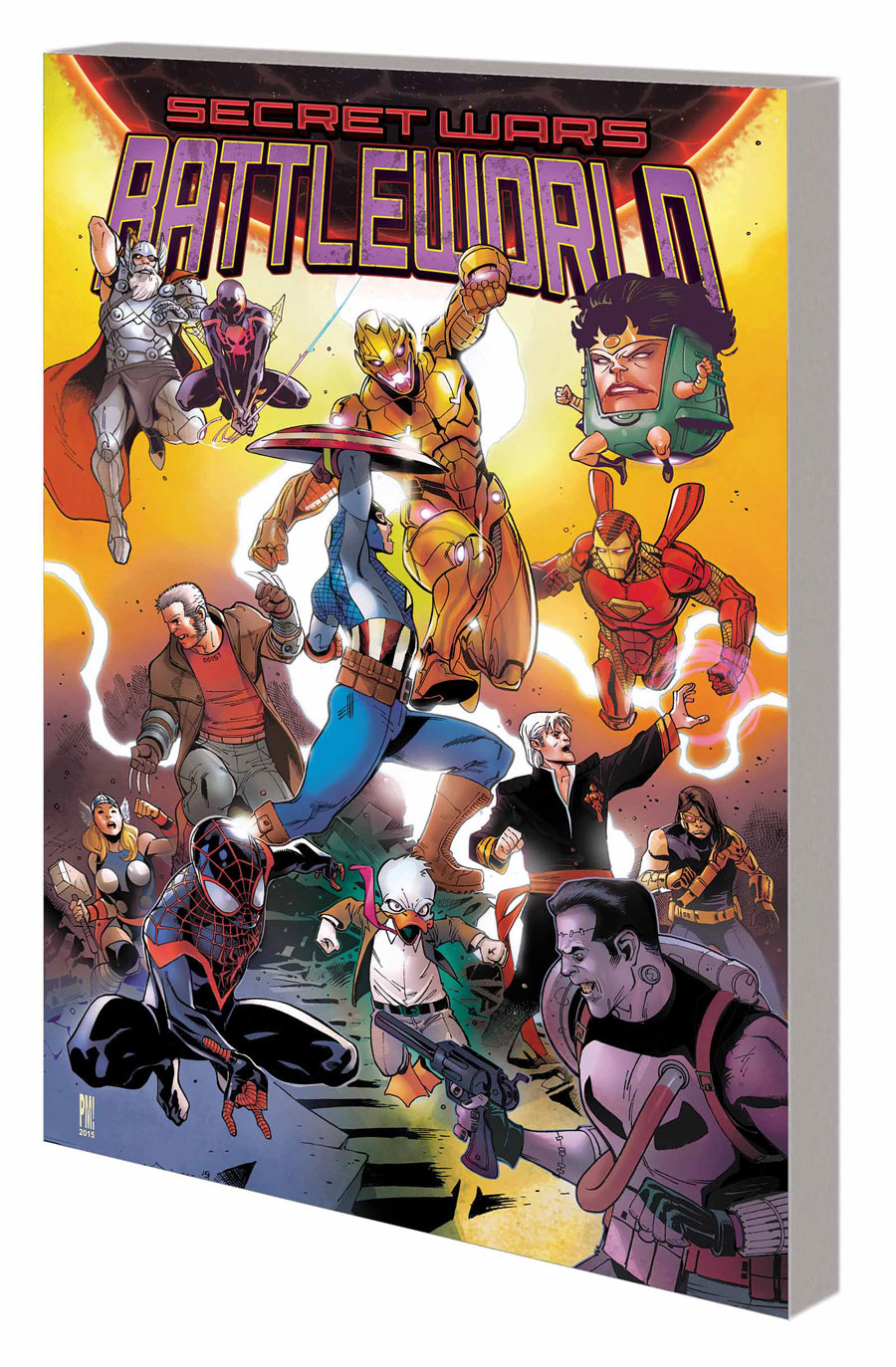 SECRET WARS JOURNAL/BATTLEWORLD TPB
Written by PRUDENCE SHEN, MICHAEL ROSENBERG, KEVIN MAURER, SI SPURRIER, FRANK TIERI, SCOTT AUKERMAN,
MIKE BENSON, SINA GRACE, JEN SOSKA, SYLVIA SOSKA,
AARON ALEXOVICH, JOSHUA WILLIAMSON, ED BRISSON,
DAVID WALKER, DONNY CATES, IVAN BRANDON, RYAN FERRIER, JAMES STOKOE, PETER DAVID, SKOTTIE YOUNG & TOM TAYLOR
Penciled by RAMON BACHS, LUCA PIZZARI, CORY SMITH,
JONATHAN MARKS, RICHARD ISANOVE, RB SILVA,
LAURA BRAGA, KEN LASHLEY, ALEC MORGAN, DIOGO SAITO, MIKE HENDERSON, SCOTT HEPBURN, JJ KIRBY, MARCO TURINI, AARON CONLEY, LOGAN FAERBER, JAMES STOKOE,
DANIEL VALADEZ, JIM MAHFOOD & STEVE PUGH
Cover by PACO MEDINA
Tales from across the landscape of SECRET WARS! Is Lady Kate of 1602 the notorious Hawkeye Bandit? Can enslaved mutants overthrow Khonshu? Kraven hunts, Matt Murdock cooks, Wolverine investigates and Doc Samson tries to bring sanity to a land of Hulks! The Punisher and Iron Fist! Night Nurse! MILL-E: the model citizen! Plus: Fights, fights, fights! A Doctor Strange-possessed Frank Castle against the New Fantastic Four! Cowboy Deadpool and Devil Dinosaur! Silver Surfer vs. Maestro! Wolverine vs. Wolverines! All the M.O.D.O.K.s! The Agents of Atlas rebel against Baron Zemo! And pity poor Howard the Human, trapped in an
anthropomorphic animal realm he never made! Collecting SECRET WARS JOURNAL #1-5, SECRET WARS: BATTLEWORLD #1-4, HOWARD THE HUMAN #1 and SECRET WARS: AGENTS OF ATLAS #1.
240 PGS./Rated T+ ...$34.99
ISBN: 978-0-7851-9580-1
Alphan Appearance: SW AoA Wilchild, SW Kyle, SW Northstar
INHUMANS: ATTILAN RISING TPB
Written by CHARLES SOULE
Penciled by JOHN TIMMS
Cover by DAVE JOHNSON
There is a rebellion brewing on Battleworld, and it stretches far and wide into every domain. Medusa, ruler of Attilan, is tasked with scuttling this uprising with extreme prejudice. When she discovers that its leader is Black Bolt, things get complicated — but Medusa still has a job to do! She has uncovered and captured the leader of the Battleworld Resistance, and all she needs to do is interrogate him and give the information to her master, Doctor Doom. So what's stopping her from doing so? As the Resistance makes its big push against Medusa's royal rule, she finds more than she bargained for with Black Bolt: a new understanding. Will Medusa switch sides? If Black Bolt can convince her, the Resistance has its best shot to bring change to Battleworld! But will it come too late? Collecting INHUMANS: ATTILAN RISING #1-5.
112 PGS./Rated T+ ...$16.99
ISBN: 978-0-7851-9875-8
Alphan Appearance: SW Snowbird
DEADPOOL FIRSTS TPB
Written by ROB LIEFELD, FABIAN NICIEZA, MARK WAID, JOE KELLY, DANIEL WAY, VICTOR GISCHLER, FRED VAN LENTE, BRIAN POSEHN & GERRY DUGGAN
Penciled by ROB LIEFELD, JOE MADUREIRA, IAN CHURCHILL, ED MCGUINNESS, MARK BROOKS, SHANE LAW, PACO MEDINA, BONG DAZO, DALIBOR TALAJIC, TONY MOORE & MIKE HAWTHORNE
Cover by VARIOUS
He's your number one, and these are his #1s! (Plus some other weird numbers.) Deadpool's dazzling debut steals the New Mutants' spotlight, leading to his very first limited series. Then brace yourself as the degenerate regenerates into nine new titles! The ever-social sociopath gives top billing to his bro Cable, teams up with a demigod and even hangs with his own zombified head before assembling a whole Corps of alternate Deadpools! Plus: Five completist-confounding comics with the exact same name, from the Classic era to the All-New All-Different age! All together now: "Deadpool's #1! Deadpool's #1!" Collecting NEW MUTANTS (1983) #98, DEADPOOL: THE CIRCLE CHASE #1, DEADPOOL (1994) #1, DEADPOOL (1997) #1, CABLE & DEADPOOL #1, DEADPOOL (2008 )#1, DEADPOOL: MERC WITH A MOUTH #1, DEADPOOL TEAM-UP #899, DEADPOOL CORPS #1, DEADPOOL (2013) #1 and DEADPOOL (2015) #1.
320 PGS./Parental Advisory ...$34.99
ISBN: 978-0-7851-9531-3
Alphan Appearance: Sasquatch
PUNISHER VS. THE MARVEL UNIVERSE TPB
Written by GARTH ENNIS, LEN WEIN, JOHN OSTRANDER, GREG RUCKA & JONATHAN MABERRY
Penciled by DOUG BRAITHWAITE, ROSS ANDRU,
PASQUAL FERRY, JOHN MCCREA,
CARMINE DI GIANDOMENICO & GORAN PARLOV
Cover by NICK PERCIVAL
The Punisher literally kills the Marvel Universe in a classic tale by one of Frank Castle's signature writers, Garth Ennis! But don't worry, the MU is back for round two — kind of — in a post-apocalyptic war zone filled with cannibalistic super types. Plus: Bullets fly in some of Frank's best clashes with the costumes and capes! He'll come between old pals Luke Cage and Iron Fist, and gatecrash Spider-Man's volatile first meeting with Nightcrawler — this ain't no team-up! Watch him make Spidey, Daredevil and Wolverine look like a Confederacy of Dunces, and prepare to be amazed when the Punisher takes on the Avengers! Yes, even Thor! Collecting PUNISHER KILLS THE MARVEL UNIVERSE, AMAZING SPIDER-MAN (1963) #161-162, HEROES FOR HIRE (1997) #9, PUNISHER (2001) #33-37, PUNISHER WAR ZONE (2012) #1-5 and MARVEL UNIVERSE VS. PUNISHER #1-4.
456 PGS./Parental Advisory ...$34.99
ISBN: 978-0-7851-9554-2
Alphan Appearance: Alternate Sasquatch, Alternate Puck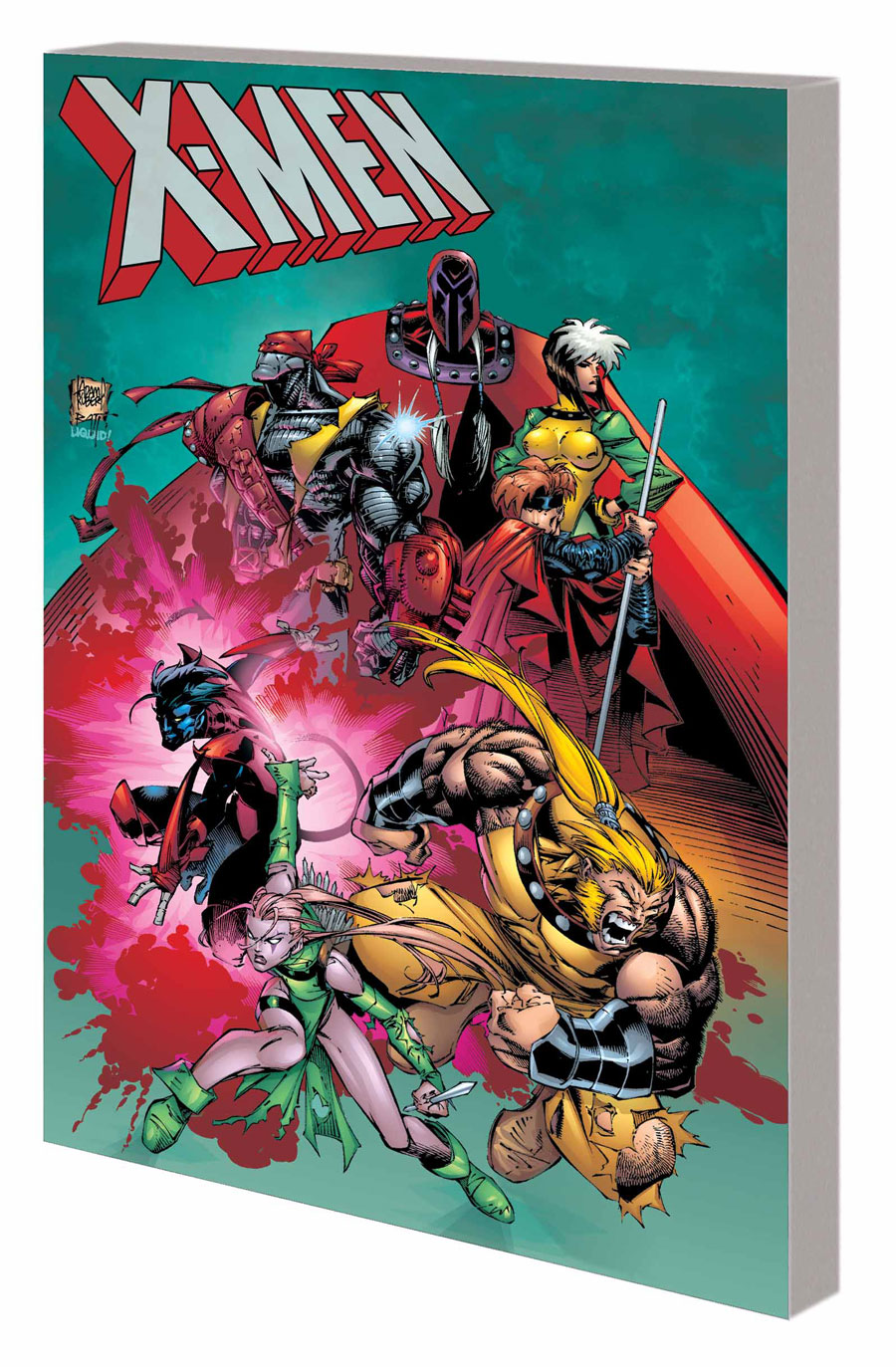 X-MEN: AGE OF APOCALYPSE — DAWN TPB
Written by HOWARD MACKIE, SCOTT LOBDELL, RALPH MACCHIO, JOHN FRANCIS MOORE, BRIAN K. VAUGHAN, TERRY KAVANAGH, JUDD WINICK & MORE
Penciled by TERRY DODSON, IAN CHURCHILL, JOE BENNETT, STEVE EPTING, ROGER CRUZ,
TREVOR MCCARTHY, ALAN DAVIS & MORE
Cover by ADAM KUBERT
The secret past of the Age of Apocalypse is revealed as we revisit the early days of En Sabah Nur's rule! Magneto's X-Men will never be the same after Weapon X joins the team. New recruit Rogue will attract the master of magnetism — but will Gambit get in the way? Meanwhile, Cyclops and Havok face an unhappy family reunion, and Blink gets into the zone — the Negative Zone! Colossus grows weary of battle, Sabretooth switches sides and Logan meets Mariko Yashida! Plus: Flash back to the early days of Nate Grey, the X-Man — and join the AoA refugee years later (or is it years earlier?) as he returns to his nightmarish home! Collecting X-MEN CHRONICLES #1-2, TALES FROM THE AGE OF APOCALYPSE #1-2, X-MAN #1, BLINK #1-4 and material from X-MEN: AGE OF APOCALYPSE ONE-SHOT and X-MAN ANNUAL '96.
424 PGS./Rated T ...$34.99
ISBN: 978-0-7851-9350-0
Alphan Appearance: AoA Aurora, AoA Northstar, Possible AoA Wildchild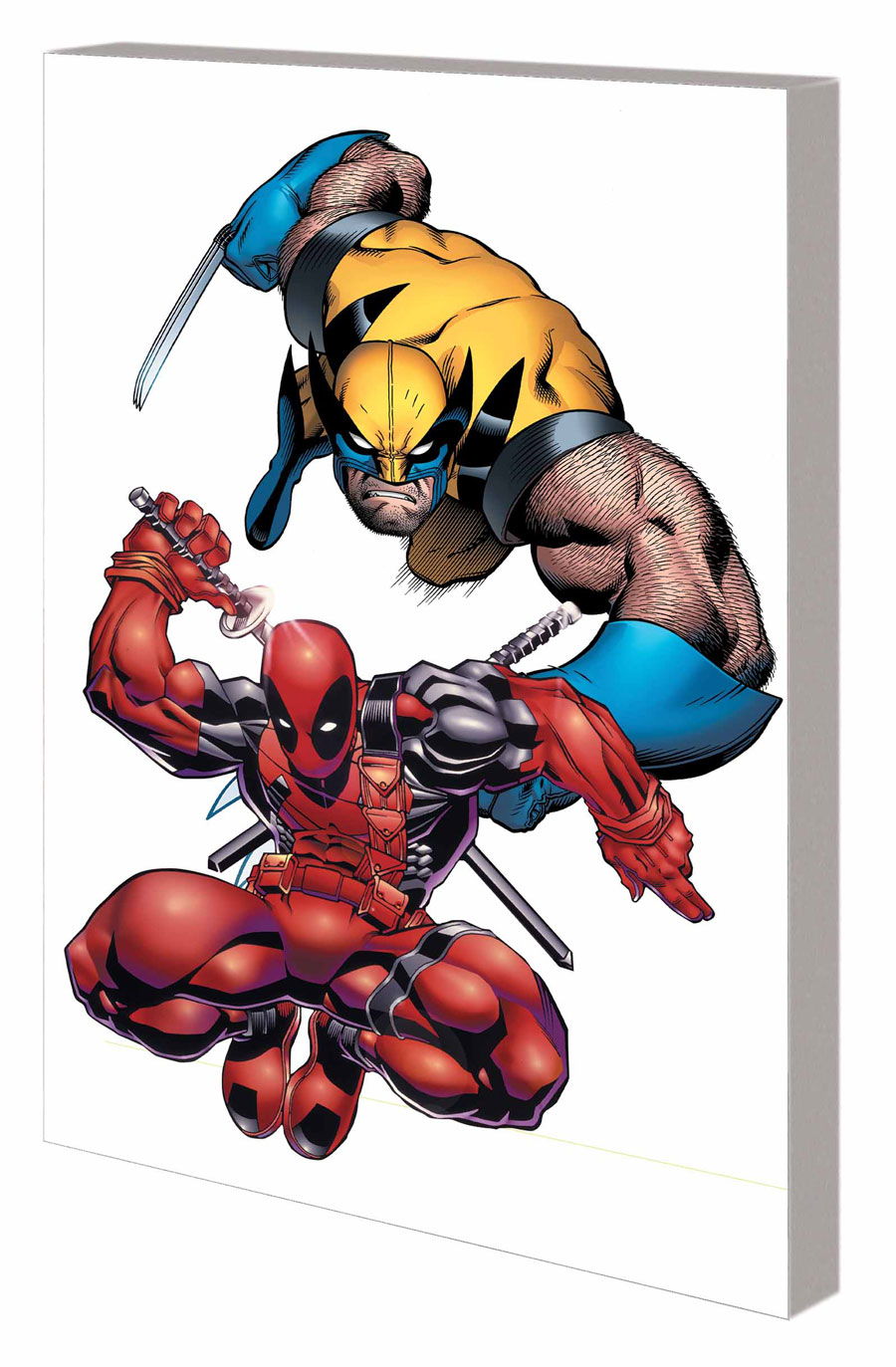 MARVEL UNIVERSE DEADPOOL & WOLVERINE DIGEST
Written by PAUL TOBIN, FRED VAN LENTE & JOE CARAMAGNA
Penciled by RONAN CLIQUET, GURIHIRU & MATTEO LOLLI
Featuring screen-capture images from MARVEL'S ULTIMATE SPIDER-MAN: WEB-WARRIORS
Cover by ED MCGUINNESS
Feisty fun for the whole family with two of Marvel's most popular superstars!
• Everybody loves Deadpool, right? Somebody ought to tell the Avengers! Can the Merc with a Mouth fast-talk his way out of a confrontation with Earth's Mightiest Heroes?
• At least Spider-Man can see Wade Wilson's appeal — until a day in the life of Deadpool shows him a little something about power and irresponsibility.
• Wolverine's keen to teach Spidey a lesson, too, when he finds out the web-head is following him — and he is one tutor who makes sure you get the point!
• And what was Wolvie up to just before he first tangled with the Hulk? Find out here!
Collecting MARVEL ADVENTURES SUPER HEROES (2010) #4, MARVEL UNIVERSE ULTIMATE SPIDER-MAN: WEB-WARRIORS #8, FREE COMIC BOOK DAY 2009: WOLVERINE and MARVEL ADVENTURES SPIDER-MAN (2010) #3.
96 PGS./All Ages ...$9.99
ISBN: 978-1-302-90024-3
Alphan Appearance: Guardian, Madison Jeffries


.