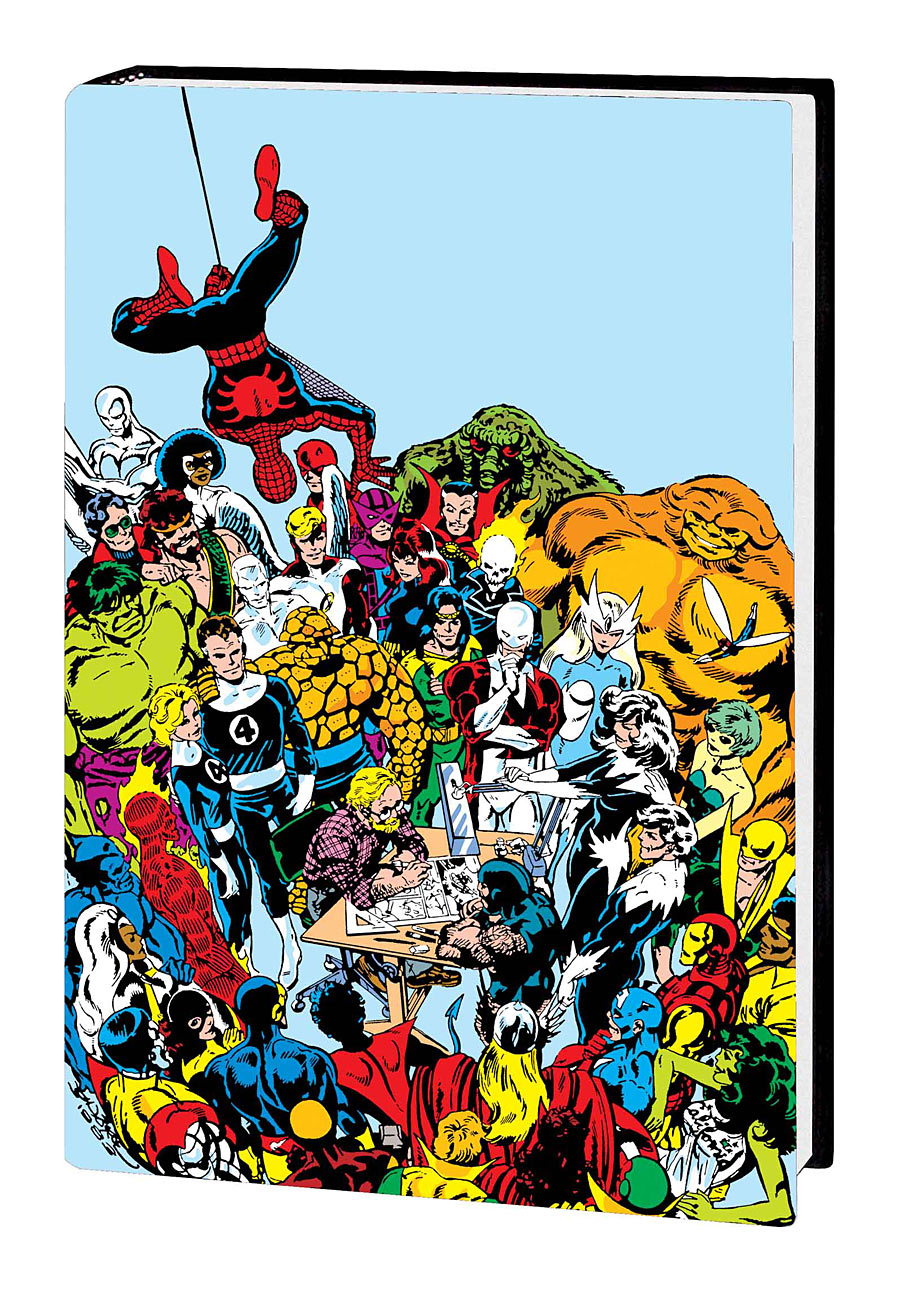 Marvel have released their solicitations for the month of December 2015 including the following collected trades featuring appearances of Alpha Flight characters:-
MARVEL UNIVERSE BY JOHN BYRNE OMNIBUS HC
Written by BILL MANTLO, CHRIS CLAREMONT, JIM SHOOTER, DAVID MICHELINIE, STEVEN GRANT, MARK GRUENWALD, ROGER STERN, JOHN BYRNE, STAN LEE & ARCHIE GOODWIN
Penciled by JOHN BYRNE
Cover by JOHN BYRNE
He's one of the most successful comic creators in history, known for epic stints on FANTASTIC FOUR, UNCANNY X-MEN, ALPHA FLIGHT and more! Now, savor John Byrne's wider influence on the Marvel Universe in this collection of shorter -- but no less classic -- runs on top-tier characters! Enjoy Byrne's definitive takes on icons like Captain America, the Hulk, the Avengers, Wolverine and the Silver Surfer, as well as Black Widow and her fellow Champions! Plus: Watch as Byrne helps build the legend of Star-Lord, unite Luke Cage and Iron Fist, and introduce an astonishing new Ant-Man!
Collecting CHAMPIONS #11-15, MARVEL PREVIEW #11, AVENGERS [1963] #164-166 and #181-191, POWER MAN #48-50, MARVEL PREMIERE #47-48, CAPTAIN AMERICA [1968] #247-255, SILVER SURFER (1982) #1, INCREDIBLE HULK [1968] #314-319, WOLVERINE [1988] #17-23, and material from MARVEL FANFARE [1982] #29.
1120 PGS./Rated T ...$125
ISBN: 978-0-7851-9560-3
Trim size: oversized
Appearances: Alphans On Cover
X-MEN: AGE OF APOCALYPSE OMNIBUS HC (NEW PRINTING)
Written by SCOTT LOBDELL, MARK WAID, FABIAN NICIEZA, JEPH LOEB, LARRY HAMA, JOHN FRANCIS MOORE, WARREN ELLIS & HOWARD MACKIE
Penciled by ROGER CRUZ, ANDY KUBERT, STEVE EPTING, CHRIS BACHALO, JOE MADUREIRA, ADAM KUBERT, STEVE SKROCE, KEN LASHLEY, TONY DANIEL, SALVADOR LARROCA & MORE
Cover by BILLY TAN
Charles Xavier is dead -- killed in the past during a time-travel accident -- and without his dream, the world has become a nightmare! Apocalypse rules with an iron fist, ruthlessly enforcing his "survival of the fittest" creed -- but hidden among a downtrodden humankind are Magneto's ragtag freedom fighters: the X-Men! When Bishop, last survivor of the true Marvel Universe, explains how the world went wrong, these embittered mutants must risk everything -- and undertake a dangerous and complex quest -- to put things right!
Collecting UNCANNY X-MEN (1981) #320-321, X-MEN (1991) #40-41, CABLE (1993) #20, X-MEN ALPHA, AMAZING X-MEN (1995) #1-4, ASTONISHING X-MEN (1995) #1-4, FACTOR X #1-4, GAMBIT AND THE X-TERNALS #1-4, GENERATION NEXT #1-4, WEAPON X (1995) #1-4, X-CALIBRE #1-4, X-MAN #1-4, X-MEN OMEGA, AGE OF APOCALYPSE: THE CHOSEN and X-MEN ASHCAN #2.
1072 PGS./Rated T ...$125
ISBN: 978-0-7851-9509-2
Trim size: oversized
Appearances: Various Alternate Versions of Alphans, plus Wild Child on Cover
HOUSE OF M: WARZONES! TPB
Written by DENNIS HOPELESS, CULLEN BUNN & BRIAN MICHAEL BENDIS
Penciled by MARCO FAILLA, ARIO ANINDITO & OLIVIER COIPEL
Cover by KRIS ANKA
In the Battleworld zone known as the THE MONARCHY OF M, Lord Magnus and his family control all, having crushed all resistance to their reign. Magneto rules with an iron fist, while his children and grandchildren live their lives as royals -- with all the privileges and pitfalls that come with that title. But is Magneto's control as all-encompassing as it seems? And what happens to a conqueror when there's no one left to conquer? As royal intrigue begins to build to a head, Quicksilver and Namor may have something sinister planned for Magneto's kingdom. Is the heir apparent to the House of Magnus a traitor?! Plus: Look back at the creation of the original House of M as the Avengers and X-Men clash over the fate of the Scarlet Witch! Collecting HOUSE OF M (2015) #1-4 and HOUSE OF M (2005) #1.
120 PGS./Rated T+ ...$15.99
ISBN: 978-0-7851-9872-7
Appearances: Alternate Sasquatch

X-MEN EPIC COLLECTION: THE GIFT TPB
Volume #12 in the X-Men Epic Collections
Written by CHRIS CLAREMONT, JO DUFFY & DAVE COCKRUM
Penciled by JOHN ROMITA JR., BARRY WINDSOR-SMITH, STEVE LEIALOHA, PAUL SMITH & DAVE COCKRUM
Cover by JOHN ROMITA, JR.
Swords and sorcery, mutant style! Finding themselves in the middle of a barbarian nightmare, can the X-Men, Avengers and Spider-Man restore the world? Things are no less mystical for the X-Men and
Alpha Flight
when the trickster god Loki offers a gift to the people of Earth -- but, big surprise, it comes with a price! And blade in hand, Nightcrawler swashbuckles his way through an other-dimensional solo adventure! Enough fantasy for you? How about sci-fi, courtesy of Lockheed the Space Dragon and the time-tossed future Sentinel known as Nimrod? And for fans of good, old-fashioned super heroics, Power Pack meets Wolverine -- and the Juggernaut's back in town! Collecting UNCANNY X-MEN (1981) #189-198, X-MEN ANNUAL (1970) #8,
X-MEN AND ALPHA FLIGHT (1985) #1-2
and NIGHTCRAWLER (1985) #1-4.
512 PGS./Rated T ...$34.99
ISBN: 978-0-7851-9217-6