Marvel have released their solicitations for the month of May 2015 including the following titles which feature confirmed appearances of Alpha Flight characters:-
UNCANNY X-MEN #600
BRIAN MICHAEL BENDIS (w)
CHRIS BACHALO, STUART IMMONEN, MAHMUD ASRAR, KRIS ANKA and FRAZER IRVING (a)
Cover by CHRIS BACHALO
ACTION FIGURE VARIANT COVER A BY JOHN TYLER CHRISTOPHER
ACTION FIGURE VARIANT COVER B BY JOHN TYLER CHRISTOPHER
ACTION FIGURE VARIANT COVER C BY JOHN TYLER CHRISTOPHER
VARIANT COVER BY KRIS ANKA
VARIANT COVER BY PAUL SMITH
VARIANT COVER BY OLIVIER COIPEL
VARIANT COVER BY ED MCGUINNESS
VARIANT COVER BY ARTHUR ADAMS
VARIANT COVER BY LEINIL YU
VARIANT COVER BY RICK LEONARDI
• The final explosive issue in Brian Michael Bendis' epic X-Men saga!
• Scott Summers – savior or destroyer? Questions will be answered!
• The Jean Grey School, the New Xavier School – it's all going to change.
• The X-Men are at a crossroads. And not everyone will make it through in one piece.
• Featuring 40 pages of a host of popular X-Men creators!
56 PGS./Rated T+ …$5.99
Puck on Regular Cover
FOC 4/27/15, ON-SALE 5/20/15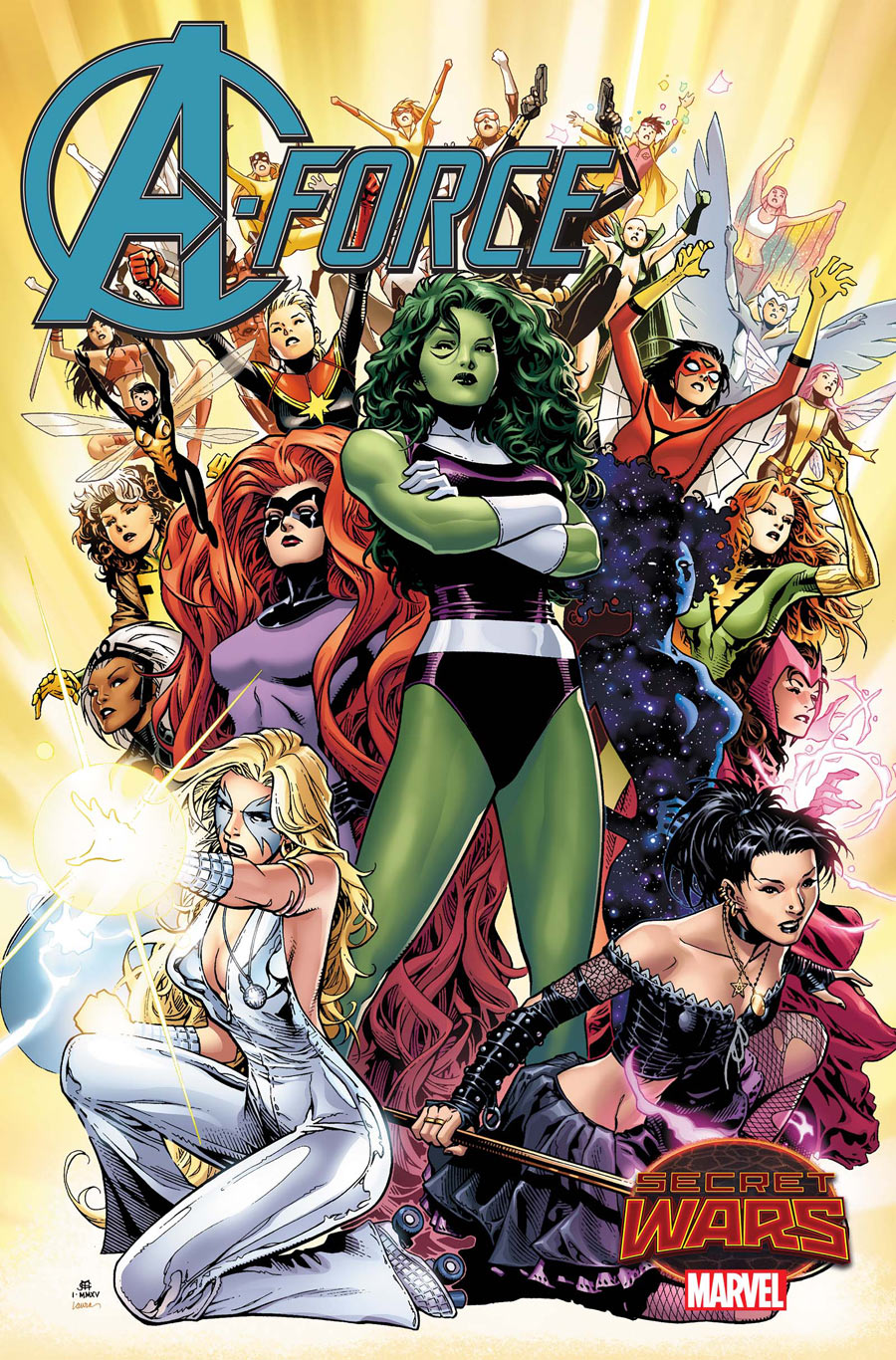 A-FORCE #1
G. WILLOW WILSON & MARGUERITE BENNETT (w) • JORGE MOLINA (a)
Cover by JIM CHEUNG
INHUMANS 50TH ANNIVERSARY VARIANT
VARIANT COVER BY RUSSELL DAUTERMAN
VARIANT COVER BY STEPHANIE HANS
VARIANT COVER BY JORGE MOLINA
YOUNG VARIANT BY SKOTTIE YOUNG
BLANK COVER VARIANT ALSO AVAILABLE
• Marvel's Mightiest Women finally get their own explosive series!
• In a secluded corner of the Battleworld, an island nation is fiercely protected by a team of Avengers the likes of which has only ever been glimpsed before…
• Fighting to protect the small sliver of their world that's left, the Amazing A-FORCE stands shoulder-to-shoulder, ready to take on the horde!
32 PGS./Rated T+ …$3.99
Aurora, Vindicator & Talisman on Regular Cover, Possibly inside
FOC 4/27/15, ON-SALE 5/20/15



AMAZING X-MEN VOL. 3: ONCE AND FUTURE JUGGERNAUT TPB
Written by JAMES TYNION IV, CHRIS YOST, CRAIG KYLE & MONTY NERO
Penciled by JORGE JIMENEZ, CARLO BARBERI, JORGE FORNES & SALVADOR LARROCA
Cover by NICK BRADSHAW
When the Gem of Cyttorak reappears, seeking to create a new avatar, none hear its call more than those who have previously housed the power of the unstoppable Juggernaut: Cain Marko and Colossus! But they aren't the only ones hunting for the Gem. Can the X-Men find it before it's too late? And can Colossus resist the temptation of Cyttorak's power? "Unstoppable" takes on a whole new meaning as Cyttorak's gem is finally located. The Juggernaut rises, and the X-Men fall! Has the Juggernaut returned? Is this the last stand of Colossus? Plus: A death in Storm's family sends the X-Men to Africa! And as AXIS inverts the X-Men, Anole's deepest fears are unleashed on the streets of New York City, and Nightcrawler and Mystique's relationship reaches a boiling point! Collecting AMAZING X-MEN (2013) #13-19 and ANNUAL #1.
192 PGS./Rated T+ …$24.99
ISBN: 978-0-7851-9248-0
Northstar on X-Men team
FOC 4/27/15 ON-SALE 6/17/15


Please note: There may be other appearances as part of the Secret Wars storyline that are not clear from the Solicits.
We will endeavor to update this list in the Comments as soon as we find out more.