In this week's Avengers (2012) #38, former
Omega Flight
member Validator is shown to have joined an Avengers team, making her the first Alpha-related character to join the Avengers since Marrina's associated status.
The issue, entitled Origin Sites, is written by Jonathan Hickman with art by Stefano Caselli & Frank Martin and is part of the
Time Runs Out
storyline set
8 months into the future
of current Marvel Comics which deals with a world where The Avengers are a S.H.I.E.L.D team who are responsible for hunting down The Illuminati, and Sunspot heads up a new team of actual Avenging heroes.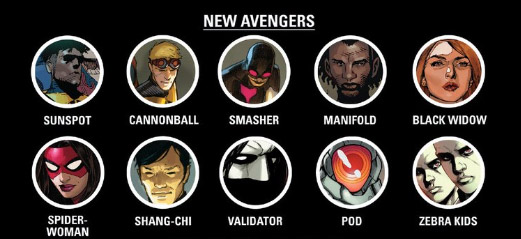 Whilst there isn't much of her in the issue, we get the sense that she's important (with the panel shown at the top of this article) so will probably appear at some point over the next 5 issues of Avengers and New Avengers.
When we last saw Validator,
in Avengers #14
, something strange was happening to her as a
result of her exposure to the Origin Site in #10 (her first appearance)
but has only been
briefly mentioned once since
.
What happened to her in between this time in this eight month gap may well be shown in the
upcoming prequel to the storyline in Avengers World
.
The issue comes with a regular cover by Simone Bianchi and a variant cover by Chip Zdarsky.
.