Marvel have released their solicitations for the month of December 2014 which feature the following titles that *may* include Alphan Appearances:-
AMAZING X-MEN VOL. 2: WORLD WAR WENDIGO TPB
Written by KATHRYN IMMONEN, CRAIG KYLE & CHRISTOPHER YOST
Penciled by PACO MEDINA, ED MCGUINNESS & CARLO BARBERI
Cover by CARLO BARBERI
Writers Craig Kyle and Chris Yost return to the X-Men! When Wolverine discovers an old friend is missing, his visit to Canada soon transforms into a hairy situation. The Wendigo virus is running rampant, changing people into flesh-eating monsters! Now, the X-Men and Alpha Flight must fight to stop the growing tide of Wendigos from consuming everything and everyone in their path — a task made harder when an X-Man falls prey to the deadly disease! Desperate, the X-Men take the fight to the Spirit Realm, but how do the Great Beasts fit into this mayhem? And will even the combined forces of the X-Men and Alpha Flight be enough to save Canada from this cannibalistic plague? Plus: Iceman, Firestar and Spider-Man must renew their amazing friendship to save New York City! Collecting AMAZING X-MEN (2014) #7-12.
136 PGS./Rated T+ …$17.99
ISBN: 978-0-7851-8822-3

Note: Chris Yost has confirmed that Northstar won't appear in Amazing X-Men #14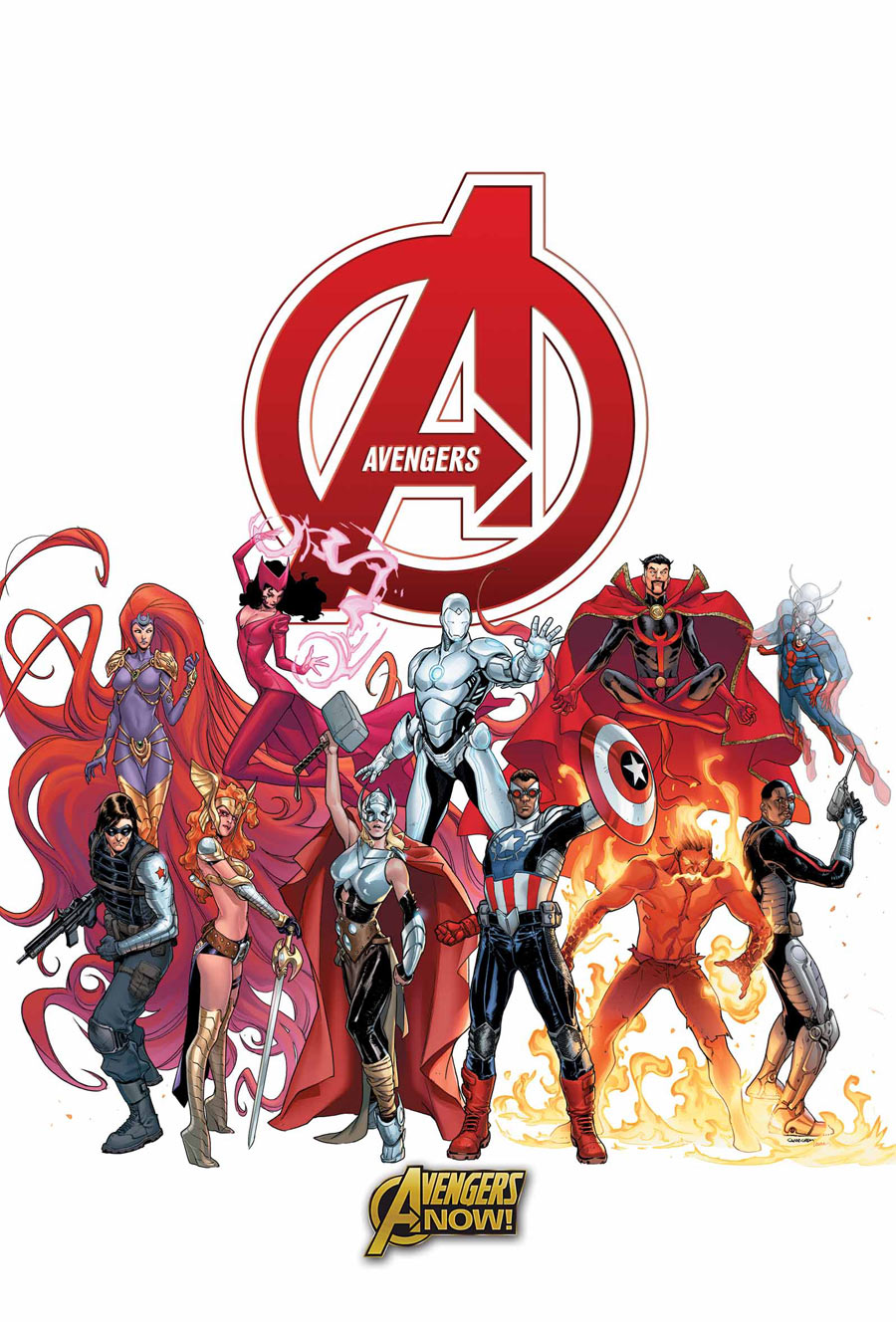 AVENGERS NOW!
THE OHOTMU TEAM, LED BY MIKE O'SULLIVAN & JEFF CHRISTIANSEN (W)
Cover by SARA PICHELLI
• The Official Handbook of the Marvel Universe is back with 64 pages of all-new profiles!
• Every new member: Angela! Captain Universe (Devoux)! Nightmask (Adam)! The Superior Spider-Man! And more!
• Enemies: The Apocalypse Twins! The Black Order! Magnitron! A.I.M.'s Scientist Supreme, Andrew Forson!
• Allies: Nick Fury! Phil Coulson! Nova (Sam Alexander)! Avengers Underground's Hazmat!
•
The entire Avengers roster makes an appearance thanks to an Update Appendix for every single member!
64 PGS./Rated T+ …$4.99 Handbook
Alphan Appearance: Possible Marrina Entry
.