Marvel.com have broken the news
that the former New X-Men/X-Force writing team Craig Kyle & Christopher Yost are to take over Amazing X-Men starting with June's #8.
Chris Yost has confirmed to AF.net on twitter
that Northstar will still be a part of the team and that he has a big part to play in the first arc: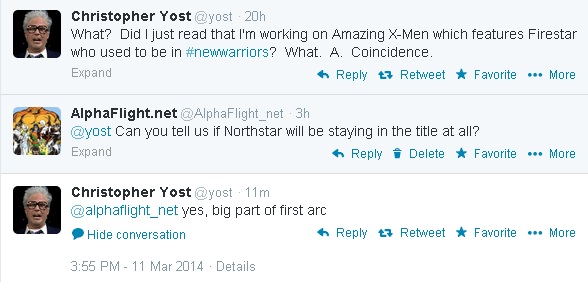 Yost has had experience writing Jean-Paul before in 2010's
X-Men: Hellbound limited series.
Also; the cover, by returning series artist Ed McGuinness, appears to feature some very Wendigo/Sasquatch-esque looking characters...
*UPDATE*
The June Solicits have been released today and
Christopher Yost has confirmed on twitter that Alpha Flight will be in the issue
.
AMAZING X-MEN #8
CRAIG KYLE AND CHRIS YOST (W)
ED MCGUINNESS (A/C)
• Wolverine takes a trip back to Canada…
• But when he discovers that an old friend is missing, his visit soon transforms into a hairy situation.
• New writers Craig Kyle and Chris Yost!
32 PGS./Rated T+ …$3.99
FOC 5/12/14, On-Sale 6/4/14
AMAZING X-MEN #8