Marvel have released their solicitations for the month of April 2014 which feature the following books that include Alpha Flight related characters:
DEADPOOL #27
GERRY DUGGAN, BRIAN POSEHN, FABIAN NICIEZA, MARK WAID,
JOE KELLY, CHRISTOPHER PRIEST, JIMMY PALMIOTTI, FRANK TIERI,
GAIL SIMONE, DANIEL WAY, VICTOR GISCHLER (W)
MIKE HAWTHORNE, SCOTT KOBLISH & MANY MORE (A)
Cover by SCOTT KOBLISH
VARIANT Cover by MARK BROOKS
Taco Time Variant by Matthew Waite
ISSUE #27 Anniversary Variant by Art Adams
• That's right—the day you never dreamed would come has finally arrived…Deadpool is getting MARRIED!
• First up in this ENORMOUSLY OVERSIZED ISSUE is our the main feature—the biggest wedding since that one guy married that other guy as Deadpool and his mysterious bride tie the knot in a tale by Gerry Duggan, Brian Posehn, & Mike Hawthorne!
• THEN, we've rounded up EVERY writer to ever pen Wade's series to celebrate this magical occasion! No self- respecting Poolophile can miss this one!
• It's the most important issue 27 in the history of comics!
100 PGS./Parental Advisory …$9.99
FOC 3/17/14, On- Sale 4/9/14
ALPHAN APPEARANCE - ALPHA FLIGHT ON REGULAR COVER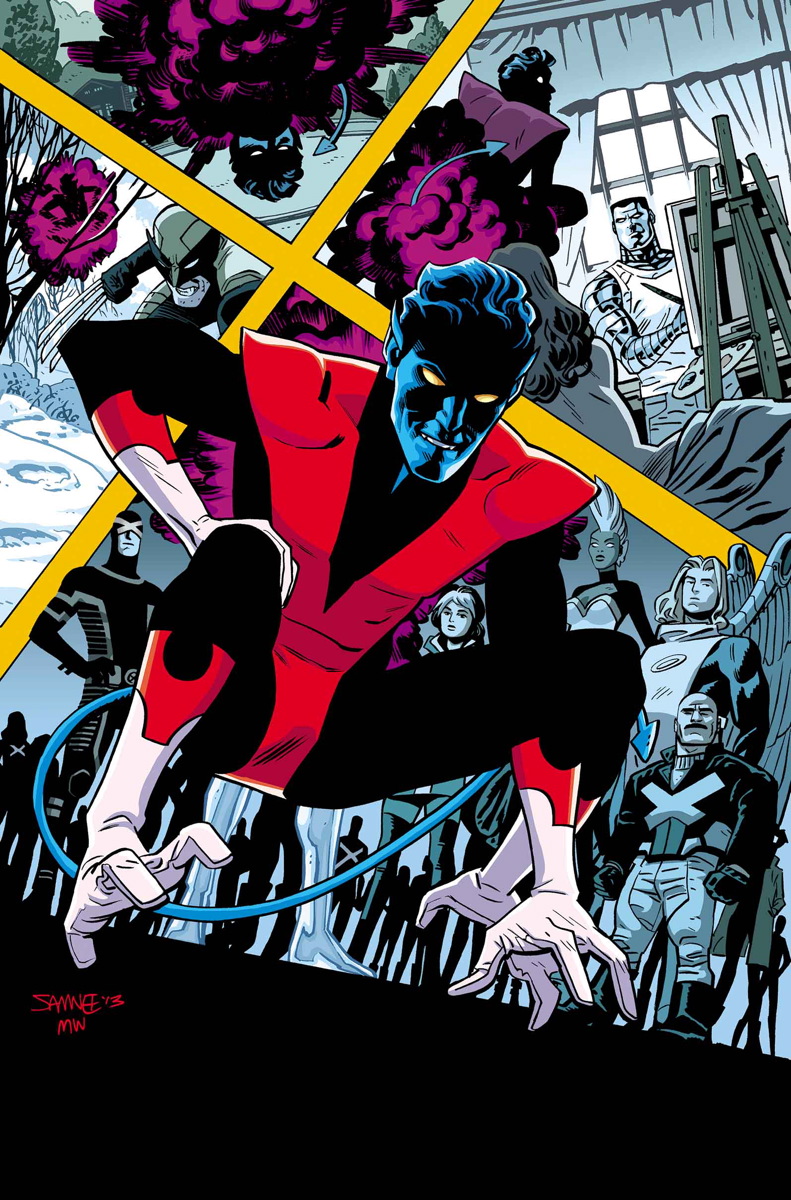 NIGHTCRAWLER #1
CHRIS CLAREMONT (W) • TODD NAUCK (A)
Cover by CHRIS SAMNEE
Artist Variant by Humberto Ramos
Animal Variant by TBA
NIGHTCRAWLER IS BACK!
Newly-returned from the afterlife, veteran X- Man Kurt Wagner finds himself in a world that's a far cry from the one he left: Professor Xavier is dead, Cyclops is on the run, and the X-Men are divided. But determined not to let his new lease on life go to waste, Nightcrawler hits the road alongside Wolverine, eager to right some wrongs and safeguard the future mutantkind…and he's going to do it by the means he loves most: swashbuckling, lady-charming and — of course — BAMFing!
32 PGS./Rated T+ ...$2.99
FOC 3/17/14, On- Sale 4/9/14
ALPHAN APPEARANCE - PUCK ON REGULAR COVER
AMAZING X- MEN #6
JASON AARON (W) • ED MCGUINNESS (A/C)
CAPTAIN AMERICA VARIANT ALSO AVAILABLE
• Nightcrawler is back at the Jean Grey School!
• But when Mystique comes calling, he may be returning to the afterlife very soon.
32 PGS./Rated T+ …$3.99
FOC 3/24/14, ON- SALE 4/16/14
ALPHAN APPEARANCE - NORTHSTAR (PRESUMING)