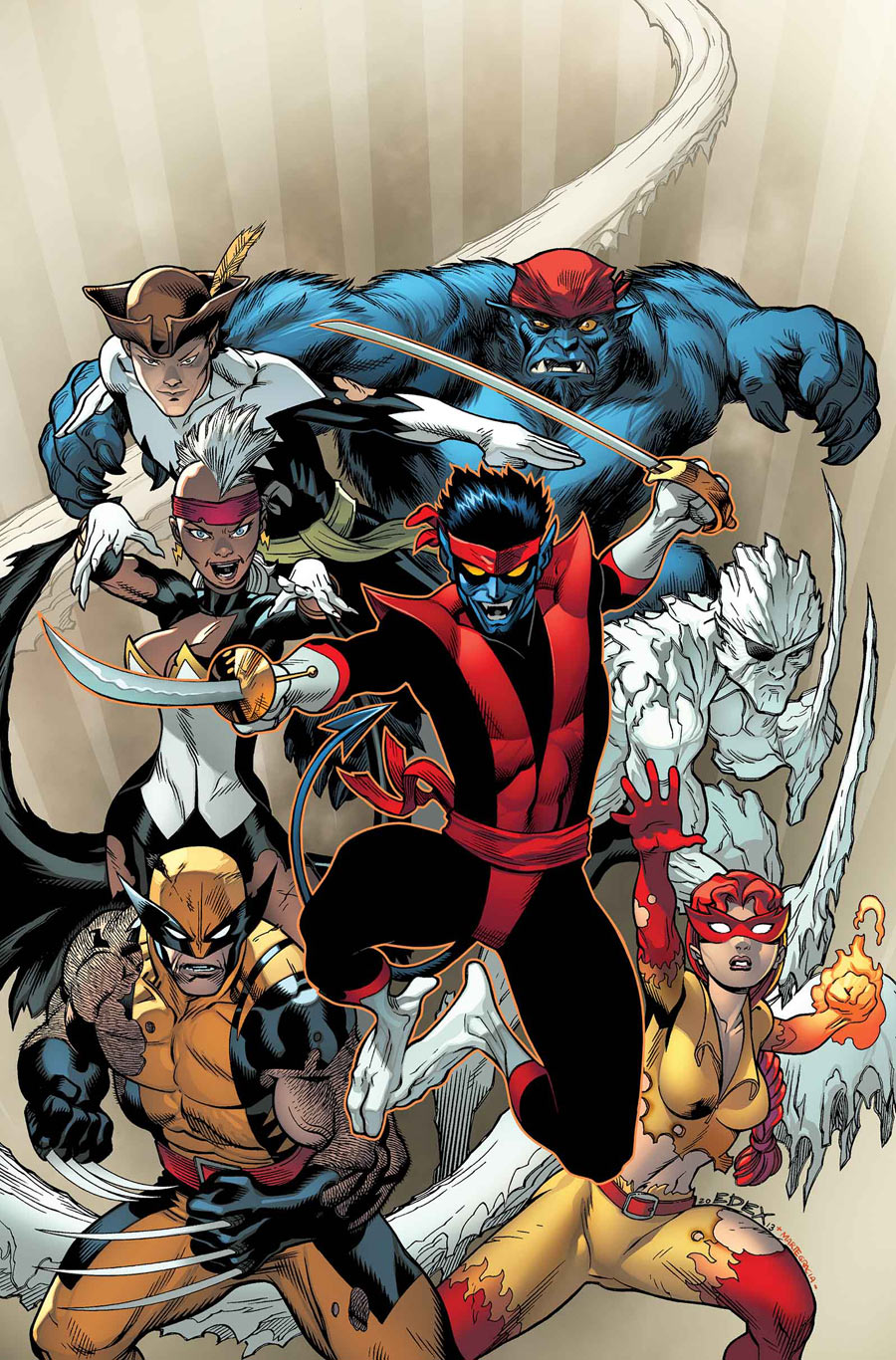 Marvel have released their solicitations for the month of March 2014 which feature the following books that include Alpha Flight related characters:
AMAZING X-MEN #5
JASON AARON (W) • ED MCGUINNESS (A/C)
• Nightcrawler and his pirate band of X-Men take on Azazel and his hellish hordes!
• One of the X-Men must make the ultimate sacrifice!
32 PGS./Rated T+ …$3.99
X-MEN LEGACY #300
MIKE CAREY, CHRISTOS GAGE & SIMON SPURRIER (W)
CLAY MANN & TAN ENG HUAT (A)
Cover by CLAY MANN
• In observance of the title's 300th issue, iconic X-MEN: LEGACY writers Mike Carey, Christos Gage and Simon Spurrier return to tell an all-new tale of the X-Men!
• Mike Carey brings us a story featuring Professor Xavi—oh wait, he's dead.
• Well, Christos Gage has penned a tale involving Rog—nope. She's dead too.
• And Simon! There's Simon Spurrier with a story led by Legion, who—oops. Can't spoil the ending of X-MEN: LEGACY #24.
• Well...erm…just read it!
40 PGS./Rated T+ …$4.99
UNCANNY X-FORCE VOL. 3: THE GREAT CORRUPTION TPB
Written by SAM HUMPHRIES & DENNIS HOPELESS
Penciled by PHIL BRIONES, ANGEL UNZUETA & HARVEY TOLIBAO
Cover by Kris Anka
X-Force must battle their fiercest enemies yet as the truth about the revenant Owl Queen is revealed — and she's one of the X-Men's greatest foes! As Storm plays her trump card, the Queen and her army rampage through Los Angeles. What sacrifice will one X-Force member make to stop them? Then, classic X-Force villain Stryfe has returned! And he's eager to exact revenge on Cable! Meanwhile, Hope comes face-to-face with Bishop, the man who crusaded across centuries to exterminate her. But this time she's ready to retaliate, and they'll hold nothing back as they race to destroy one another. Don't miss this no-holds-barred, knock-down, drag-out X-Force event starring Cable's squad, and Psylocke and Storm's uncanny team! Because when the dust settles, only one X-Force will be left standing! Collecting UNCANNY X-FORCE (2013) #13-17 and CABLE AND X-FORCE #18-19.
160 PGS./Parental Advisory …$19.99
ISBN: 978-0-7851-8985-5