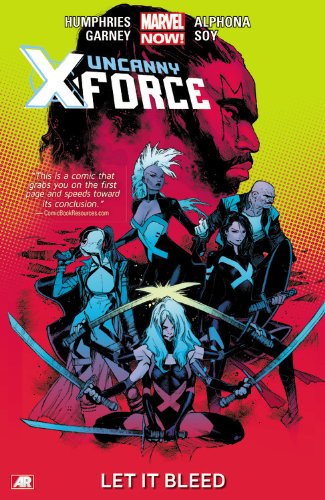 Writer:

Sam Humphries

Artists:

Ron Garney, Adrian Alphona, Dexter Soy

Date Published:

July 2013

Alphan Guest Star:

Puck

Period In Alpha Flight History:

After

Astonishing X-Men

#52


OVERVIEW:


Black bars happen. Spiral gets the girl, only to lose her to a time lost future X-Man. Psylocke is mad at everybody. Puck and Fantomex are here too.


REVIEW:

First off, I'm confused. According to

another thread

, it looks like the trade will be #s 1-5. Despite what I say on that thread, I actually quit at #6, because the storyline doesn't begin to let up there. If they really cut the trade off at #5, that's a black bar move, Marvel. Black bar move.

Even at the end of all that, the only X-Force talked about is in the past, not the future. The team hasn't got together yet. I don't mind delaying a bit, but six issues and no team?

No thanks.

The art is okay, neither bad nor great. Except that it goes mad a couple of times. The change of artist doesn't bring a noticeable change of style.

I find the whole thing hard to track at times. I mean, I can keep track of the overall plot, but some of the details get lost in the mud. There are sequences that I just find hard to read, or scene changes that give me slow whiplash.

The series suffers from several of the excesses of modern comic storytelling (though not all; it's bloodless, for one thing).:

It feels like it's trying to be tough. And in trying to be tough, it's failing to deliver much of anything. One symptom is, it's full of swearing (well, black bars representing swear words. Now you know why I've been saying 'black bar' this and 'black bar' that). It's annoying and unappealing. Do I need to tell you about the little kid who's just learned those words and keeps using them to sound grown up?

There's unpleasantness and vulgarity for their own sakes; not nearly to the level of, say, your Milla/er or your Moore, but it's in there. Puck is sleazy. Psylocke is constantly swearing. Drug use. Nobody wants to be heroic.

Chris Sotomayor and David Curiel try hard to give you the impression that they didn't so much colour it as chain it to the back of their car and drive through mud puddles. Apart from a dream sequence, they succeed. (There's also a tiny bit with Bishop's futurepast, but mostly it's the

And Dream Of Sheep

bit that has any colour to it - and even then the characters are grey.)

Consistency

?

The heroes and villains flip-flop about which side they're on, which I find tiresome. Just let the characters be what they are already!

Speaking of, is Bishop a psychic now? When did that happen? If not, they certainly treat him that way here.

Oh, and they seem to treat Betsy like she's not a ninja most of the time - but at one point remember that she is.

Puck's not saying 'eh' anymore; but he is saying 'welp' (instead of 'well'), for some reason. Why's he playing the reluctant hero so much, too? Since when is that his character?

Do they remember that Bishop has a sister?

So, is it all bad? Am I just gonna complain?

Nope.

Puck's opening scene is pretty good; he comes across humorous and fairly charming. before they all descend to tough-talk and he turns into a sleaze.

They keep remembering that Spiral is Ricochet Rita. They haven't done anything with it yet, but they remember.

They give her a good storyline and motivation - she's in it to save her surrogate daughter.

Then they ramp it up by making that daughter look like a bad guy. Selene, perhaps? (She's been craving a martini for 4,000 years, which makes her immortal. And psychic. I'm pretty sure martinis didn't exist 4,000 years ago.)

I like the way a couple of sound effects are creators' names - Rucka and Pak. (Possibly others I didn't pick up on.)

They do a nice

Androclese and the Lion

bit, even referencing directly.

Da Juice:

Overall, while it has its moments, this was not an enjoyable read for me. I dropped it after #6, and won't be looking back.

Mostly, it's just muddy, and trying to be tough but just coming off unapproachable and unpleasant.

RATING:

On its own:
1/10
For Alpha-Flightness:
Quality:
1.5/10
Quantity:
6/10

Uncanny X-Force Vol.1: Let It Bleed (

Collecting Uncanny X-Force (2013) #1-5)

is in stores from tomorrow (August 31st) in Direct Market comic stores with bookstores/online stores to come soon.


112 PGS./Parental Advisory ...$17.99


ISBN: 978-0-7851-6739-6


.