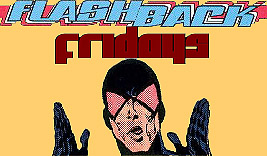 Welcome to the first in a semi-regular column for AlphaFlight.net showcasing moments of Alpha Flight glory from throughout it's 35 year history(starting from Weapon Alpha's first appearance in The X-Men #109).
For the first column I've chosen what I consider my most favourite panel from all of AF-lore & the one that instantly cemented my love for the dysfunctional team (albeit many, many years after it's publication!) and also a very fitting one as last Sunday (June 23rd) saw the 30th Anniversary of it's release...
I present to you, in it's original glory and digitally remastered form, from Alpha Flight (1983) #1:
Pencils & Inks - John Byrne, Colours - Andy Yanchus (Original) + Jerron Quality Color (Reconstruction), Letters - Joe Rosen
If you've got a panel/page of an Alpha Appearance you'd like featured in a future edition of Flashback Fridays PM or e-mail me with either a .jpg or title/issue/page/panel number of your choice. You don't have to give a reason and you can remain anonymous if you wish.