Over at the blog
for The
Classic Marvel Figurine Collection
, they've released the final image for the cover to their Shaman edition of the partwork.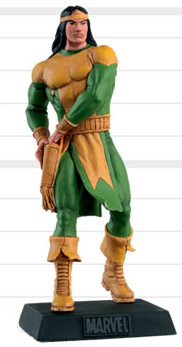 This issue marks the first Alphan in the collection to have original cover artwork, in this case by artist
Andie Tong
.
Unfortunately with the news of the cancellation of the series it also marks the last we'll see, rounding out the team of Guardian,
Sasquatch & Puck
, Snowbird and
Northstar & Aurora
.
The Shaman edition is #187 of the collection and is due in the UK on August 31st, with the rest of the world to follow shortly after.