AlphaFlight.net is proud to present an interview with Dale Eaglesham, artist for the forthcoming Alpha Flight Volume 4 launching June 15th 2011, along with an exclusive sneak peak at some pages from #1 courtesy of Marvel Comics.
AF.net:
Hi Dale, thanks for taking the time out of your busy schedule for us.
To start off with, let's talk a bit about your career so far. You've been in the industry for 25 years now, I believe.
Was drawing/illustrating something you always wanted to get into? What made you get into the comics industry?
DE: There was never anything else for me – I can't remember a time when I wasn't drawing. In grade school, all my report cards said "Dale must stop daydreaming," because I was always in my own imaginary world, inventing fantastic adventures. Then, when I'd get home, I'd sit on the living room floor – I can still see our red shag carpet – and draw away until my parents made me stop. Fortunately, there are jobs for people like me! Comic book illustration was a natural fit.
Who were your early artistic influences, comics or otherwise?
I think my most significant influence early on was a painter who lived next door to me when I was a kid. His name was Taylor Coates and I'd say he's the one that truly introduced me to art. He was also an inventor (you should see the stuff he worked on!) and he helped foster the budding imaginations of the neighbourhood kids.
There was also my friend Errol. The two of us would draw comic book stories in school and one teacher even let us create one as a school project.
Initially it was newspaper comic strips that influenced me such as B.C, Conchy and Peanuts. Then there were artistic legends Frank Frazetta, Jack Kirby, Gene Colan, John Buscema and Alex Raymond. Each in their own way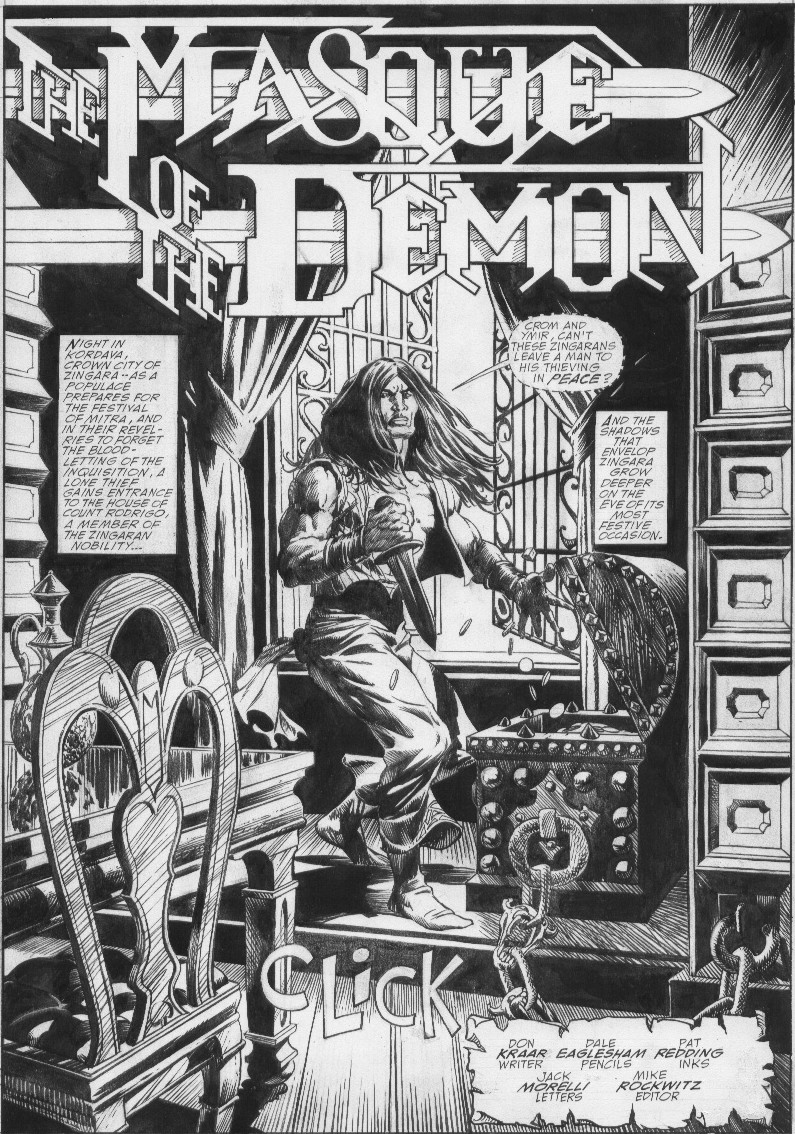 helped shape the artist I am today.
You've drawn a massive amount of characters for various companies, what of your work are you most proud of?
I would begin with a 50 page Savage Sword of Conan story I did called "Masque of the Demon." It was the last Conan story I ever did and it was my favourite. "The Cold Land," a Punisher story from a holiday special. The work I did on Sigil for CrossGen because it was the first sci-fi adventure book I ever had, a genre I love, and I really took my art to a new level on it (I worked on Guardians of the Galaxy but it was only two issues). The eight issues of H.E.R.O. I did really stand out in my memory as the most fun I ever had on a title and the closest I ever came to finding my natural style. It was never collected in a trade so not many people saw it. I'm also very proud of my work on JSA, where I defined my more "Rockwellian" style, and of my work on Fantastic Four, where I first experimented with finished pencils. It was gruelling, but I did like how it looked.
You've recently returned to Marvel after a lengthy absence, signed as an exclusive, with work on high profile titles such as Fantastic Four and Steve Rogers: Super Solider and, something a lot of artists don't get to add to their résumé these days, a What If? story by Stan Lee. How was working from Stan's scripts?
You have no idea what an honour that was. My very first comics were 12-cent Lee/Kirby Fantastic Four comics that I still have to this day. Those comics marked the birth of my own artistic journey, so to have worked alongside the man who created these characters… It was mind-boggling. It was also a bit nostalgic because it's the first time in a very long time that I've worked from a plot rather than a full script. When I first started getting professional gigs at Marvel, about 25 years ago, we got those often and the dialogue would be added afterwards. It was nice to get to try that again after all these years, and especially to be getting e-mails from Stan that said "BEE-U-TEE-FULL!" and "Excelsior!"
Did you read much of Alpha Flight in its original incarnation? If so, what do you think it was about the title that made it unique and were there any standout stories or moments for you?
When Alpha Flight came out, I was utterly focused on the sword and sorcery genre and less on superhero titles. I followed it but rather randomly, buying the odd comic I could get my hands on. Whenever I did manage to get an issue, though, I always loved it. I thought – and still do – that the team was ideal. You have your iconic heroes, your quirky heroes, your sexy heroes… something for everyone, and a great mix. The fact that they were Canadian also appealed to me and made the book more interesting to me.
I mostly remember your work from DC's JSA which I loved, so was thrilled when it was announced that you were to be on board for Alpha Flight and was really interested to see what you'd bring to the title and its characters.
For you, who's been the most interesting/fun character to draw so far? Are there any that have been more of a challenge?
It's hard to pick because Byrne's genius is that he built so much potential in these characters, there is still a lot to explore with all of them. Guardian is a brooding, reluctant leader and he is a great study, especially with the mask off.
From the cover I discovered that Puck is instantly fun to draw, as is Sasquatch.
We are presenting Marrina differently than she was for the original run but I think the change will result in much more entertaining exchanges with other characters. It's these exchanges that will be coming to the forefront in this latest incarnation of AF. It won't be the individual characters so much as how they interact with each other and function as a team that will be the most interesting. The most challenging has been Snowbird, making the costume look cool and defining her personality.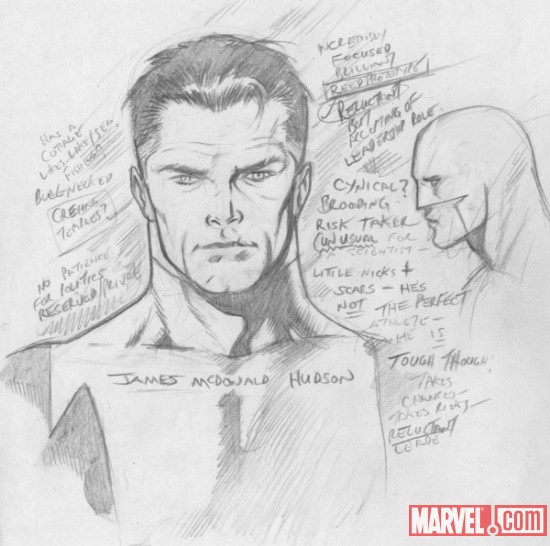 We've been fortunate enough to see some of your early sketches and character designs online, and of the ones we've seen, especially Guardian, you look as if you try to get into the head of the
character, in order to draw them.
Is this something you regularly do? How does it help you throughout the series?
Yes, I always do that. I guess you could say it's my process. In fact, Fred called me a "method penciller" a while back. I need to really understand the characters I'm drawing, to really get into their head and understand how they think and act. It will affect everything from how they interact with others to how they walk into a room, stand, react to danger and how different they are out of costume. I imagine Jean Paul and Kyle talking in cafes, Narya forming prayers to Torngasak, Michael visiting the worlds great places in astral form, Heather emailing family, Jeanne-Marie arguing with her psychiatrist,... etc, etc.
While it's no secret that you're Canadian, you're the first Canadian artist to be on the book in a long time. Although it's not a necessary thing, a lot of Alpha Flight's Canadian fans seem to really like the fact. Do you think being Canadian helps with a title such as this? Is there anything extra you bring to the book for it?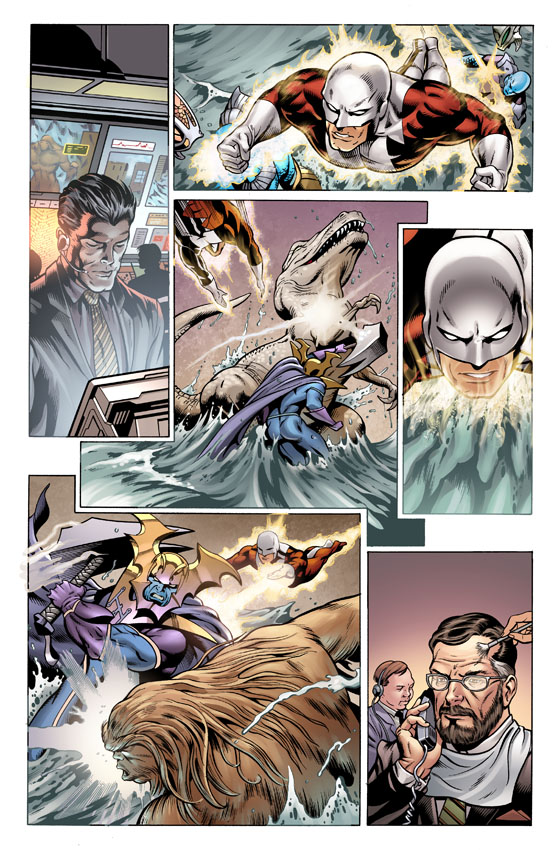 I think it absolutely makes a difference and I do believe you need to have a Canadian on the creative team. Definitely. This is where I live, these are places I've seen and been to. Fred and Greg are really great about checking in for little facts, to make sure they get it right. And my wife is our French connection. We're both originally Quebecers, but her mother tongue is French, so that comes in handy for the twins!
You've just had a run on Incredible Hulk(s) also written by Greg Pak. Has this helped for the transition coming straight onto Alpha Flight? Are the Pak/Van Lente scripts much different to Greg's solo ones, from an artist's point of view?
It did help, because Greg and I got to know each other first and saw we liked working together. That makes a big difference. And Fred has been a lot of fun to work with. The guy knows his Alpha Flight, people.
We've seen from the solicitations so far that you're drawing variant covers, is this something that will be happening for all the issues of the maxi-series?
That was just for the first four-issue arc, actually. In all four, my personal stamp is that I went with a recurring motif of the upside-down maple leaf, a symbol of distress. Phil Jimenez is handling all the others and he's doing a phenomenal job.
The series is currently scheduled for 8 issues but it's been hinted that if the series does well it could be extended. If this happens would there be the possibility you'd want to stay on board?
It always depends on so many factors, especially the schedule and what Marvel has in mind for me after the maxi-series. Alpha Flight is a really fun team to draw, so it's appealing, but we'll have to see how things turn out!
Do you have a con schedule for the rest of the year, so any Flight fans out there can get a chance to meet you?
I don't do a lot of shows because it ends up taking too much time out of my work schedule, and I seem to always be on a book that's on a very tight schedule! I dream of being on a book that isn't solicited before we have a couple of issues done, but I've never been in that situation yet, so I keep cons to a minimum. This year, the only ones I have planned are Fan Expo Canada in August (Fred will be there too!), and Montréal Comic-Con in September.
And finally, is there anything you'd like to say to the fans and members of AlphaFlight.net?
I'd like to say THANK YOU for being so devoted and for working so hard on getting the book back. The book is being brought back thanks to die-hard fans like yourselves, and also thanks to editor Mark Paniccia and Fred and Greg's enthusiasm. Keep up the great work, your site is a valuable resource!
It's been a pleasure speaking with you, once again thank you for the interview. We look forward to seeing your work!
Thanks, Phil!
Dale can be found online at
http://www.daleeaglesham.com/
and is on Twitter as
http://twitter.com/daleeaglesham
Alpha Flight #1, by the creative team of Greg Pak, Fred VanLente & Dale Eaglesham, with a cover by Phil Jimenez, is on sale June 15th.
To find your nearest store go to http://www.comicshoplocator.com/
For more on Alpha Flight visit www.marvel.com