X-Men/Alpha Flight vol 1 #1&#2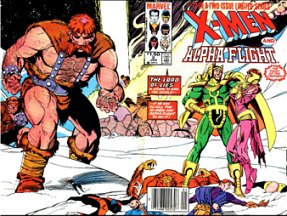 Writer : Chris Claremont
Artists : Paul Smith & Bob Wiacek
'The Gift'
(A footnote on the first page places this story before the events of Alpha Flight #25. Le Messors review gives a more accurate timeline.)
(
The story outline is taken from
an issue summary written by Robert Diehl as a part of
Chronology.Net
. This information is not to be reproduced without permission of the author.)
Story :
Scott and Madelyn are flying a geological survey team across Alaska, when they run into a mysterious storm similar to Shaman's attack in Uncanny X-Men 120), and a bright flash of light. They crash-land. Illyana helps Doug avoid getting beat up by Larry. In the Danger Room, Rachel has a psi-flash and recreates her own apocalyptic future. Xavier calms her mentally and learns she was shocked by her father's pain. Blaming Alpha Flight, she flies to Canada and attacks Shaman and forces Aurora to her Jeanne-Marie personality. The rest of the X-Men follow to restrain her, Northstar attacks Rogue and has his personality absorbed by her, and Xavier pulls her into the astral plane, lecturing her on not tampering with people's minds, regardless of the provocation. Then he switches Jeanne-Marie to her Aurora personality. Snowbird is ill and says an evil lurks in Ungava Bay. The two teams ally to investigate. Loki is trying to make a deal with They Who Sit Above in Shadow. He has to do a good deed for humans and prove himself worthy of favor. Rogue and Northstar locate a grassy field in the middle of the snow, and a wondrous city, from which Scott emerges and greets them, his eyes cured. He says the city is a paradise, and the humans there has been transformed and given great power, like mutants. Madelyne heals Puck, Sasquatch, Aurora, and Rogue of dwarfism, mad rages, split personality, and uncontrollable power. Shaman realizes Snowbird is missing, and Wolverine, Rodriguez, and Wilson go to track her. Xavier scans Scott and Madelyn's minds to ensure they are not being controlled, and learns that Madelyn is expecting a baby boy. Since in Rachel's timeline, she was the firstborn, she believes this means she will never exist, and runs off in a huff. Ross shows them the Magic Fountain/Firefountain that is the source of all these miracles, and Heather (the only human present) is drawn into the light and is transformed into another Guardian.
Once all humans are so transformed, there will be no need to fear or hate mutants, but Xavier has his doubts. Shaman is attacked by monsters out of his own medicine bag, and Madelyn announces that he is dying.
(issue #2) :
Talisman, looking for Kitty, finds Domenic's sketchbook, which shows a degeneration of skill, and an old Viking village, and Rachel, crying because her father is going to have a son and not her (see last iss.). Then the ceiling collapses, and Rachel punches a hole through the wall to the Firefountain. When Talisman touches the fountain, it winks out for a moment, indicating it is magical in nature. Madelyne surreptitiously heals Wolverine of his berserker rages. He is unable to tell why he didn't continue looking for Snowbird, and Kitty suspects Beastmaster made him stop by controlling his animal nature. He goes now and finds Snowbird, curled up in a cave and dying. Pathfinder and Beastmaster appear and tell Logan there is no place for Snowbird and Shaman in the new world. Ross translates a rune stone that Talisman found: it is a dedication stone to Loki. Rogue strikes up a friendship with Northstar, whose mind she had absorbed last iss. Wolverine interrupts the party, having killed Pathfinder, and dumps Beastmaster's wounded body on the table. He and Ross explain that the fountain consumes all magic, and will kill all mystics. The teams divide on whether to support or reject the new world, and square off for a fight. Domenic reveals that the fountain also eliminated human creativity. Loki arrives to say it's still a good deal, and brings Snow Giants to force them to get with the program. Cyclops blasts him, and Rogue tries to absorb his power, but no go.
The teams do, however, best the giants. Madelyn tries to save a wounded Ross, but Loki has taken back his gift. She pleads with him to let her save him, and he returns the power, under the condition that she no longer resists him. Loki thereby claims victory, but They Who Sit Above in Shadow intervene, declare him unworthy, and make him swear never to harm the teams. Loki leaves, taking back all his gifts.
Writing :
Given the premise of the story and the moral decisions it places on the characters, you would think that this should have been one of the classics that people talk about years after the event. Somehow this doesn't manage to do that. It is less than the sum of it's parts and becomes a so so story. There are future ramifications for the teams, more so for Alpha, but in the great scheme of things...
Art :
It's good, but very little dynamic content. I'm not an artist so I can't say it's bad. To be truthful, it's not, it does what it needs to, but nothing more.
Alpha Flight :
There's a term being used in and around the forums at the moment 'Flanderisation'. This is the idea that characters show certain traits that are picked up on and then exacerbated. Maybe my negativity for this limited series is that I believe this is the pivotal point where the Flanderisation of Alpha Flight really took hold. Byrne created flawed characters whose short comings made them likeable and under his writing still remained heroic. Unfortunately those flaws were picked up on by other writers and became the main focus of what writing Alpha was all about. Every character flaw that Alpha have is fully highlighted in 'The Gift'. The X-Men remain strong Alpha become less important and their flaws become the focal point. I don't believe there's a concious decision by Claremont to make Alpha minor league compared to the X-Men, but to my mind it's how they come across.
[table]
[TR]
[TD]Writing : 6/10




[/TD]
[/TR]
[TR]
[TD]Art : 5/10





[/TD]
[/TR]
[TR]
[TD]Alpha Fligfhtedness 4/10






[/TD]
[/TR]
[/table]