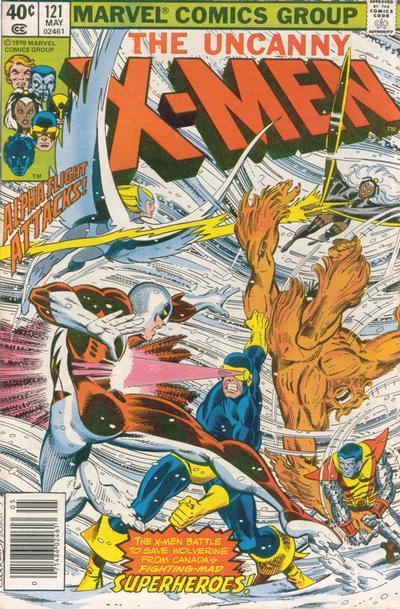 Uncanny X-Men #121
Writers : Chris Claremont & John Byrne
Pencils : John Byrne
Inks : Terry Austin
'Shootout at The Stampede'
Story :
The story opens with Cyclops and Colossus using their powers to beat down the locked gates to the recreational ground that is home to the Calgary stampede.
They are hunting for Nightcrawler and Wolverine, who have been captured by Alpha Flight. Storm has traced Vindicators unique EMP signature to the grounds. Storm reconoiters the area and reports back to Cyclops that she has located Nightcrawler and Wolverine, who are unconcious in the middle of a large field. Colossus believes that it may be a trap (man should have been a detective). Cyclops determines that X-Men look after their own as they approach the unconcious duo. Alpha Flight appear
. This of course beggars the question, why if, as stated by Vindicator a couple of times Alpha were only after Wolverine, did they lay a trap? Leave Nightcrawler trussed like a thanksgiving turkey and leg it into the sunset with Wolverine.
Probably because that scenario isn't going to fill 22/23 pages, even with a forty cent cover price, six pages of story wouldn't go down to well I suppose
. Anyway, Alpha appear, after some discussion between Cyclops and Vindicator, mayhem ensues.
Shaman has erected a mystical barrier around the recreational ground to prevent anyone getting in so Banshee is excluded from participating. Sasquatch squares off against Colossus, Storm and Snowbird take to the sky. Aurora plays catch me if you can with Nightcrawler (who was feighning being unconcious and has bamfed his way out of the ropes that bound him). Cyclops is blasting away at the totems that Shaman has mystically produced until he collects a smack up the side of the head from Northstar, who is running about really fast hitting things. Shaman conjures a small wind to counter Wolverine, but due to outside influences, he loses control and this, coupled with the Storm he unleashed to bring the X-Mens plane to Calgary causes a weather pattern that he cannot control.
Brief Interlude :
A young couple are dining at a restaurant and the storm causes the windows to break. They are fine though. The gent is called John and looks a lot like John Byrne.
Meanwhile back at the recreation ground, the battle continues, but is halted by the severity of the storm. Storm, still inconflict with Snowbird, realises that the Storm could cause major damage if not diminished. Snowbird, in her Artic Owl form is captured in Storms cloak. Storm flies higher to take control of the Storm.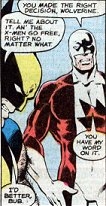 She suceeds and lands back at the recreation ground, severely drained. Northstar, still running about really fast, smacks her upside the head. This of course gives Cyclops the hump and he knocks Northstar down with his eye beam. Before battle can be joined again, Wolverine calls a halt and says that he will go with Alpha Flight on the condition that the X-Men are allowed to leave unmolested. Wolverine is escorted into the back of an armoured truck. The X-Men leave by plane, which is escorted to the US border by Canadian fighter jets. The X-Men discover Wolverine on board.. He has obviously managed to escape in some non disclosed way.
View :
This story just heaves with testosterone. Even the dialogue carries menace. The majority of the comic is taken up with fight scenes, but given the issues that Canada's pursuit of Wolverine have already raised between the two teams, the fighting is not excessive. rereading this again highlights how much #120 set up this story. Obviously previous issues set up the next issue, but not this successfully. Thouroughly enjoyable.
Art :
So much happens on each page, one panel on page 19 has seven characters in a space less than a third of a page. Totally proportionate. I'm not an artist, but even I can appreciate the skill to do that.
X-Men Characterisation :
If pressed I wouldn't be able to explain it, but the characterisation seems less forced this issue. The X-Men come across as real and Cyclops anger is realistic, you can see why he would be enraged.
Alpha Flight :
Not much more is revealed about the characters. Vindicator is how I remember and appreciate him, uncertain and reluctant to be a fighter, but duty bound to carry out his countries wishes. Shaman is obviously a powerful medicine man, but his loss of control of the storm shows up his inexperience. Sasquatch seems to enjoy the fight, very much caught up in the now, with no real thought to what happens next. All that seems to be revealed about Snowbird is that she is a shape shifter. Aurora comes across as michevious and fun loving. Nightcrawler and her seem to enjoy toying with each other with no real animosity. Northstar does not come out of this smelling of roses. His surreptitous movements being Cyclops precipitated the battle and his attack on Storm after she had saved Canada from the storm shows that there is a sneaky, underhandedness about him. On the whole, the team comes across as more than capable and worthy of the title of the premier super team in Canada.
Story
:









Art
:









Alphaflightness
:










Attachment 950
This issue is reprinted in the Marvel Premier Classics X-Men: Alpha Flight HC on sale May 4th
2011
Attachment 951