Uncanny X-Men #120
Writers : Chris Claremont & John Byrne
Pencils : John Byrne
Inks : Terry Austin
'Wanted : Wolverine! Dead or Alive'
Story :
It opens with Vindicator in converstion with Prime Minister Truddeu, who orders the capture of Wolverine.Vindicator presses a small control box and a signal is sent to five people.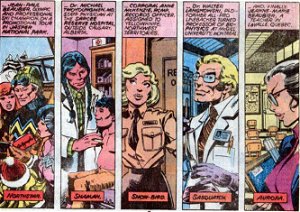 The X-Men are in Japan and are of the hope that they are on the last leg of their journey home from the Savage Land, which began in #116. They are saying farewell to Sunfire and other Japenese dignataries, while Wolvering is making goo goo eyes at Lady Mariko. Thery take off and things are going smoothly until they cross the coast of Alaska. They change course to avoid a storm and the storm changes course to avoid... well nothing really, this storm isn't natural. Storm (the mutant one) deduces that the storm isn't natural and to emphasize the point
flashes
the cockpit. Even Storm cannot control the weather and the plane has to put down at
Calgary. As the plane draws to a standstill, standing on the runway is Vindicator. He demands that Wolverine surrenders, so Wolverine pops his claws, in the cockpit. Cyclops, working on the old adage that 'he who turns and runs away, lives to run another day', tells the pilot to take off. Something, however is holding back the
25 ton
DC-10, against full thrust and the plane is tossed backwards across the airport and crashes into a hangar. Vindicator chastises Sasquatch for being careless and flys to the plane. As he approaches the Storm intensifies. Shaman denies being the cause and under cover of this the X-Men make their escape. Cyclops demands answers, to which Wolverine states that he was operational when Hudson gathered the rest of 'Alpha Flight' together, so has no idea of whom or how many they are up against. This of course is one of those, but didn't Wolver... continuity glitches that have become prevelant in Alpha history.
The X-Men split up to keep Alpha Flight off balance. Nightcrawler bamf's into an alleyway and before he has chance to gather his thoughts, he is blinded by the actions of two flyers who can only be seen as shadows on the ground. He is then knocked unconcious by on of these figures. Banshee and Storm have decided to use their time wisely and have gone shopping for different clothes, so as to disguise themselves. Vindicator who is patolling the skies is informed from base of this location and attacks. A battle ensues, Banshee tries to utilise his sonic scream and collapses which gives Storm the hump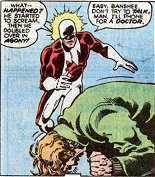 . She unleashes a storm and Vindicator decides that retreat is the better part of valour (plus to stop the total destruction of the shopping mall) and leaves. Cyclops and his group see Vindicators energy streak across the sky. Meanwhile, Wolverine is wandering around the city and is under survellience, being watched from the shadows by Sasquatch. After a brief struggle he subdues Wolverine. Cyclops and the rest of the X-Men have met up and Cyclops decides that he wants Wolverine and Nightcrawler back, even "If necessary, over Alpha Flights dead bodies."
View :
I thoroughly enjoyed the story and apart from a few little uhmmm? moments it is something I do read over and over. As an introduction to Alpha Flight I can't find fault. The story moves along nicely with imho, very few wasted panels.
Art :
It's John Byrne inked by Austin, what can you say that isn't positive. Pencils, Inks and colours by 'Glynnis Wein' combine perfectly to capture the atmosphere of the storm that rages throughout the story. I also have none of those 'Wow' why is so and so or that limb so out of proportion moments.
X-Men Characterisation :
These are the X-Men I was bought up on, Cyclops blows hot and cold, Wolverine pops his claws at every opportunity and the rest support these two more than adequately.
Alpha Flight :
Alpha come across as a very cohesive team. Vindicator is more than capable as team leader with Shaman and Sasquatch taking instruction with no quibbles. In this issue you only get to know the powers of three mentioned characters. Vindicators powers were shown in #109 and we don't really learn a lot more apart from the existence of someone called Heather. Shaman controls weather and obviously a whole lot more. Sasquatch, okay here we go, he lifts a 25 ton DC-10 (look it up on Wiki

). He holds it against 150,000 lbs of thrust (75 ton in new currency). 25 and 75 =100. Ergo Sasquatch is Class 100, if it's good enough for John Byrne it's good enough for me. The only glimpse of Snowbird is the one from the beginning of the issue and Northstar and Aurora only have partial appearences, but still enough to take down Nightcrawler.
Story
:
Art
:
Alphaflightness
: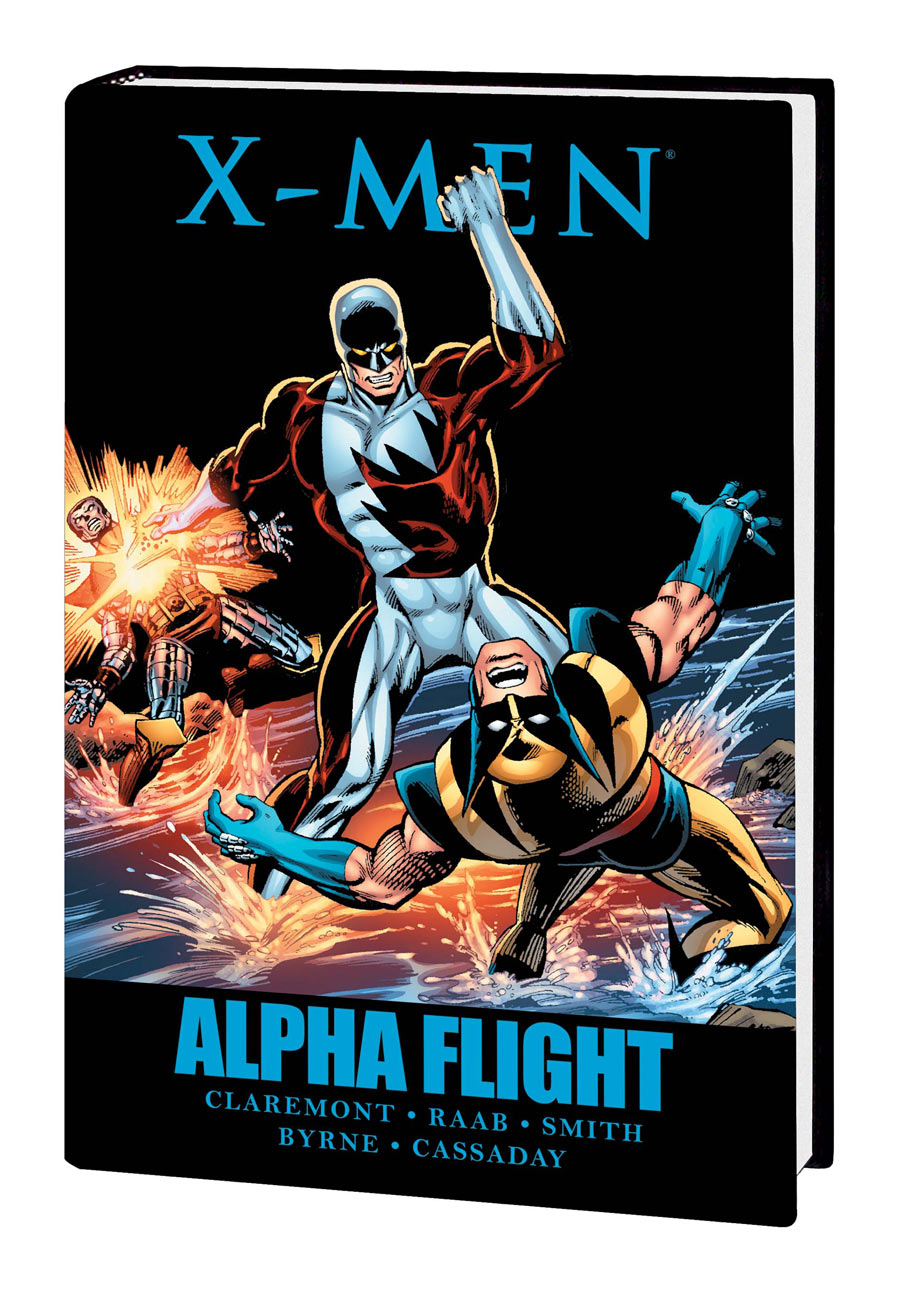 This issue is reprinted in the Marvel Premier Classics X-Men: Alpha Flight HC on sale May 4th
2011