Issue:
Uncanny X-Men #528
Writer:
Matt Fraction
Artist:
Whilce Portacio
Date Published:
November 2010
Alpha Appearance:
Northstar
Period in Alpha Flight's history:
During several Alphans' tenure on Utopia Island (I keep this one with X-Men).
OVERVIEW:
Hope continues her search for the Five. Two have been revealed, but who is the missing Cylon?
Um... I mean, mutant.
REVIEW:
The Uncanny X-Men was a great series, once. I remember when it was mostly about characters, about people and thier struggles. I feel like it's been a long time since they've been anything more than one battle after another.
This one (and the one before) gets back to that, a bit.
I'm glad about that.
The writing here is okay, mostly. The bigges let-down there is the interaction between Frost, Kitty, and Peter. It leaves a lot between the lines - but I don't think Fraction is as good at telling us things without saying them as he thinks he is. Those conversations just left me confused, like I was missing something.
The interpersonal conflict is mostly just the 'get out of my face, I'm tougher than you' type that feels forced, rather than intriguing.
Still, they're focusing on character here, more than battle or crossover. I support that.
The main plot, as mentioned, centres around Hope finding the five missing mutants. I just know that one issue soon will end with 'To be continued in
Generation: Hope
#1...' Anyone think I'm wrong?
We've had a discussion recently where I said that Marvel is willing to mock and belittle Christian belief. Here, in their flagship title, we have lines like (talking about saying the Rosary) Caption: "Again and again, 100 times over. Nobody listens." This sort of 'God won't listen to you' runs throughout the plot. Yeah, yeah, you knew I'd whine about that.
That's not what
you
're reading for, is it? So let's move along...
The art. Oh, the art.
I used to think Whilce Portacio was good. Now? Shut yo' mouth! Even if you're talking about the Shaft!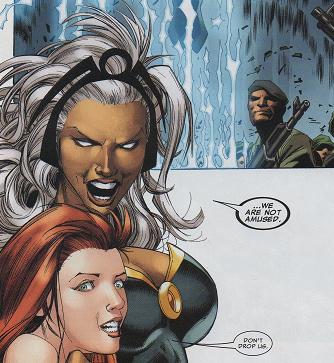 Just about every panel, somebody's teeth are showing. It's creepy. It's uncanny valley, not Uncanny X-Men.
Their expression rarely fits what they're saying, and they always
show teeth
.
EDIT: I've now read issue #530, after they changed artist, and I think I've been too harsh on Whilce Portacio. If changing the artist didn't get rid of the teeth problem (though it did lessen it a bit), I figure it comes from Editorial.
Colouring... I bet they regret sending their light-based team-members on a mission (see below). Every panel is coloured as if they've lost the light switch. I've never liked that - I find it alienating as a reader. Turn some lights on, people!
I can't read in the dark.
Speaking of the shaft, the image to the right (and others in other comics) make The Pillar look about three hundred metres tall.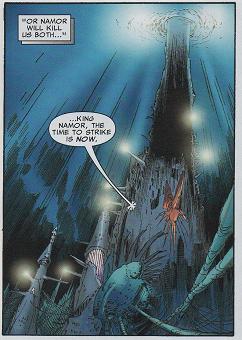 I've been having a hard time finding the depth of the water off San Francisco Bay; in the Bay itself, it's really shallow; a few feet in places.
From what I've found, the water's probably only about two hundred metres. It may be possible the water is as deep as this looks, but as close to shore as Utopia is, everything I know about the ocean rebels against the idea.
Where, precisely is it, and how deep is the water there?
(These images are the darkest in the book, but they're set in deep water so at least it makes sense there.)
Da Juice
:
Northstar is teamed up with Dazzler again. When did they become a team?
I don't have a problem with this team-up, I'm just wondering. It could easily be in an issue I missed, but I've seen them together a few times. Both are stars with light powers, but that's all they have in common. (Insert joke about 'both attracted to men' here?)
This issue shows respect for Northstar as a character, though it doesn't do much to explore his personality. Basically, he kicks butt. Cool.
It's only two pages, though.
Oh, but I can't help wondering: the people he kicks butt against are women who protest using public funds to pay for 'art' (a move I heartily endorse!) by blowing up the museum. Part of what they're protesting is "...so-called art is cheap, exploitative porn!"
Take a look at the scanned page to see how they're dressed while saying this.
So yeah.
This issue is average. I like what they're trying to do (bringing in characters as people), if only it weren't also advertising a new series, I'd fully endorse it. The art, though, needs a lot of work.
RATING: