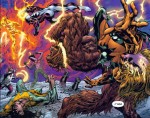 Something I've noticed lately is the habit certain P.C. types have of trying to prove that they're picked on and victimised by showing how comic book members of whatever group they're P.C.ing this week are treated; every slight, every nastiness that happens to a member of that group becomes cause for a cry of 'bigotry!'
One particular list had members of their groups with horrible fates ranging from the worst -- dying several times within a few months, being generally beaten up and abused -- to the just plain bad --
being largely ignored and left to limbo. I found the list got lamer and lamer, until the last, which I could only conclude was an uninteresting character.
What it made me realise about comics was that you could do that for any group. Any group at all. Why?
Because that's how
all
comic book characters are treated; at least in superhero universes. The only thing that could save them from a horrible fate, and probably death, was being too boring to notice. Okay, maybe some of the white males will never be killed off; people like Superman, Captain America, or Batman; but that's more due to popularity than white supremacy or misogyny, or whatever else you want to put it down to.
The reason I'm posting this is, I think we've been feeling this for Alpha Flight. The members have been through the wringer - I'm not going to argue that. What I
will
argue is that that doesn't prove any sort of bias on the part of the PTB at Marvel; just that "We seem to be made to suffer, that's our lot in life," as C3P0 put it. They'll go through a lot of garbage, get killed off, be beaten up, etc... but they're comic book characters. That's what they
do
.
The entire X-Men team has been killed off (and returned to life again the next issue). Spider-Man has been cloned, reset, and buried under peat moss for several issues. Robins have died.
It's nothing personal.
So, next time something bad happens to an Alphan character, let's put it in perspective.
- Le Messor
But nothing excuses
New Avengers
#16. Alpha Flight, portrayed realistically, are much better than that.