The following issue summary was written by Robert Diehl as a part of
Chronology.Net
. This information is not to be reproduced without permission of the author.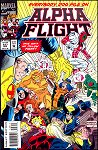 Issue:
Alpha Flight 127
Date:
Dec-93
Story 1:
Faith! (15 pages)
Feature Characters:
Heather, Michael, Elizabeth, Walter, Jeanne-Marie, Judd, Windshear
Regular Characters:
Guest Stars:
Heroes including Daredevil, Wolverine, Living Lightning (is he a hero?),Dr. Strange, Strong Guy, Wonder Man, She-Hulk, Speedball, Spider-man, the Thing, Vision, Thor, Iron Man, the Hulk, Storm, Capt. America
Villains:
Other Characters:
Synopsis:
Assorted heroes battle the Goddess's disciples in Paradise Omega. Michael pretends to serve the Goddess while seeking a spell to release her converted. But he must use it on Elizabeth, and he hesitates to ruin her faith. He sends his soul to investigate his teammates' faith, and finds each has a pocket of the stuff so deep the Goddess can't touch it. He releases his spell; everything goes black for a moment, then all the heroes are free of the Goddess's control.
Story 2:
Blind Fury (6 pages)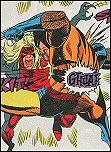 Feature Characters:
Kyle; Mac (flashback)
Regular Characters:
Guest Stars:
Logan (Wolverine); Ororo Munroe (Storm, in flashback); Jodi (Stitch, in flashback)
Villains:
Other Characters:
Synopsis:
In Paradise Omega, Wolverine attacks Kyle, whom he thinks has killed Storm. He remembers their early Dept. H days, when he had attacked their teammate Stitch (see Alpha Flight 1992 special), and Mac had to stop Logan from killing him.
Kyle refuses to accept Wolverine's image of him and refuses to fight. Wolverine realizes Moondragon had planted the image of Storm's corpse in his mind, and nearly apologizes.