The following issue summary was written by Robert Diehl as a part of
Chronology.Net
. This information is not to be reproduced without permission of the author.
Issue:
Alpha Flight 126
Date:
Nov-93
Story 1:
Dead Reckoning: Part 2 (16 pages)
Feature Characters:
Michael, Lil, Nemesis, Madison Jeffries, Wyre
Regular Characters:
Guest Stars:
Villains:
Carcass
Other Characters:
Kathryn Twoyoungmen
Synopsis:
Michael, Lil, Jeffries, Nemesis, and Wyre are dead, but their bodies are being preserved. The only way out of this realm is through Carcass. He attacks each in turn, defeating them, and his Unmaking spreads, threatening to engulf all reality in primal chaos. Kathryn is one of his undead servants.
But Michael has sneaked close to Carcass, with his pouch hidden within him, and he attacks. The rest realize this realm's reality is shaped by force of will, and they rise and attack. Michael finds faith in himself, blasts Kathryn away, and traps Carcass in a crystal of pure order, which explodes him when he touches it. All returns to normal.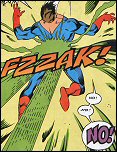 Story 2:
Trial and Error (6 pages)
Feature Characters:
Knapp, Kara, Laura, Goblyn, Albert Louis (Feedback henceforth)
Regular Characters:
Guest Stars:
Villains:
Joshua Lord, Hardliners including Reginald Tork
Other Characters:
Carol Brunett
Synopsis:
Louis trains under Knapp's direction, and Knapp worries that he's pushing himself too hard. The Hardliners have got jail time, and Louis made a public announcement that all parahumans should register voluntarily. Lord bails out the Hardliners.