The following issue summary was written by Robert Diehl as a part of
Chronology.Net
. This information is not to be reproduced without permission of the author.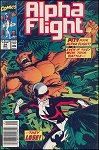 Issue:
Alpha Flight 84
Date:
May-90
Story:
Earth War Part One: The Big Picture (22 pages)
Feature Characters:
Walter, Madison Jeffries, Lil, Heather, Jeanne-Marie, Michael, Jean-Paul, Elizabeth
Regular Characters:
Gamma Flight: Nemesis, Auric, Silver, Wild Child, Witchfire
Guest Stars:
Villains:
Llan the Sorcerer, Gen. Brian Winslow; the Asp, the Owl, the Scorpion (flashbacks)
Other Characters:
Synopsis:
Alpha Flight kill monsters, which revert to the forms of Winslow and his troops, so they are chased as murderers.
Michael brings Northstar out of his mystical coma (placed by the dark elves in
iss. 82
). Elizabeth goes off to battle the Sorcerer alone. Gamma Flight arrives to arrest Alpha Flight, does battle, and loses. Elizabeth sees the Gateway of Night is now open, evil armies are coming through, and to close it she must open the Gateway of Day, which is dangerous. She sends a vision to warn Alpha Flights and convince Gamma Flight to help them.