The following issue summary was written by Robert Diehl as a part of
Chronology.Net
. This information is not to be reproduced without permission of the author.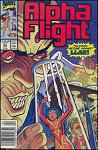 Issue:
Alpha Flight 83
Date:
Apr-90
Story:
Talisman (The Second) (24 pages)
Feature Characters:
Heather, Madison Jeffries, Walter, Lil, Michael, Kara, Elizabeth
Regular Characters:
Guest Stars:
the Tribe of the Moon: Firehand, Talks-To-Spirits, Willow-Dancer, Bear Brother, Nahita (Talisman)
Villains:
Llan the Sorcerer, various monsters including Lemurians
Other Characters:
Gen. Brian Winslow, Pako
Synopsis:
Winslow threatens Alpha Flight, and then he and his men become
monsters. Michael has drugged Elizabeth, allowing her to send her soul back through time 10,000 years, to a previous life.
Nahita is rained on by bones, has a vision of her future (our present), is frightened by pollution and saved from monsters by the Tribe of the Moon. Their shaman instructs her to become Talisman (just like
iss. 19
), and they fight many monsters. One night a comet causes a whole village to turn into monsters. It is the work of the Sorcerer, their true enemy. He wants to open the Gateway of Night, and trick man into polluting the earth with fossil fuels. The team battles Llan's monsters, while Talisman tricks him into assuming the form of his idol. She binds him in that form until the next cycle.
Returning to the present, Elizabeth prepares to battle the Sorcerer alone, while Alpha Flight prepares to battle his monsters.