The following issue summary was written by Robert Diehl as a part of
Chronology.Net
. This information is not to be reproduced without permission of the author.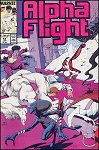 Issue:
Alpha Flight 54
Date:
Jan-88
Story:
Goblyn! (22 pages)
Feature Characters:
Heather, Madison Jeffries, Walter/Wanda, Kara, Knapp; Jean-Paul, Jeanne-Marie, Judd, Roger, Snowbird, Michael (all in flashback)
Regular Characters:
Guest Stars:
Logan (Wolverine, in flashback)
Villains:
the Derangers: Freakout, Janus, Breakdown, Laura Dean and Goblyn; Bedlam, Lillian van Loont (Gilded Lily), the Auctioneer (all in flashback)
Other Characters:
Melanie Killgrave, Darby and Susan Dean (all in flashback)
Synopsis:
Goblyn sits in the cold, unwilling to join Alpha Flight inside.
Alpha Flight starts putting the base back together. Bedlam and the Derangers are dead, we are subjected to yet another series of mini-flashbacks, and Kara convinces the team to go out and look for Goblyn, who sneak-attacks Walter, Heather, and Jeffries.
Laura and Goblyn were twin sisters, whose father was anti-mutant and tried to have Goblyn killed in utero. But the autistic Laura hid Goblyn inside herself, until Bedlam freed her. When Kara has just about made friends with the fiend, Alpha Flight arrives and attacks. But Kara intervenes, saving Goblyn's life.