The following issue summary was written by Robert Diehl as a part of
Chronology.Net
. This information is not to be reproduced without permission of the author.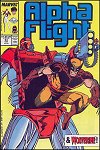 Issue:
Alpha Flight 53
Date:
Dec-87
Story:
Specters! (22 pages)
Feature Characters:
Heather, Madison Jeffries, Walter/Wanda, Kara, Knapp; Mac (flashback)
Regular Characters:
Gary Cody (flashback)
Guest Stars:
Logan (in flashback as Weapon X, and as Wolverine)
Villains:
Bedlam the Brain Blast, the Derangers: Freakout, Janus, Breakdown, Goblyn
Other Characters:
Synopsis:
Wolverine arrives at the mansion, finding that Bedlam has already attacked. He gets Jeffries to tell him the story: the team was training with Beta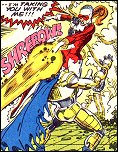 Flight when the mansion came under attack. Bedlam captured the team except for Jeffries, who buried his own mind to escape.
Above the Arctic Circle, Bedlam has established a base, where he has taken Alpha Flight and makes them fight the Derangers, who were survivors from Scramble's lab (
see iss. 48
). Whichever team survives will become his new super-race.
Wolverine and Jeffries bury their minds in animal and machine, respectively, so Bedlam won't notice their approach. But Bedlam lies to Wolverine, telling him that Mac was the one who created him (which is what Heather has believed since
iss. 34
). This shocks Wolverine out of his berserker rage and allows Bedlam to control him. But Heather blows Bedlam to ashes.
Goblyn runs off. The rest decide to take over this base and break all ties with the Canadian government.