Issue:
Alpha Flight - Volume 3 #2
Story:
You Gotta Be Kiddin' Me! Part 2 of 6
Writer:
Scott Lobdell
Artist:
Clayton Henry
Cover:
Clayton Henry, Mark Morales

Date Published:
June 2004
OVERVIEW:
This issue begins in the same place as the last issue. The perspective however is reversed. We are now able to see what the "New Alpha Flight" was able to see. The original members of Alpha Flight (Including Guardian, Vindicator, Snowbird, Shaman, Puck, and Earthmover) all encased in, and restrained by machinery.
Again, like the first issue, the time line changes. We are now able to see the village of Yukon Jack. It seems he is the heir to the thrown of secret civilization of immortal beings. Yukotujakzurjimozoata is drugged by his father, who was paid off by Walter Langkowski. Yukon Jack is loaded onto Walter's plane.
Walt then hits Zuzha Yu's bar. They have a bet on the line over an arm wrestling match. Should Walter win, she has to join his Alpha Flight, should Zuzha win, Walt has to become her "Love Slave" for a year. On the count of three Walter becomes Sasquatch, and tosses her across the room, knocking her out. While picking her up to load her onto his plane, we learn that Zuzha Yu is Eugene Milton Judd's (The original Puck) daughter!
We next joining Walt and Nemesis just as she is regaining consciousness. Walter explains that her spinal control harness works through the release of Neo-Floxins. He goes on to say her body is dead, and it is her connection to her "living" spirit sword that allows her body to function, and in turn she gives the sword mobility. The device's release of Neo-Floxins can permanently sever this connection, which would kill her in a more permanent way. They then joining their two unconscious team mates. While in flight Walter explains his history with Alpha Flight, and how when everyone had lost faith in him, James MacDonald Hudson. In mid explanation Nemesis starts to freak out about the presence of "pure unadulterated goodness". As Walter is helping Nemesis off the plane, the are met by Major Mapleleaf riding his horse Thunder over the rooftops! The Major practically begs Walt to let him join the team. Walt agrees, based both on his powers, and his ability to freak Nemesis out. We learn that Mapleleaf has internally generated bio-centric powers that include some sort of power blasts, invulnerability, marginal strength enhancement, and gravitational negation (this is how he was able to make Thunder ride over the rooftops)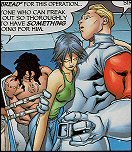 Langkowski leaves Major Mapleleaf in to take care of his two new unconscious teammates, and heads back to the strip bar and met Rutherford Princeton again. Princeton was bemoaning an empty feeling from being comatose for twenty years, waking up old, with super powers. He agrees to join Walt's team, hoping to fill that void.
The team now assembled Walter explains his reason for bringing them all together. He, along with the other original members of Alpha Flight had been sent on a mission to investigate some great threat to humanity. Walter was the only one to make it back, but with no memories as to what had happened to his teammates. He admits that he could easily have called on the Avengers, or the X-Men for help, but since it was a Canadian problem, he wanted handled it internally.
REVIEW: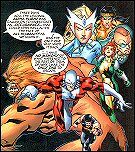 I liked seeing the original members in the double splash page. I thought it was clever how Lobdell did the whole thing from behind, showing us what the new team was seeing in issue one. Inverting the lettering was a nice touch.
It was nice to lean some more things about the new characters. I liked the idea of Yukon Jack's background, and liked the idea of Zuzha being Eugene Judd's daughter. I'm also really enjoying the character that Lobdell is building for Nemesis.
The big problem I found was having a second issue with no action at all. I was hoping for at least a bit in this issue. I can try to look past it, but I fear that it may put readers off Alpha Flight a bit. I did appreciate the character development however. What I would have liked to have seen was Lobdell handling the character introduction much like Byrne did in the beginning of Volume 1. Having the main storyline in the first bunch of pages, then use the last 5 pages or so to introduce the new characters. I think it would have made the book take off on a better foot, and would not have attracted so much negative attention.
That being said, I did enjoy the issue, and it did leave me looking forward to the next one. The new team is now assembled, and they are off to save the original members. I'm really looking forward to the interplay between Judd and Zuzha. Nemesis is a great character, and I like how Lobdell has explained the nature of her existence.