The following issue summary was written by Robert Diehl as a part of Chronology.Net. This information is not to be reproduced without permission of the author.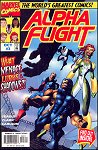 Issue:
Alpha Flight II: 3
Date:
Oct-97
Story:
Bury Your Dead! (22 pages)
Feature Characters:
Guardian, Vindicator II, Puck, false Sasquatch, Murmur, Radius, Flex
Regular Characters:
Sunfire (Shiro Yahida)
Guest Stars:
Kyle Gibney (Wildchild); Dr. Michael Twoyoungmen (Shaman)
Villains:
Dept. H personnel including Gen. Clarke, Dr. Su, Headmistress De LaSalle, Coordinator Proctor, Avery; Chinook
Other Characters:
Credits:
Writer:
Steve Seagle
Pencils:
Scott Clark
Inks:
Chris Carlson
Letters:
Richard Starkings & Comicraft/AD
Colors:
Lee Ann Garner
Editor:
Jaye Gardner
Editor-in-Chief:
Bob Harras
Synopsis:
The weather is rough in Orloo. Someone gives Judd a secret memo about the death of the Legacy mutant Cleric. Heather trains with her new suit, not entirely understanding or trusting it. Ex-members Wildchild and Shaman read about the new team in the papers.
Clarke sends the veterans to Orloo to investigate; the pilot of their plane is shot through the windshield, and Mac barely misses destroying the church he wed Heather in (iss. -1) as he lands. Judd investigates Hull House, but De LaSalle quickly turns him away. Heather and Sasquatch take the pilot to a hospital, then Sasquatch runs off. Mac and Manbot investigate the cosmic ray collector (iss. -1) and see Chinook rising from the dead. He claims to be the wind and is on a mission of vengeance, starting with Sasquatch, and Mac who never tried to help him. Battle ensues, Sasquatch tears Chinook in two, and he dissipates, leaving strange marks in the grassy field.
The team is immediately recalled because:
Back at Dept. H, Flex interrupts Radius and Murmur and gets picked on. The Corbos spy on Sunfire resisting his bonds. Radius convinces the others to break him out and go on a joyride to Montreal. (Murmur has to use her power to convince Sunfire.) They stop on the way for food and bump into Mesmero, who exults in his good fortune.