The following issue summary was written by Robert Diehl as a part of
Chronology.Net
. This information is not to be reproduced without permission of the author.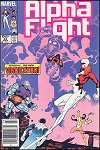 Issue:
Alpha Flight 32
Date:
Mar-86
Story:
Short Story! (22 pages)
Feature Characters:
Heather (Guardian henceforth), Judd, Roger, Madison Jeffries, Jean-Paul, Jeanne-Marie
Regular Characters:
Guest Stars:
Villains:
Razer
Other Characters:
Synopsis:
Heather shows up for training in Guardian's suit. She has had done with being powerless. Jeffries controls the Danger Room's machines with his mind and gives her quite a workout.
Judd is overcome with pain in the elevator, which fills with a strange darkness. It billows out
over the mansion, announces itself as Razer, and claims Judd, who has been transformed into a tall old man. It uses its Black Blade to slice Northstar and Roger, and this attack shrinks them slightly.
Judd explains to Jeffries that this is his true form, that he stole the Black Blade of Baghdad in 1939, accidentally freeing Razer, an ancient mystic, whom he defeated by imprisoning him inside his own body. He was shrunk to dwarf-size and in constant pain since.
Judd gets Aurora and Northstar to attack Razer with light and a swirling vortex. He grapples the blade out of its hand and impales himself, releasing the energy of his soul and imprisoning Razer within himself once more.