The following issue summary was written by Robert Diehl as a part of
Chronology.Net
. This information is not to be reproduced without permission of the author.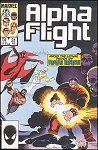 Issue:
Alpha Flight 31
Date:
Feb-86
Story:
The Grateful Dead! (22 pages)
Feature Characters:
Roger, Judd, Heather, Madison, Jeanne-Marie, Jean-Paul, Snowbird, Michael
Regular Characters:
Sgt. Douglas Thompson, Michael's grandfather, Dr. Lionel Jeffries (Scramble)
Guest Stars:
Nemesis; Elizabeth (in flashback)
Villains:
Ernest St. Ives (Deadly Ernest)
Other Characters:
Brian
Synopsis:
Ernest prowls Montreal, and Nemesis seeks to kill him again (see
iss. 8
). His first victim shows up at Lionel's hospital, and Alpha Flight recognizes his handiwork.
Snowbird and Thompson track Michael through a blizzard, while he stumbles across his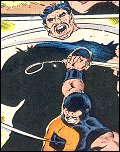 own cabin containing his grandfather's skull and spirit, who restores his faith in himself.
Nemesis and Alpha Flight confront Ernest in the metro, and he fells Brian, Roger, Northstar, and Aurora, takes Heather hostage, and escapes. Nemesis hands Judd her sword, tells him to use it to regain their spirits from Ernest, and remains behind to keep them semi-alive.
Judd, with some reservations, hacks Ernest to pieces, but even when the pieces are run over by a train, he still lives.
Nemesis uses the sword to restore the dead, reveals herself as Earnest's daughter, sworn to stop his murdering. That done, she dies herself, collapsing to dust.