The following issue summary was written by Robert Diehl as a part of
Chronology.Net
. This information is not to be reproduced without permission of the author.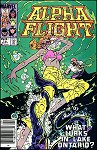 Issue:
Alpha Flight 14
Date:
Sep-84
Story:
Biology Class (22 pages)
Feature Characters:
Michael, Snowbird, Walter, Jeanne-Marie, Judd, Heather McNeil Hudson, Marrina, Elizabeth Twoyoungmen
Regular Characters:
Guest Stars:
Namor the Sub-Mariner, Ramin
Villains:
Other Characters:
Timmy Rodgers's mother, Inspector MacMurry
Synopsis:
Snowbird, having faced death last iss., returns to Canada. She leaves a mysterious stain on the rock where she had been standing.
Judd and Heather spend some time vacationing in Toronto, and are interrupted by the scream of a woman who lost her baby in Lake Ontario. Heather dives in after the baby and is attacked by a tentacled monster.
Aurora is attacked by her Jeanne-Marie personality in the mirror.
Heather recovers in the hospital while Judd is briefed by MacMurry on the serial killer sea monster.
Namor proposes to Marrina, but Judd then summons her. He thinks the sea creature is another of her kind and wants her to help destroy it.
At an archaeological dig in Calgary, Elizabeth unearths a vengeful skull (of Zebediah Chase,
see iss. 19
) and decides to seek her father's help.