The following issue summary was written by Robert Diehl as a part of
Chronology.Net
. This information is not to be reproduced without permission of the author.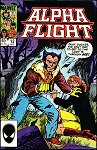 Issue:
Alpha Flight 13
Date:
Aug-84
Story:
Nightmare! (22 pages)
Feature Characters:
Michael, Snowbird, Walter, Jeanne-Marie, Judd, Jean-Paul, Heather McNeil Hudson
Regular Characters:
Gary Cody
Guest Stars:
Logan (Wolverine)
Villains:
Delphine Courtney, Jerome Jaxxon, Omega Flight: Box, Diamond Lil, Flashback, Smart Alec, Wild Child
Other Characters:
Jacob Vandernet
Synopsis:
At Mac's funeral, his flaming corpse rises from the grave and attacks Heather and Wolverine. But it was just Heather's nightmare, a month after Mac's death.
Michael has shrunk Smart Alec's body, keeping it until he can restore his mind.
Michael, Judd, and Heather meet with Cody in Ottawa, explain how Mac was killed, and learn that the government has disavowed all knowledge of Alpha Flight.
Heather is left a destitute widow, and Vandernet is sucked under the waters of Lake Ontario.