The following issue summary was written by Robert Diehl as a part of
Chronology.Net
. This information is not to be reproduced without permission of the author.
Issue:
Alpha Flight 8
Date:
Mar-84
Story 1:
Cold Hands Cold Heart (17 pages)
Feature Characters:
Jeanne-Marie, Jean-Paul
Regular Characters:
Guest Stars:
Nemesis
Villains:
Ernest St. Ives (Deadly Ernest); Delphine Courtney
Other Characters:
Danielle Belmonde; Alec Thorne (Gamma Flight's Smart Alec), Meg
Synopsis:
Belmonde's autopsy reveals nothing. To rescue his sister, Northstar breaks into St. Ives' mansion; and Nemesis vows to kill him. Aurora is making nice with St. Ives, and Northstar is knocked cold with a blackjack. He wakes with Nemesis' atom-wide sword at his throat, but they ally.
St. Ives was a soldier in WW1, gassed and dying, but he rejected death and vanquished it. In doing so, his touch became deadly.
Nemesis attacks St. Ives, whose touch doesn't work on her. She slices him to pieces before Northstar can stop her. She knocks him cold, and Aurora lets her flee. She takes Northstar to confront Danielle, who was working with St. Ives, and has her arrested.
Northstar assumed Aurora had trysted with St. Ives to save her life. Outraged, she breaks their partnership.
Story 2:
Genesis (5 pages)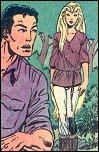 Feature Characters:
Michael, Snowbird, Mac
Regular Characters:
Heather McNeil
Guest Stars:
Villains:
Other Characters:
Synopsis:
Years ago, Heather introduces Mac to Michael, and he introduces Snowbird, without explaining what she is. Late that night, Heather spies on her and sees her transform into an owl. Michael explains (see
last iss.
), and James offers to take them into Dept. H.