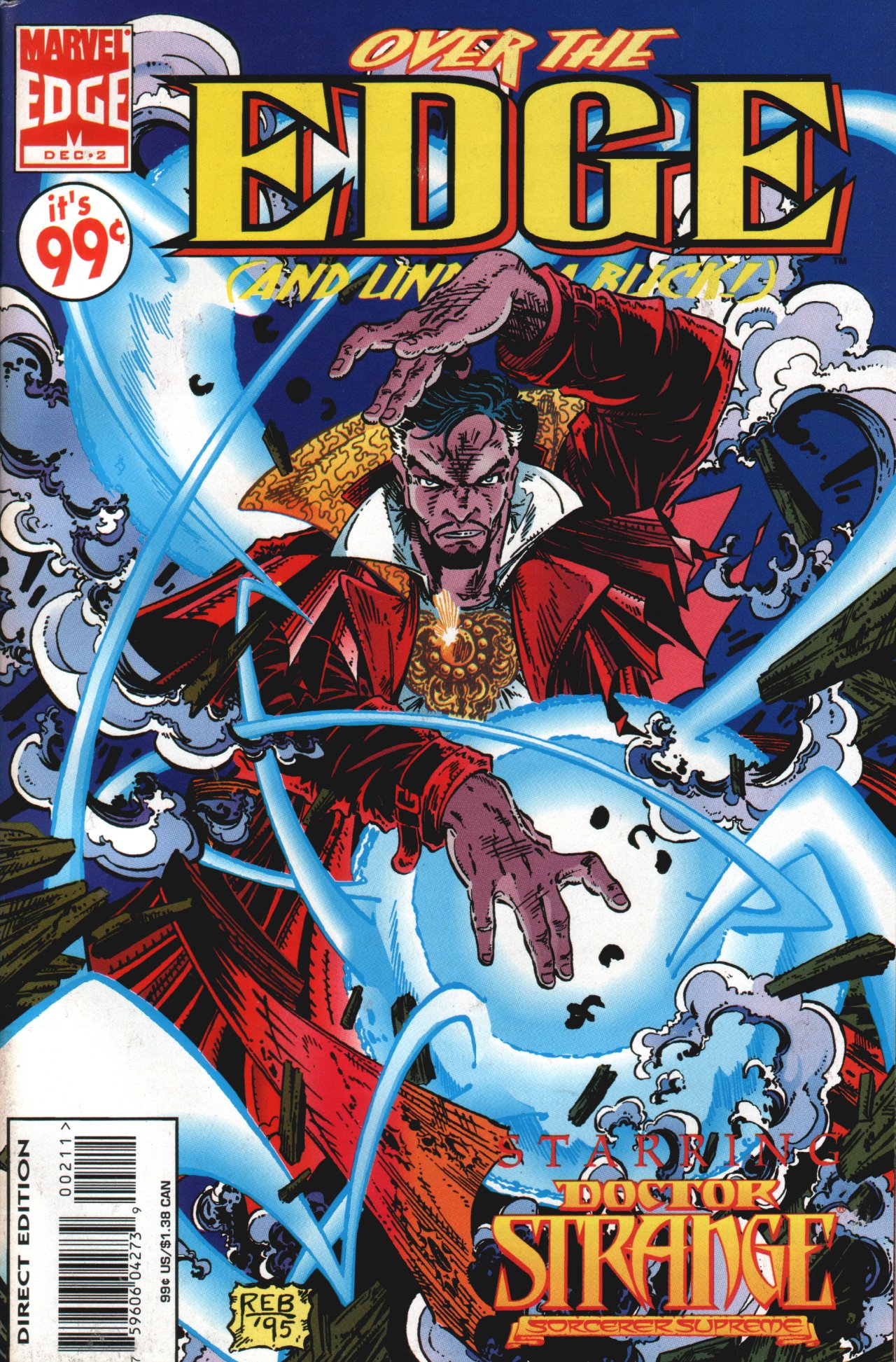 Issue
: Over The Edge #2
Writer
: Mark Gruenwald
Artist
: Robert Brown
Cover
: Robert Brown
Date Published
: 12/??/1995
OVERVIEW:
The story begins with a wounded Devil-Slayer (Eric Simon Payne) struggling to find the sanctum of
Dr.Strange
for assistance. After a valiant rescue by Doctor Strange and Wong, they discover this silver dagger that was used to wound Devil-Slayer has an inscription of "Seven blades for seven sorcerers. By midnight they shall die" on it. Strange deduces this conspiracy was concocted by his rival Silver Dagger in attempt to tire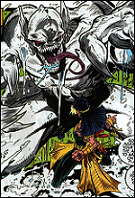 Strange as he would be obliged to have to rescue the other 6 magical users. Using the captured dagger as a compass, Strange travels in astral form to assist the other 6 magical users who are at risk from 6 other magical silver daggers.
The journey first takes him to Nepal where he rescues James Mandarin, then to Berkeley, California to help Jennifer Kale and sadly Strange travels to Casablanca but is not fast enough to save his old friend, Rama Kaliph. The journey continues to Mount Athena in upstate New York to help Arcanna, and for the 5
th
dagger Strange travels to the Canadian Rockies were
Shaman
(Michael Twoyoungmen) is battling an
unnamed Great Beast
. After a brief battle, Shaman stands victorious and then an unknown assassin arrives and with the assistance of Strange thwarts the attack.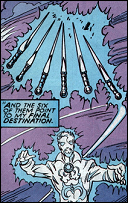 The final dagger takes Strange to Manhattan, where Silver Dagger has broken into Strange's sanctum and sits by Strange's corporal body. Dr.Strange speaks to Silver Dagger and says the final dagger must be for him, but Dagger quickly replies all seven are. Through mystical abilities Silver Dagger wrestles control over the blades and sends them towards Strange's corporal body, but only to discover Wong switched his body. This gives Strange time to return to his body and battles Silver Dagger and causes one of the daggers to hit Silver Dagger in the chest. Strange begins to assist him, and the issue ends.
REVIEW:
A fun little issue, which isn't Alpha Flight centric, but the little time Shaman appears he shows he is a very skilled magical user that is respected by Dr.Strange. Also what's interesting about this issue, it introduces a brand new Great Beast that sadly isn't named and we have never seen him again. Overall a good little issue, and acts as a mini mystic crossover.
RATING: